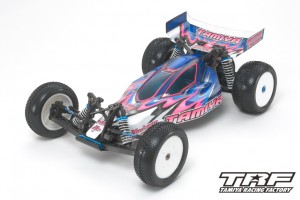 This exciting new prototype will be featured in the May issues of Japanese R/C enthusiast magazines RC Magazine and RC World (both on sale in early April). Although it is still undergoing development and the specifications have not been finalized, here is a brief glimpse of the machine.
Specifications:
Chassis with longitudinal battery layout.
Equipped with slipper clutch and ball differential.
Front and rear long-span suspension.
Front and rear aeration dampers.
Fitted with Wide Operation Angle (WO) universal shafts.
Specially-designed body and rear wing.
(Further details will be released at a later date.)
This machine was entered in the Yatabe International Offroad Grand Prix 2010 in Japan, and at the hands of TRF driver Satoshi Maezumi, achieved 1st place in one of the heats on its debut. It was also raced by new TRF driver Lee Martin (UK) at the recent Cactus Classic off-road race in the United States, where it placed a respectable 11th against the local favorites.
More details regarding this incredible new machine will be announced as we approach the Shizuoka Hobby Show!
Source: Tamiya, INC.