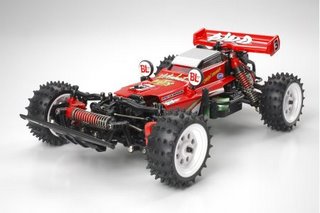 Tamiya's classic R/C Hotshot was released this summer to the suprise and joy of fans around the world. For those who don't have the time to build that fantastic assembly kit, Tamiya now offers this Ready-to-Run version on the newly designed GB-03 TamTech-Gear chassis.
About the Model
# Compact-sized and Ready-to-Run 4WD electric R/C off-road buggy.
# Featuring the brand new, shaft-driven 4WD GB-03 chassis, the first 4WD chassis in the TamTech- Gear lineup.
# 4-wheel double wishbone suspension features a front mono-shock that echoes the actual 1/10 R/C Hotshot design.
# 4WD drivetrain equipped with front and rear universal shafts for optimum efficiency.
# Front and rear pinion-type differentials effectively transfer power from the motor to the wheels.
# Slipper clutch protects gears from the rigors of off-road racing.
# High-efficiency 370 size motor provides extended running time of over 30 minutes.
# Includes compact ESC, receiver and servo, and 2-channel Expec SP transmitter.
# Running battery & charger separately required.
# Wide range of Option Parts available to customize the look and performance of your machine.