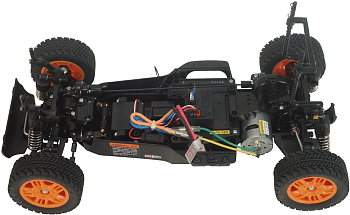 With recent announcements about new Tamiya items for the upcoming Tokyo Hobby Show, the most important information about most of the new models is readily available. However, at the time of writing this, finding information about the item number 57769, generally known as "XB SUV" in several forums, is rather difficult. So I thought this
link
might be of interest.
The German technical description indicates that it will not be based on the XC/CC-01 chassis like the Touareg, ………………… See update below!

Translation of the most interesting information:
4WD with centrally mounted propellershaft. Impact proof plastic bathtub chassis. 540 Motor, Electronic speed control TEU-101 BK. All-Terrain tires. 4 wheel independent suspension. Spurgear and pinion protected against debris.
Update Oct. 12th, now confirmed: The Cayenne will get the same chassis as the Hummer, which means basicly TA01 with longer suspension arms tierods and driveshafts, rear arms being "stretched" backwards to extend wheelbase to 280mm. By the way, nice to see the meanwhile relatively rare tires of the Honda CR-V getting a new life!
Other new items (update Sept. 17th highlighted in red) (Update Sept. 25th highlighted in green):
Static models:
12036 1/12 Tyrrell P34 Six Wheeler w/Photo Etched Parts
14110 1/12 Ajinomoto Honda NSR250 '90
21063 1/24 Open Interface Tom's SC430 2006 (Finished Model)
21064 1/24 Mobil I SC 2006 (Finished Model)
23209 1/12 Enzo Ferrari Giallo Modena Semi-Assembled Premium Model
24305 1/24 Lamborghini Countach LP400 (improved re-issue of 24005)
26526 1/48 Russian Heavy Tank KV-1 (Finished Model)
26527 1/48 Russian Heavy Tank KV-2 Gigant (Finished Model)
26529 1/48 Citroen 11CV Staff Car German Air Force 8th Fliegerkorps (Finished Model)
26531 1/48 US 4×4 Light Vehicle 1/4 ton Jeep
26532 1/48 Volkswagen Type 82E German Army (Finished Model)
31349 1/700 Light Cruiser Abukuma
31617 1/700 British Battle Cruiser Repulse
32553 1/48 German Steyr Type 1500A Kommandeurwagen
35287 1/35 B1 bis (German Army)
35288 1/35 WWII French Infantry Set
35289 1/35 Russian Heavy Tank JS-2 Model 1944 ChKZ
60778 1/72 Focke-Wulf Fw190 D-9 JV44
61100 1/48 Fieseler Fi 156C Storch
89750 1/35 Kübelwagen Type 82 w/German Field Military Police
89751 1/35 German SP Anti-Tank Gun Marder III w/German Tank Maintenance Crew
RC models and parts:
40165 GB03 C-Parts (Gear Case) (for TTG Hotshot)
40166 GB03 E-Parts (Joints) (for TTG Hotshot)
40167 GB03 Gear Parts (for TTG Hotshot)
40168 GB03 M-Parts (Steering) (for TTG Hotshot)
40169 GB03 R-Parts (Bumper) (for TTG Hotshot)
40554 GT-01 Gold Mesh Wheels (Front)
40555 GT-01 Gold Mesh Wheels (Rear)
42105 TRF501X World Championship Edition
42106 TRF416 Chassis Kit
44050 1/8 Nitrage 5.2
49460 XB TNX 5.2R Gold Edition TGM04 4×4 Custom Monster Truck
51300 TGM-04 B-Parts (Suspension Arm) Set
51301 TGM-04 C-Parts (Upright) Set
51302 Dish Wheel (87/50) 2 Pcs.
51303 Oval Spike Tire 150/80 (with Inner Sponges) 2 Pcs.
51295 BMW Z4 M Coupe Racing Body Parts Set
54015 DB01 Assembly Universal Shaft Front
54016 DB01 Assembly Universal Shaft Rear
54017 DB01 Front One Way Set
54018 DB01 Slipper Clutch Set
56023 1/16 German Jagdpanther Full-Option Complete Kit
56024 1/16 German Jagdpanther Full-Option Kit
56711 TamTech-Gear Hotshot (GB03)
57770 1/10 XB BMW Z4 M Coupe Racing
57771 1/10 XB Eclipse Advan SC430
58395 1/10 DB01 Durga ("plastic" version of TRF501)
58396 1/10 Dual Hunter (Wild Dagger chassis)
58397 1/10 Toyota Hilux High Lift
58399 1/10 Plasma Edge (DF-02, revamped Gravel Hound)
Supplies:
55099 Power Champ GZ (4pcs.)
85081 TS81 British Navy Gray (Spray Paint)
81780 XF-80 British Navy Gray (Acrylic Paint)