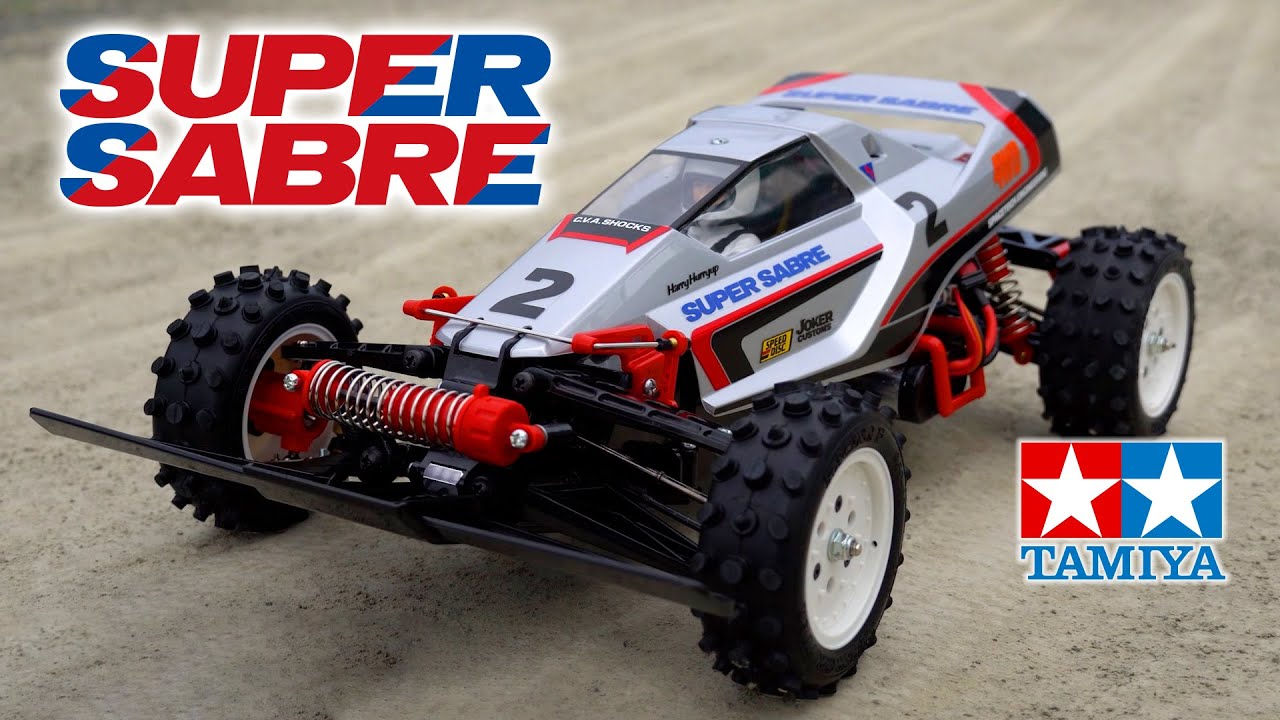 This R/C car assembly kit is a stylized recreation of the 1982 first generation model of the Mitsubishi Pajero.
Length: 385mm, width: 240mm, height: 255mm.
● Features ABS box type frame.
● Front swing axle and rear rolling rigid suspension setups employ CVA oil dampers.
● 94mm diameter semi-pneumatic synthetic rubber tires feature block pattern which gives superb grip even on rough surfaces.
● Sealed gearbox helps prevent sand and small stones from entering the model, and its built-in differential gear ensures smooth cornering.
● Features durable polystyrene body. Rear is realistically depicted with details such as tool box, spare tire and roll bar with auxiliary lights.
● Wheelie bar is included for optional attachment.

This R/C model assembly kit is a re-released and updated version of the Super Sabre, a beginner-friendly buggy released in 1987.
Length: 385mm, width: 234mm, height: 135mm.
● Shaft-driven 4WD gives speed and stability off road, and through corners.
● 4-wheel independent double wishbone suspension employs CVA short dampers with a front stabilizer to help get the most out of the 4-wheel drive.
● Gearboxes are sealed to keep out dirt, and contain differentials for smooth cornering.
● ABS bathtub frame and other reinforced parts give superb durability and simplified maintenance.
● The sleek body is molded in lightweight, durable polycarbonate.