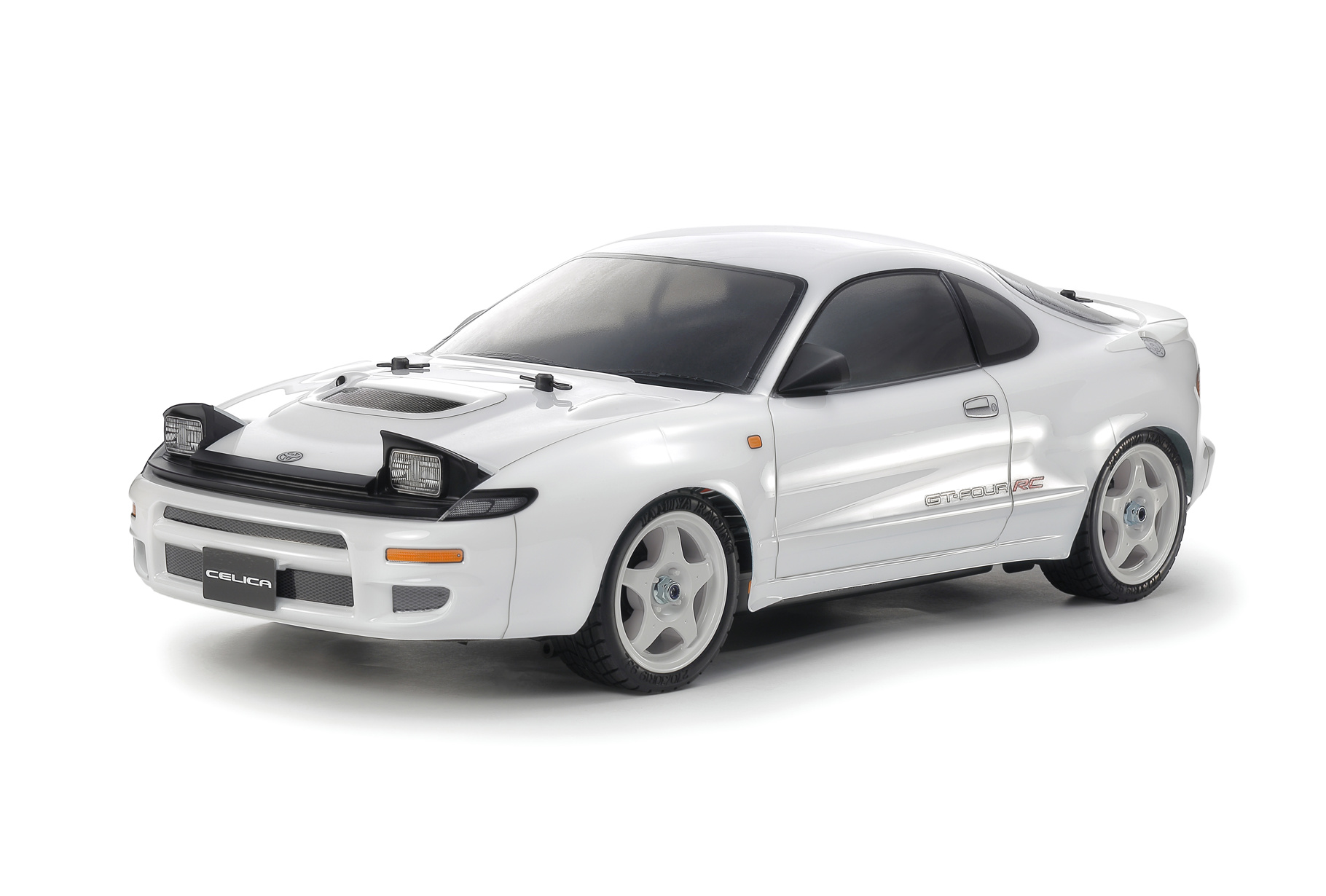 Tamiya is delighted to announce the appearance of another classic racing car on our popular TT-02 chassis, this time the Toyota Celica GT-Four RC (ST185).
The Toyota Celica GT-Four RC was developed as a homologation car to take part in global rally races, and in 1992, 5,000 units were sold around the world. With its curved, powerful body, this car employed a 2-liter turbo engine with metal turbines and water-based intercooler system, which was capable of 235ps.
The 4WD system utilized a centre viscous coupling and a Torsen differential at the rear for superior controllability and traction. In 1993 global rally races, the Celica GT-Four (ST185) brought both Manufacturer's and Driver's Championships to Toyota for the first time.
This is a 1/10 scale R/C model assembly kit. Length: 450mm, width: 187mm, height: 136mm. Wheelbase: 257mm.
The lightweight, durable 1.0mm-thick polycarbonate body authentically captures the Toyota Celica GT-Four RC (ST185) in style.
The model utilizes the efficient shaft-driven 4WD TT-02 chassis which features superior adaptability and stability.
5-spoke wheels are paired with tread pattern racing radial tires.
Comes with stickers and masking stickers for use in the paint job
Torque Tuned Motor & ESC included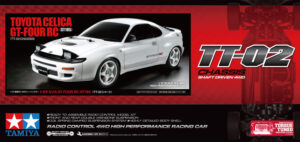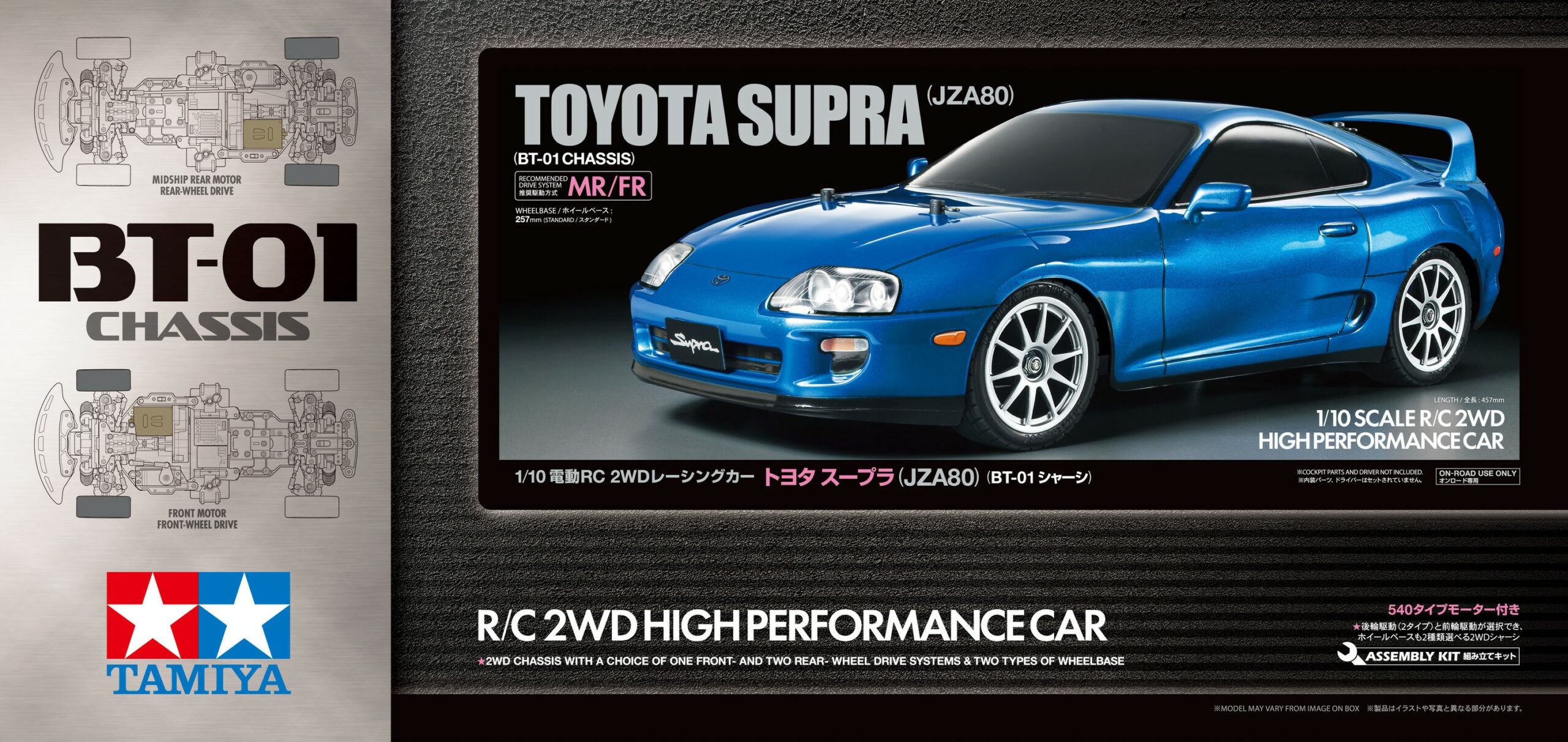 The 2WD BT-01 chassis offers choices of FF/MR/FR drive system based upon the drive system of the actual car your body recreates. Its very first body depicts the fourth generation Toyota Supra (JZA80) which was announced as a Toyota's flagship sportscar in 1993.
Its top grade RZ model employed a 3-liter inline-6 twin turbo engine capable of 280hp, 6-speed transmission, 4-wheel double wishbone suspension and ventilated disc brakes for front and rear.
The muscular form and high-spec performance mesmerised fans all over the world and achieved success in motorsports races.
This is a 1/10 scale R/C model assembly kit. Length: 457mm, width: 185mm, height: 135mm. Wheelbase: 257mm.
The form of the Toyota Supra (JZA80) is realistically recreated in lightweight polycarbonate.
10-spoke one-piece wheels (silver colour) are paired with racing radial tires (Item 50419).
Separate moulded plastic parts: mirrors, wing, light cases
Length: 397mm, width: 185mm. Wheelbase: 257mm / 251mm (*).
The 2WD BT-01 chassis gives a choice of two types of wheelbase (*), and front- or rear- wheel drive system.
Without removing battery pack, motor and R/C equipment setups from the centre frame, simply change attachment directions of final gears and steering linkage to switch between front- and rear-wheel drive; front (FR) or midship rear (MR) motor position can be chosen for rear-wheel drive cars. (Six setups are available in total.)
The 4-wheel double wishbone suspension features symmetrical structure and friction dampers.
Unitized sections such as motor mount, final gears and suspension facilitate ease of assembly and effective maintenance.
Many Hop-Up Option parts for TT-chassis cars can be used to fine-tune setup.
Type 540 motor & ESC included