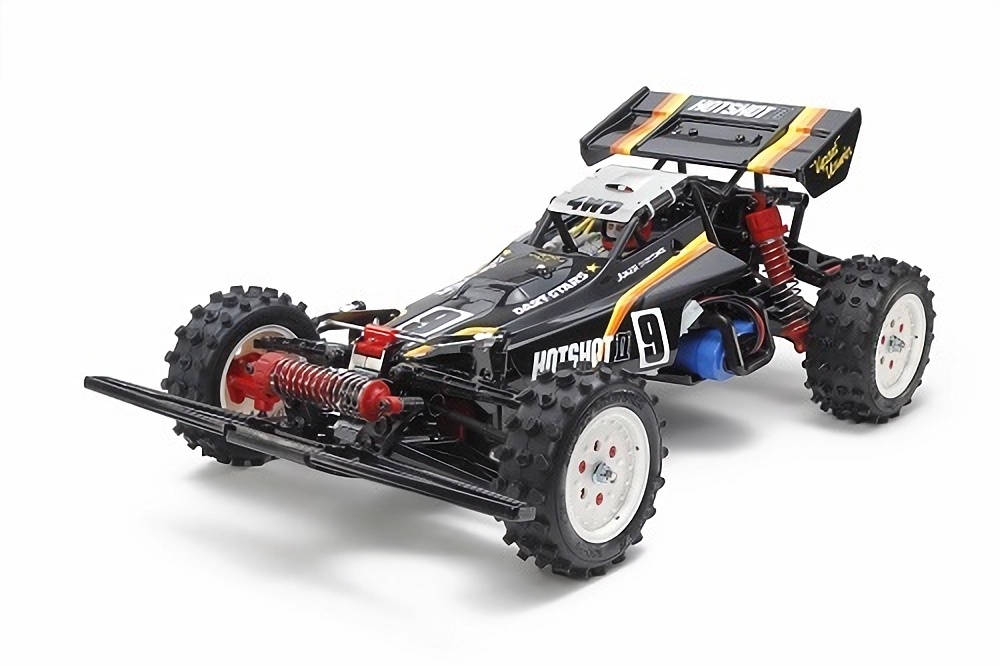 Tamiya welcomes the updated re-edition of the 4WD Hotshot II buggy, the original of which was first produced in 1987, following Tamiya's first 4WD buggies, item 58047 Hotshot, released in 1985 and item 58054 Supershot released in 1986 The Hotshot II was a lightweight design due to the use of
plastic parts.
Model information:
• 1/10 scale R/C model assembly kit. Length: 390mm, width: 235mm, height: 160mm.
• The four-wheel drive with shaft transmission guarantees off-road speed and stability even in the most treacherous curves.
• 4-wheel independent double wishbone suspension uses CVA (II) oil-filled shock absorbers (one for the front and two for the rear) with a front stabilizer to get the most out of 4WD traction.
• The bodywork and rear wing are made of lightweight polycarbonate (0.7 mm thick) and use a color scheme with orange lines on a black base.
The polycarbonate body is pre-cut and pre-painted in black.
• Front and rear mechanical shells are sealed to keep out dirt and sand and contain differentials for smooth cornering.
• Sections such as the ABS monocoque frame and suspension arms are made of reinforced plastic for long life.
• Oval pin and spiked "semi-pneumatic" hybrid tires are paired with large diameter nylon rims.
• Includes updated sticker sets.
Start of simultaneous worldwide distribution from 23 February 2024