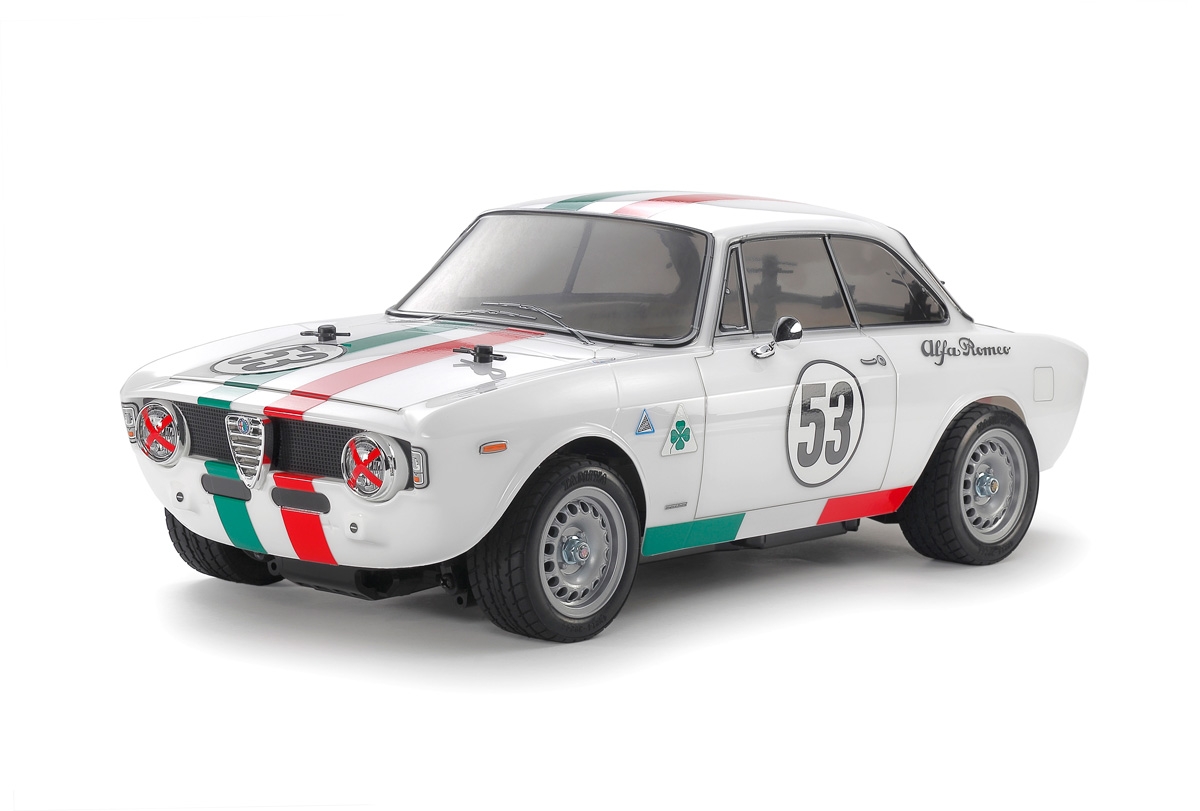 The Alfa Romeo Giulia Sprint GTA Club Racer makes an appearance on the new and versatile MB-01 chassis platform. This time around the MB-01 is configured to be the middle wheelbase with midship rear motor/rear wheel drive (MR) specification. The Alfa Romeo Giulia Sprint GTA was developed as the lightweight, tuned race version of the 2-door coupe Giulia Sprint GT and released in 1965. 500 units were produced and in the late 1960s the works car became class champion several times in the European Touring Car Championship; also run by other racing teams, it caught a lot of attention at the racetrack!
The MB-01 Chassis
The compact, 2WD MB-01 chassis gives a choice of three types of wheelbases, and front- or rear- wheel drive system. This model employs a midship motor, rear-wheel drive setup. Without removing battery pack, motor, and R/C equipment setups from the center frame, simply change attachment directions of final gears and steering linkage to switch between front- and rear-wheel drive; low or high motor position can be chosen for rear-wheel drive cars. The 4-wheel double wishbone suspension features symmetrical structure and friction dampers. Unitized sections such as motor mount, final gears and suspension facilitate ease of assembly and effective maintenance.
• 1/10 scale R/C model assembly kit. Length: 385mm, width: 167mm, height: 132mm. Wheelbase: 225mm (Middle wheelbase).
• The form of the Alfa Romeo Giulia Sprint GTA Club Racer is recreated in lightweight polycarbonate.
• Features 60mm front and rear tires.
• This kit includes livery stickers to create a design inspired by the numerous amateur club racers.
• Includes 540-Type brushed motor and ESC.
• Required to complete: 2-channel radio, steering servo, 7.2-7.4volt battery with compatible charger, and Tamiya PS paint.