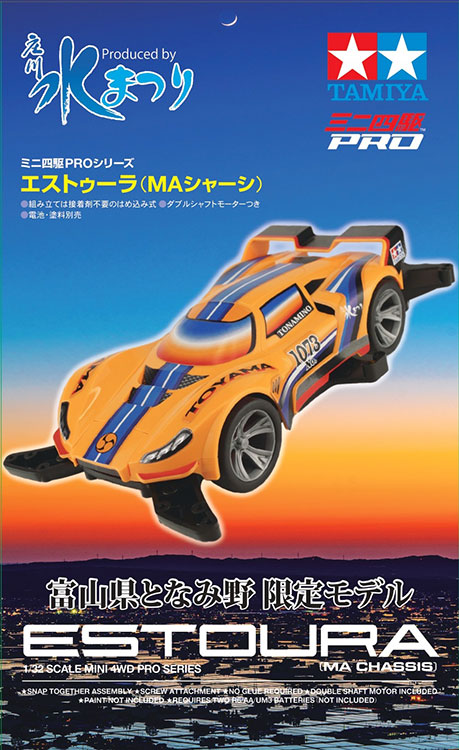 A mini 4WD will be released in collaboration with Tamiya and the executive committee of the "Shogawa Water Festival" held in Tonami City, Toyama Prefecture. A limited edition set of the standard kit "Estura (MA Chassis)" (ITEM18659) with an original designed body sticker and sleeve package. Sales are scheduled to begin at the festival venue on Sunday, October 29, 2023. Limited to 900 pieces, the special venue price is 1,650 yen (tax included).
The collaboration mini 4WD's orange-based design with blue lines is inspired by the "Shogawa and Oyabe Rivers that flow through the Tonami Plains, bearing abundant golden ears," and includes the "Water Festival" and "1073 No. It also includes logos such as "Tonanino" and "TOYAMA." The sleeve package features beautiful photos of Shogawa Aiguchi Dam, Kanjoji Park, Tonami Tulip Park, and Shogawa Gorge, with the main focus being the Tonami Plain dyed in the setting sun, taken by popular photographer Inagaki Yasuto of Imizu City. It has an attractive design full of regional character.
Mini 4WD races have been held continuously at the "Shogawa Water Festival" since 1996, when Mini 4WD became a nationwide boom, and the deep connection between the festival and Mini 4WD and the enthusiastic enthusiasm of the local staff are evident. This collaboration was made possible through these efforts.
▼Related links
Shogawa Water Festival
https://mizumatsuri.com/
City Official Tourism Site "Tonatabi"
https://www.city.tonami.lg.jp/kanko/event/526p/
Inaga Kyast
https://twitter.com/inagakiyasuto
https://www.instagram.com/inagakiyasuto