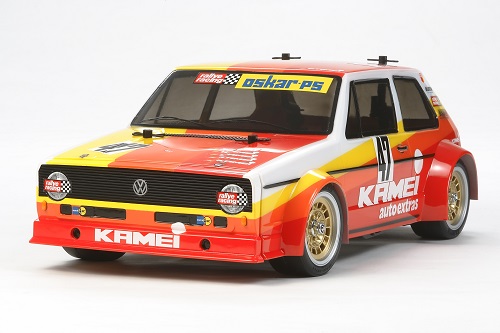 47308 Volkswagen Golf Mk.1 Racing Group 2 M-05 Chassis
Tamiya is pleased to announce a new production R/C kit of the Kamei-sponsored Volkswagen Golf Mk.1 that has been competing in Class 2. Don't miss this opportunity to add this kit to your M-05 chassis collection.
Model features:
– This is a 1/12 scale R/C model assembly kit with front wheel drive 2WD. Length: 329mm, width: 175mm, height: 120mm. Wheelbase: 210mm.
– The lightweight and durable polycarbonate bodywork reproduces the shape of the Golf in the racing version.
– The M-05 front-wheel-drive chassis features a lightweight, narrow, durable and easy-to-build semi-monocoque resin frame.
– The drivetrain, motor, battery pack, receiver, servo and ESC are carefully arranged to achieve optimum balance and a low centre of gravity.
– Independent 4-wheel double wishbone suspension and 3-piece steering linkage provide cornering stability and traction even at high speeds.
– The elegant gold-coloured wheels are matched to M-Chassis racing slicks with inserts to prevent wear.
– Includes sticker set for the livery.
– A whole range of optional Hop-Up parts is available for tuning the M-05 chassis.

47483 Ford Bronco 2021 Blue-Gray Painted Body CC-02 Chassis
Limited edition version for the Ford Bronco 2021 (article 58705) with pre-painted and pre-cut bodywork. Perfect not only for beginners but also for experts who have limited time to devote to bodywork. Please note that the body requires painting of the door handles and fixing of the parts and stickers.
Model features:
– This is a 1/10 scale R/C model assembly kit with 4WD transmission. Length: 447mm, width: 204mm, height: 233mm. Wheelbase: 252mm.
– The distinctive shape of the Ford Bronco 2021 is accurately reproduced with 1.2mm polycarbonate, lightweight, strong and pre-painted in PS-32 Corsa Grey. The body is pre-cut, with mounting holes already drilled.
– The roof and bumper sections are pre-painted in PS-5 Black with surface coating in PS-55 Flat Clear.
– It has PC-ABS H-parts (grille, mirrors, spare wheel cover and door handles) and metal plated K-parts (light shields).
– The PC-ABS roof rack is included as a standard part to give the model a cross-country image.
– The CC-02 chassis is a chassis inspired by full-scale vehicles, provides rigidity and enables stable performance even on rocky roads and difficult dirt tracks. Perfect as a scaler.
– The black 12-spoke wheels (width: 26mm, offset: +6) part number 51686 are matched to rubber tyres with tread.