While the item number was known to us here more than a month ago, now we have the full details: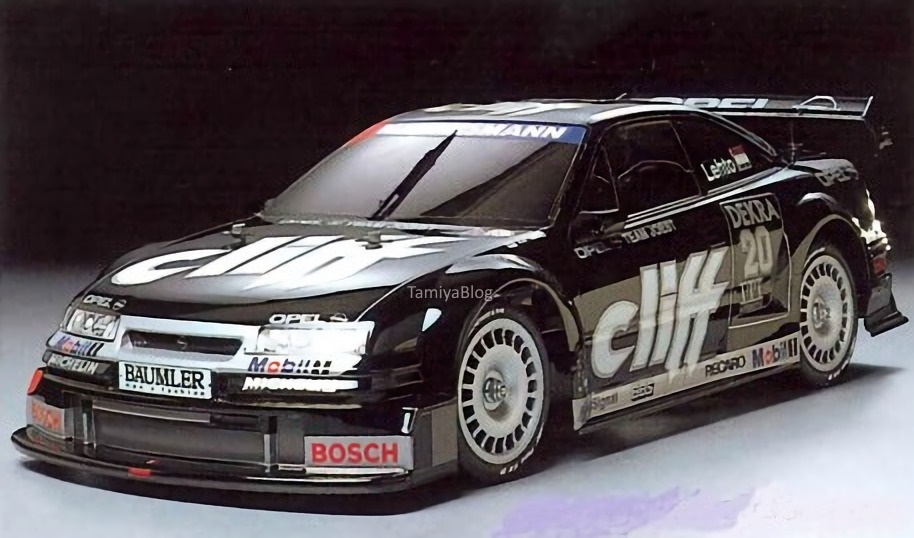 Tamiya welcomes the Opel Calibra V6 Cliff R/C model based on the TT01 Type-E chassis. The Opel Calibra V6 Cliff participated in the 1995 German Touring Car Championship (DTM) series race. Introduced by Joest Racing with driver JJ. Lehto, the car was powered by a 2.5-litre engine V6 engine capable of 420 hp. The distinctive all-black bodywork with the Cliff logo caught people's attention, and this car showed strength in the DTM.
About the model
– This is a 1/10 scale R/C model assembly kit. Length: 448 mm, width: 185 mm, height: 128 mm. Wheelbase: 257 mm.
– The bulky 1990s shape of the Calibra V6 is stylishly captured by a lightweight, rigid polycarbonate (clear) body with separate side mirrors and a rear spoiler.
– The model uses the shaft-driven TT-01 E-Type 4WD TT-01 chassis, which is based on a durable tub cockpit frame and offers an intuitive, highly controllable drive.
– It features a 4-wheel double wishbone suspension system, and rear differential gears to produce excellent handling.
– Silver ABS, concave wheels are matched with slick racing tyres.
– Comes with decals and masking stickers for use on the paint job.
Features
– Length: 448 mm, width: 185 mm, height: 128 mm, wheelbase: 257 mm.
– Encapsulated 4WD all-wheel drive
– prototypical unpainted polycarbonate body
– Plastic side mirrors and rear spoiler
– Powerful "Torque-Tuned" 540 electric motor
– Independent front and rear suspension
– Electronic speed controller
– Many optional tuning parts available
Necessary accessories
-Remote control with receiver, steering servo, 7.2 V
-NiMH battery pack, charger, paint for polycarbonate body (TAMIYA-PS)