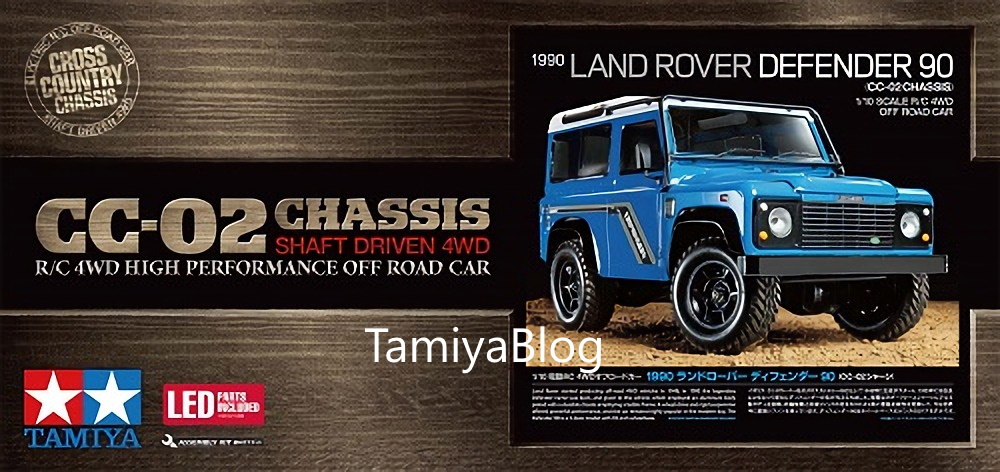 Tamiya 58700 Land Rover Defender 90 4WD CC-02
Tamiya is pleased to announce the unveiling of another off-road car on our popular CC-02 chassis, this time the 1990 Land Rover Defender 90 (originally used under item 58657).
The Defender 90 is a legendary Rover off-roader whose roots date back to 1948. Based on the differences in wheelbases, this car has three types: the Defender 90/110/130.
This model depicts a 3-door model with a 93-inch wheelbase.
Model Information:
– This is a 1/10 scale R/C model assembly kit. Length: 429 mm, width: 200 mm, height: 215 mm, wheelbase (short): 242 mm (same dimensions as CC-01S chassis).
– The unmistakable shape of the Defender 90 is precisely captured by the lightweight polycarbonate body, now with additional attachment positions for chassis mounting.
– Compatible with x2 5mm diameter LEDs for the headlights and x6 5mm diameter LEDs for the rear.
– Includes separately molded parts for grille, side mirrors, light shields and indicators.
– Black ABS resin wheels are matched with all-terrain semi-pneumatic tires.
– Short drive shafts (P parts) transmit power to front and rear differential gears.
– The CC-02 chassis with frame offers superior durability and uses front/rear coil spring suspension which is a great compromise for off-road surfaces, including rocky terrain.
– A wide range of optional Hop-Up parts are available to customize the model.
The following parts are required for operation and sold separately: 2-channel radio, steering servo, ESC, 7,2V battery and battery charger.
The export version includes LED kit.