Released in Japan on Saturday, August 28, 2021
Price 1,320 yen

The legend of "Laser Mini 4WD" begins
A plastic model assembly kit for high-performance racers that uses shaft-driven four-wheel drive. Road Spirit is a machine driven by Mota Kudo, the main character of "MINI 4 KING", a manga serialized in CoroCoro Comic. The white-collar body consists of two parts, a front part that is narrowed down toward the rear and a roof. The sharp styling that is held low gives a sense of speed. Even more noteworthy are the road spirit parts, which are important items in the story. The front stabilizer protruding like a corner, the rear brake attached to the underside of the machine, and the rear height roller, which is characterized by its thick shape, add stability at high speeds. The powerful silhouette and the beautiful texture of clear blue green are also attractive. And the chassis adopts VZ which is lightweight and compact and suitable for actual battle. Dish type wheels equipped with large diameter slick tires are easy to apply force when inserting the shaft. The red graphic that shines in white, the logo of the machine name, etc. are expressed with metallic stickers.
VZ chassis in pursuit of strength and expandability
The VZ chassis is a further refinement of the performance of the compact, lightweight, short wheelbase VS chassis that is also used in racing and is popular. While maintaining the excellent features of the VS chassis such as small turning performance and high maintainability, the strength of the bumper, rear stay base, propeller shaft bearing, etc. has been increased. The point is the appropriate "bending" that absorbs the impact. In addition to the rear roller stay, the front bumper can also be split. The degree of freedom of setting is also greatly improved. And the bearing of the shaft adopts 620 plastic bearing made of POM resin with low frictional resistance. A parts such as chassis body and gear cover, and special parts are made of ABS resin. The gear ratio is set to 4.2: 1.
Basic specifications
● Overall length 165 mm, overall width 98 mm, overall height 44 mm ● With motor ● Assembled by fitting and screwing without using adhesive
Items to be purchased separately
● 2 AA batteries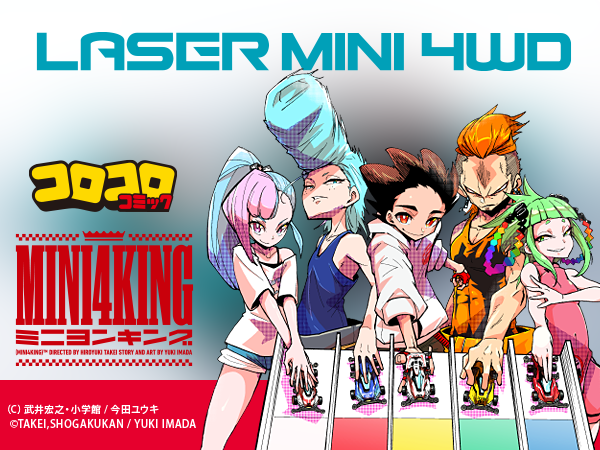 What is Laser Mini 4WD
Laser Mini 4WD is a machine that shows great excitement in "MINI 4 KING" (original plan: Hiroyuki Takei manga: Yuki Imada) serialized in CoroCoro Comic. The machines designed by Professor Hiroyuki Takei are characterized by being equipped with special parts that strongly emphasize their individuality. Although the special parts have a simple structure that can be easily attached with screws, they are as effective as the upgraded parts, and you can enjoy high-level driving. In addition, the shape, characteristics, and coloring of the parts vary depending on the machine, so the collection and customization are full of fun. It is a hot series together with the story of "MINI 4 KING".
Paints used
Tamiya 85026 Spray TS-26 Pure White for the body
Tamiya 0XF56 XF-56 Metallic Gray for rear of the body