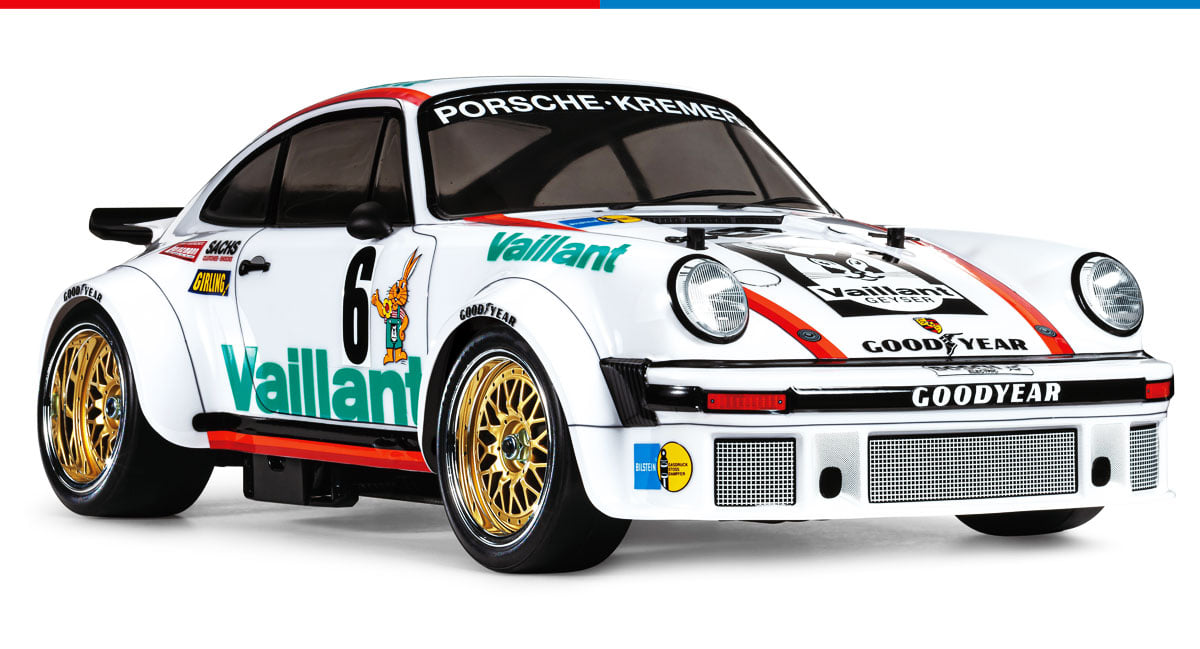 This 1/10 scale R/C kit is a color variation version of the Porsche Turbo RSR Type 934. The kit itself commemorates the 45th anniversary of the original Tamiya R/C release! The Porsche 934 holds a special place in Tamiya history as the product of our first R/C model release. This model features a white color body that recreates the Porsche Turbo RSR Type 934 which tussled at the top of races in the European Racing Championship in June 1976. The special release includes a photo-etched product plate and a one-page printed message by Tamiya's Executive Chairman, Shunsaku Tamiya!
• 1/10 R/C assembly kit. Length: 435mm, width: 202mm, wheelbase: 236mm.
• Body is made of durable polycarbonate.
• Shaft-driven 4WD TA02SW chassis incorporates a horizontal motor layout featuring an FRP double-deck frame with battery and rear gearbox positioned further forward for optimum weight distribution.
• The chassis has a short (236mm) wheelbase and wide tread setup in the traditional Porsche style.
• Includes hi-spec parts: Aluminum motor mount, hard propeller shaft (short), and front/rear universal shafts.
• The 4-wheel double wishbone suspension utilizes CVA oil dampers with front/rear FRP shock/damper stays.
• The drivetrain uses full bearings, and sealed front/rear gearboxes have built-in diff gears, with a ball differential in the rear.
• 2-piece mesh wheels with metal plated rims have wide rear tires and front/rear semi-pneumatic slick tires featuring inner sponges.
• Includes: 540-Type brushed motor.
• Special, dedicated package.
• Requires: 2-channel radio, steering servo, ESC. 7.2-7.4volt battery & charger, and Tamiya PS paint.