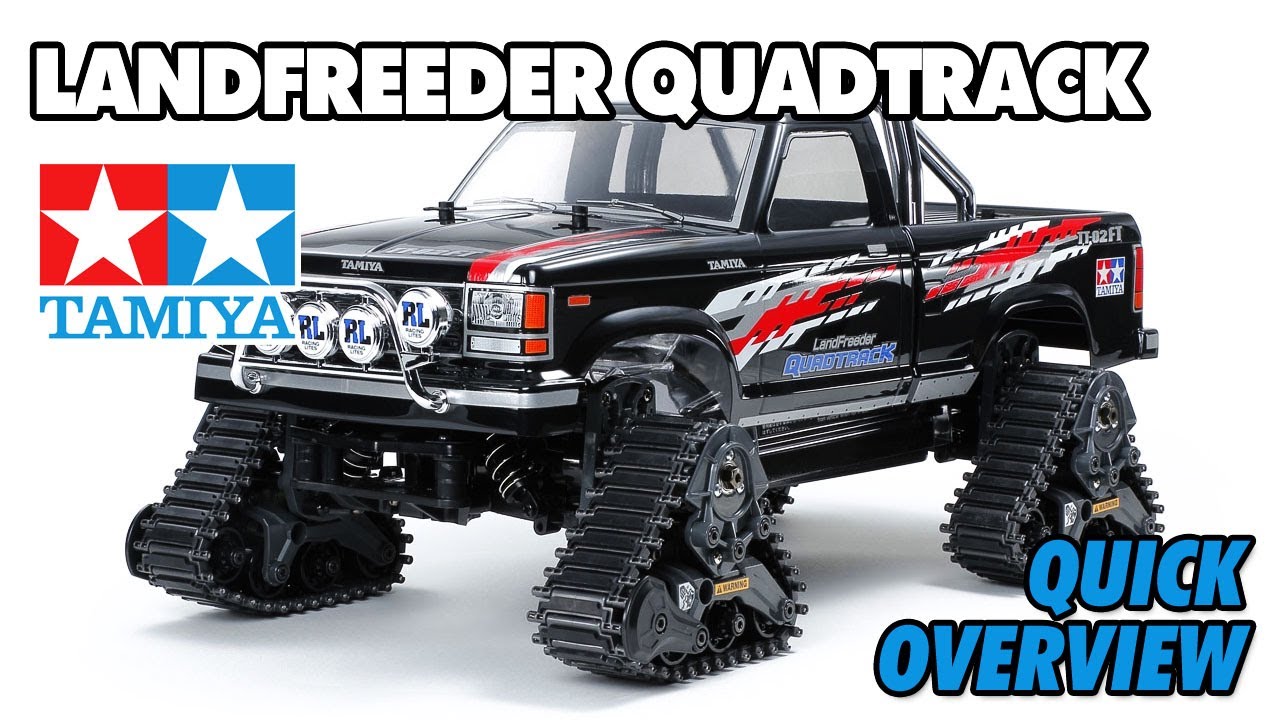 The Landfreeder Quadtrack is our newest release on the TT-02 chassis. Fitted with a Quadtrack system, this TT-02 gains the FT designation, or Four-Track.
In this video, we take a look at what comes in our Landfreeder kit. We also discuss the features of the Quadtrack system, the parts list of the TT-02 as well as some info on the new TBLE-04S ESC that now comes standard in every kit.
Features:
• 1/10 scale R/C model assembly kit. Length: 425, width: 247mm.
• The Landfreeder body comes molded in polycarbonate, pre-painted Black (PS-5) and with Smoke (PS-31) painted windows. Separate plated parts recreate grille cover, fog lamps and roll bar.
• The TT-02FT is a variant of the TT-02 chassis, with four tracks on its suspension.
• Each of the three-sided track units is 39.3mm in width and has a contact area of 60mm length. Tracks require assembly from link parts, and offer efficient traction.
• Two types of elastomer track link (standard and grouser) are included for setup options.
• Track units are attached to suspension arms via plates, and each features a sprocket and four rollers. The third roller is sprung to further enhance performance.
• Polycarbonate chassis cover and wheel well liners give protection from dust and dirt encountered during off-road driving.
• TT-02 four-bevel differentials and identical suspension arms are used.
• Includes 540-brushed type motor.
• Includes NEW TBLE-04S ESC. Compatible with brushless motors (sensored) of 21.5 turns and higher, and Tamiya brushed motors 25 turns and over.
• Requires: 2-channel radio, steering servo, 7.2-7.4volt battery pack and compatible charger.
Video source: Tamiya USA