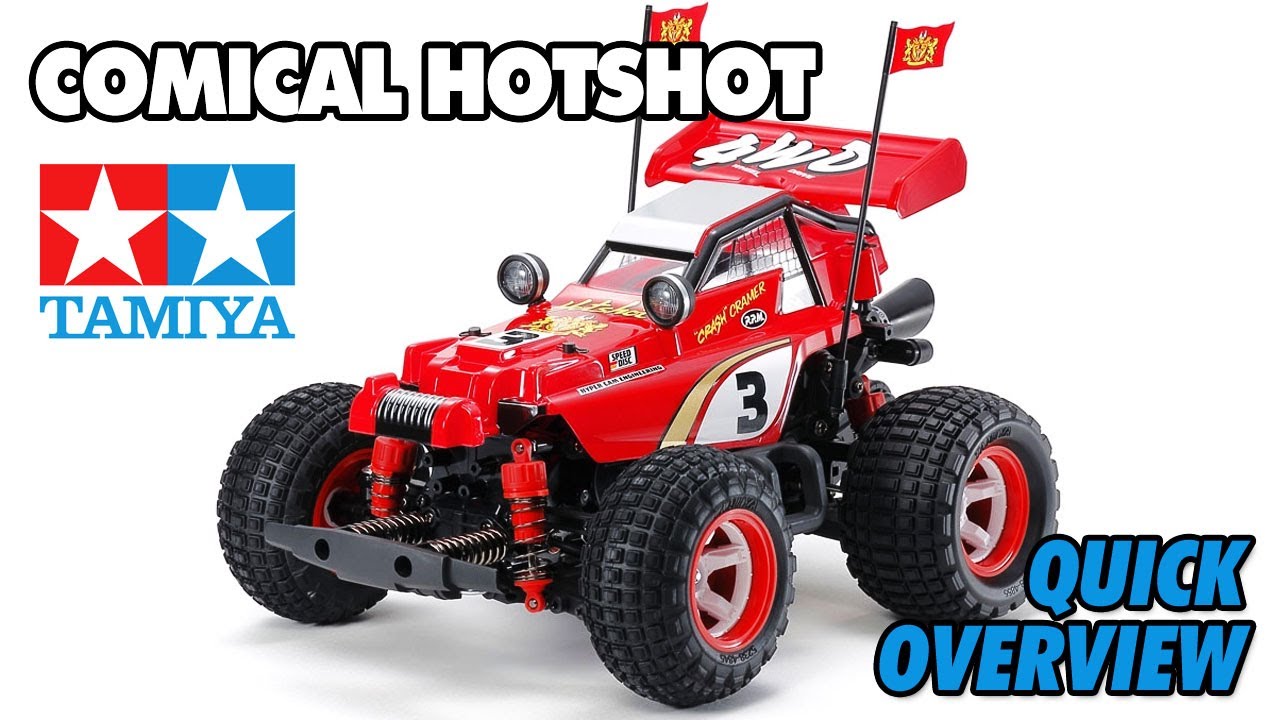 The 58685 Hotshot is our latest release on the Comical platform. It features a shortened, toon body on the GF-01CB 4WD chassis complete with a pre-painted body, Hotshot livery, large rear wing and dual antennas. Oversized offroad tires are standard as are the two-piece, dual-color wheels. This model comes with a 540 brushed motor and our new TBLE-04S ESC.
Features:
• 1/10 scale R/C model assembly kit.
• Includes a lightweight and durable stylized polycarbonate version of the Hotshot body and wing, developed specially for this model. The body is pre-painted in PS-2 Red. Stickers based upon the 2007 re-issue Hotshot are included for decoration.
• Stylish bumper and muffler parts are included, as well as dedicated side guard components.
• Separately sold 5mm LEDs can be used to light up the model. Light pods are included.
• ST block bubble tires have stepped block patterns (width/diameter: front 45/99mm, rear 55/99mm).
• The GF-01CB chassis offers efficient gear-driven 4-wheel drive.
• ABS two-part wheels have red and white spoke parts.
• CVA Super Mini oil dampers molded in red ensure your ride has superior cushioning.
• A rear wheelie bar lets you perform thrilling wheelies by slamming on the throttle.
• Includes 540-brushed type motor.
• Includes NEW TBLE-04S ESC. Compatible with brushless motors (sensored) of 21.5 turns and higher, and Tamiya brushed motors 25 turns and over.
• Requires: 2-channel radio, steering servo, 7.2-7.4volt battery pack and compatible charger.
• NOTE: Must use round type stick battery pack. Square shaped batteries will not fit the battery compartment.
Source of video: Tamiya USA