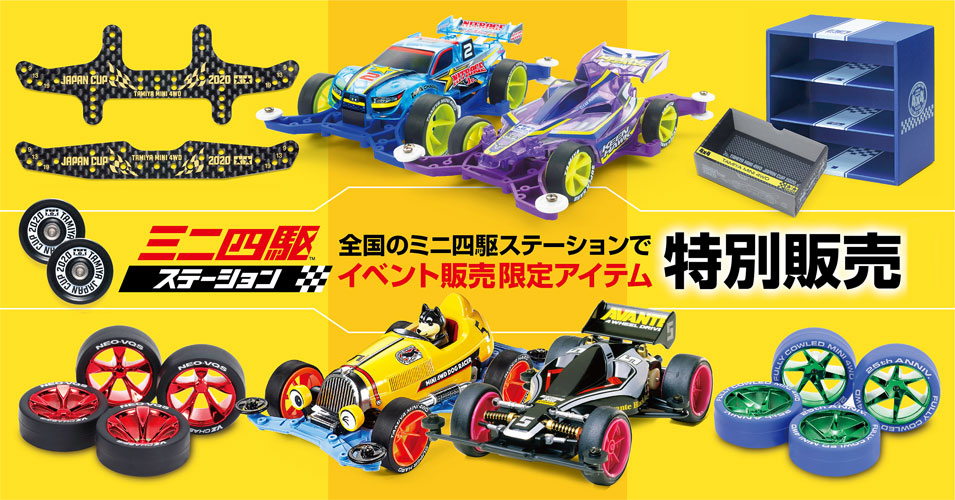 "Fujitsu Dry Battery Provided Mini 4WD Japan Cup 2020" Event Sales Limited Items Sold at Mini 4WD Stations Nationwide. Due to thesituation where Japan Cup 2020 cannot be held in various places, special event sales limited items will be sold nationwide. We decided to sell it at the station.
* Items that are not available for sale and the quantity is limited, so please forgive us if they are out of stock.
⇒ Click here for information on Mini 4WD stations nationwide.
Release: Around March 26th (Friday) * Varies depending on the store.
Mini 4WD kit
◇ Mini 4WD Dog Kuroshiba Special (VS Chassis)
◇ 1/32 Night Rage Jr. Clear Blue Special (MA Chassis)
◇ 1/32 Keane Hawk Jr. Clear Purple Special (MA Chassis)
◇ 1/32 Avante Jr. Black Special
Upgrade parts, etc.
◇ HG Carbon Multi Wide Stay (1.5mm) J-CUP2020 Gold Print
◇ HG Carbon Multi Wide Rear Stay (1.5mm) J-CUP2020 Gold Print
◇ HG 19mm All Aluminum Bearing Roller Set J-CUP2020 Black
◇ Super Hard Low Height Tire & Red Plating 5-spoke wheel (Neo VQS)
◇ Full cowl mini 4WD 25th anniversary blue tire & green plated wheel
◇ Mini 4WD basic box (with sleeve) J-CUP2020 Black
◇ Mini 4WD basic box cabinet (navy)