Tamiya 42364 1/10 RC TA07 MSX Chassis Kit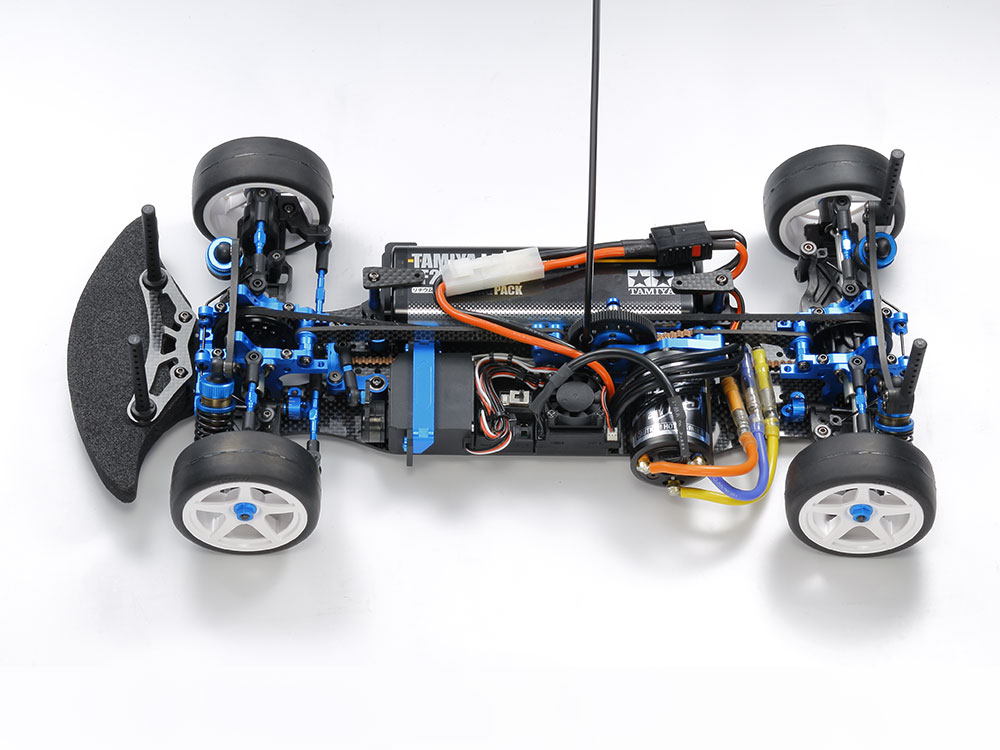 Chassis length = 370mm (including bumper) The photo shows the assembled kit.
* Body, motor, tires, wheels, RC mechanism, battery, etc. are not included in the product.
The highest peak of one-belt 4WD with improved road surface responsiveness and traction
This model further refines the driving performance of the TA07 MS, an electric RC 4WD touring car chassis that uses a highly efficient single-belt drive 4WD. The lower deck is available in 2.25mm thick carbon and 2.0mm thick aluminum suitable for high grip road surfaces to support various road surface conditions. Combined with a vertically arranged 2.0mm thick upper deck, it creates supple roll characteristics while ensuring pitching rigidity. In addition, two motor positions with different traction characteristics can be selected. As with the TRF420, the suspension mount uses a resin bush for delicate settings. The front and rear pulleys are the same as the TRF420. In addition, while making the SSBB damper a standard specification, we also prepared a carbon damper stay (3 mm thick) compatible with the TRF damper for bumpy road surfaces. [TA07 MSX kit standard parts (* = dedicated parts for this kit)]
● Carbon lower deck 2.25mm * ● Aluminum lower deck 3.0mm * ● Carbon front upper deck (2 types) 2.0mm * ● Carbon rear upper deck (2 types) 2.0mm * ● Carbon damper stay for SSBB 3.0mm * ● TRF damper Carbon damper stay 3.0mm * ● Carbon bumper support 2.0mm ● Aluminum lower bulkhead * ● Aluminum motor mount * ● TRF420 Front direct pulley ● TRF420 Aluminum direct cup ● TRF420 Gear differential ● Double cardan drive shaft 44mm ● Lightweight joint pipe for double cardan ● 44mm lightweight swing shaft (reinforced type) ● TRF420 wheel axle ● TRF super short big bore damper ● TA07 Adjustable Ackerman ● Aluminum servo mount * ● Adjustable suspension mount ● VG O ring ● Aluminum turn buckle ● 04 Hard coat aluminum pinion (27T)
Basic specifications
● Chassis length = 370mm (including bumper) ● Chassis width = 187mm ● Wheel base = 257mm * For on-road use only
Items to be purchased separately
● RC device with ESC 2-channel radio
● Recommended batteries LF2200-6.6V Racing pack ・ 9,500 yen (55102) etc.
● Recommended motor OP.1611 Brushless motor 02 with sensor 10.5T ・ 7,800 yen (54611) OP.1612 Brushless motor 02 with sensor 15.5T ・ 7,800 yen ( 54612) etc.
● Recommended tire OP.433 Fiber mold tire Medium narrow A 2 pcs, 1,200 yen (53433) OP.1952 Fiber mold C2 tire (24 mm, 2 pcs) 1,200 yen (54952) etc.
● Recommended inner OP.434 Mold inner medium narrow・ Soft (2 pcs) ・ 350 yen (53434) OP.582 Molded inner medium narrow ・ Medium (2 pcs) ・ 350 yen (53582) etc.
● Recommended body SP.1585 Raikiri GT spare body ・ 4,000 yen (51585) SP.1622 Toyota GR Supra Spare Body Set ・ 4,000 yen (51622) etc.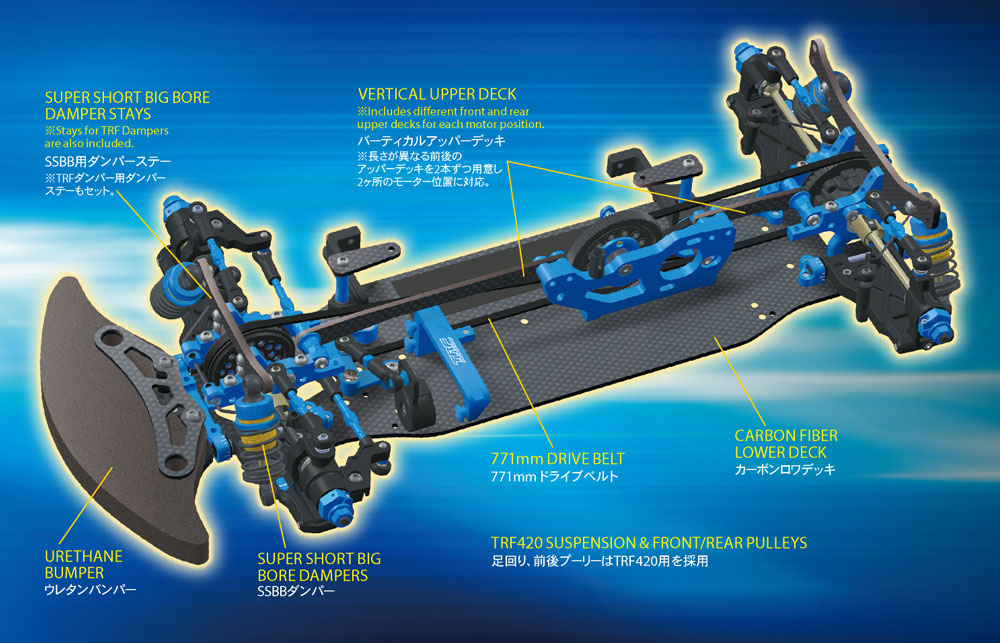 Tamiya 58686 1/10 RC VQS (2020)


Total length = 435 mm * All images are under development.
* Polycarbonate body is painted black and cut.
Appearance for the first time in 28 years!!
Middle class buggy that inherits the DNA of the famous car Avante] Middle class that inherits the main mechanism of Avante, a 4WD racing buggy that was developed with a view to participating in big races by concentrating Tamiya's technology at that time This is a reprint / improved version of the electric radio control buggy released in 1988 as a model. Overall length 435 mm, overall width 235 mm, overall height 150 mm. ● Uses a lightweight and strong ABS resin monocoque chassis. It is easy to maintain, protects the RC mechanism from shocks, and makes full use of the suspension performance with a structure with little deflection. In addition, inspection hatches are installed in the front and rear gearboxes, making gear replacement work easy. ● Sharp turning performance is demonstrated by a 3-diff configuration equipped with a small planetary type diff in the front and rear and a ball thrust diff in the center. Furthermore, in addition to reliable and smooth power transmission, a universal drive shaft is used in the front and rear to improve driving reliability without worrying about falling off during driving.
Suspension that allows you to enjoy delicate settings
Double wishbone type 4-wheel independent suspension uses screw shafts for each upper arm. Delicate settings are possible by adjusting the length of the arm. In addition, it is equipped with four CVA oil dampers, front and rear stabilizers, and a front upright made of machined aluminum to tighten the suspension.