95598 Tamiya NEO VQZ Advanced Pack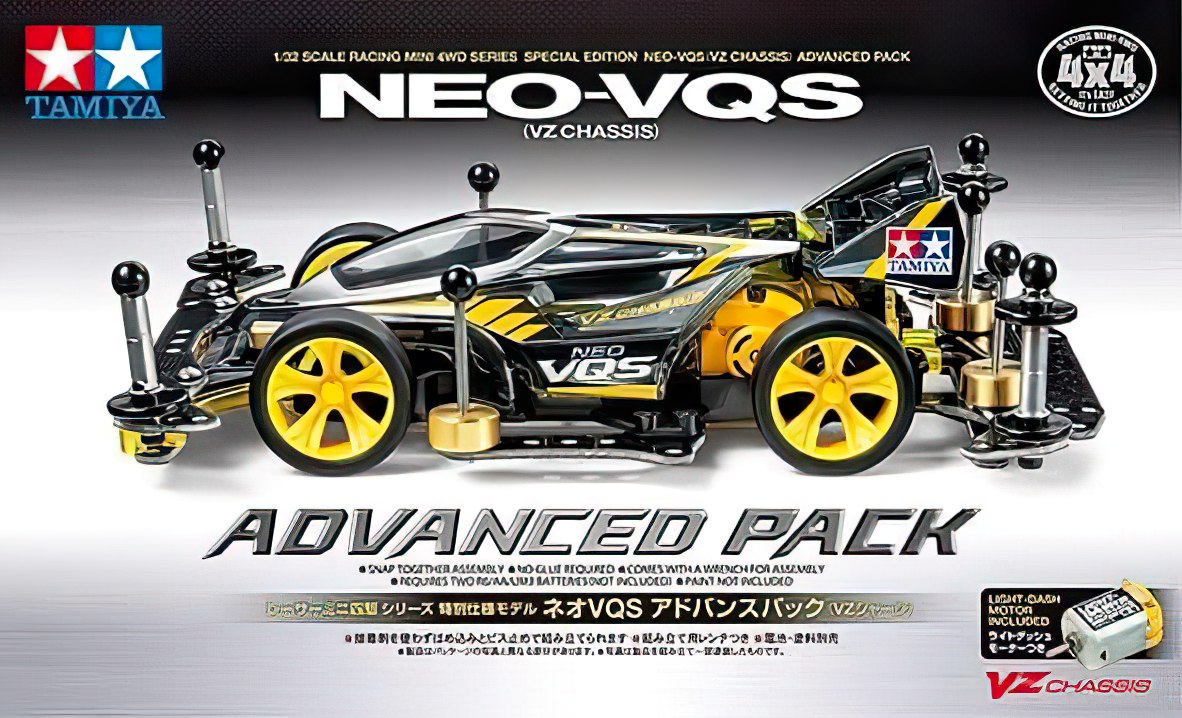 18095 Tamiya Honda e (VZ chassis)

Modern and cute electric car is mini 4WD
Honda e is a mini 4WD, a compact EV (electric car) of Honda, which debuted in August 2020, with mass production type unveiled in 2019 It was In addition to realistically modeling the rounded, 5-door hatchback style with plenty of love, the lively and bright body color is also based on the image of the actual vehicle coloring called Charge Yellow. The headlights, rear lamps, and black sticker that create a cute look are also included in the set to add a metallic touch to the display model. In addition, the chassis uses a lightweight, compact, and short wheelbase VZ. The dish type wheels are equipped with small diameter low-height tires in a black color that is full of real vehicle feel. It's a machine that will definitely get you hooked on how you can easily run through the course.
VZ chassis pursuing strength and expandability
The VZ chassis is a compact and lightweight VS wheel chassis with a short wheelbase, which is also popular in racing and has further refined its performance. While maintaining the excellent features of the VS chassis such as small turning performance and high maintainability, the strength of the bumper, rear stay base, propeller shaft bearing, etc. has been improved. The point is also a moderate "bend" that absorbs shock. In addition to the rear roller stay, the front bumper can also be split. The degree of freedom in setting is also greatly improved. The shaft bearing uses a 620 plastic bearing made of POM resin that has low frictional resistance. A parts such as the chassis body and gear cover are made of ABS resin, and the gear ratio is set to 3.5:1.
Basic specifications
●Completed length 158mm, width 98mm, height 53mm ●Motor included ●Can be assembled without adhesive and with screws
Required separately
●2 AA batteries
What is Honda e
Honda e is Honda's compact EV (electric vehicle) that was developed with the aim of creating an environment-friendly car that has a small body and is easy to use in urban areas. Various cameras and sensors are placed on the black part of the front mask and rear panel, and the steps are reduced to remove the decoration, pursuing a thoroughly simple design. In addition, the cockpit uses a novel instrument panel with five monitors aligned in a straight line, allowing various operations with a smartphone. It also has a voice assist function. The drive system is an RR that drives the rear wheels with a powerful motor located at the rear, and the suspension is a strut-type four-wheel independent, providing plenty of driving pleasure. The cruising range is more than 200km on a single charge, which makes the car suitable for the new era EV that Honda has created.