Mini 4WD Japan Cup 2020 event limited items
Tamiya 95588 Dog Kuroshiba Special (VS Chassis)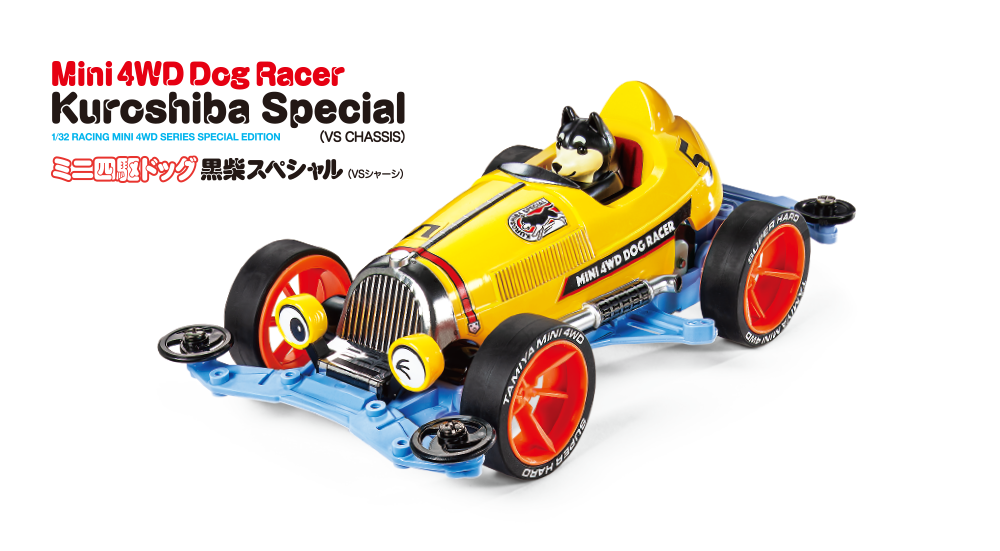 The popular mini 4WD dog is now available in a special kit as Kuroshiba. The body adopts the first yellow color Mach buret, and the driver figure of Kuroshiba to put on the driver's seat is already assembled and painted. A cute marking sticker is also included. The pastel blue color chassis is a small and lightweight VS with a short wheelbase. A large diameter low-height tire with white print is attached to the large diameter 6-spoke wheel of fluorescent orange. It is a kit that can be easily assembled by fitting and screwing without using adhesive.
〇 Body = Mach burette (yellow), dedicated sticker
〇 Chassis = ABS (pastel blue)
〇 A parts = ABS (black)
〇 Wheel = 6 large diameter spokes (fluorescent orange)
〇 Tire = super hard large diameter low height (black)
・SUPER HARD, TAMIYA MINI 4WD white print on the side surface
〇 Gear ratio = 5:1 with motor
*Please note that the number is limited, so it will be sold out.
Tamiya 95135 HG Carbon Multi Wide Rear Stay (1.5mm) J-CUP2020 Gold Print


Two types of lightweight, high-rigidity limited 1.5 mm thick carbon plates with Tamiya mark and J-CUP2020 logo printed in gold of a special color. The multi-wide stay and multi-wide rear stay are equipped with 9mm, 13mm, and 19mm parts mounting holes, and the roller can be set wide to accommodate various modifications.
*Do not use cleaners, etc., because the prints can be obtained.
○ Multi-wide stay: Mini 4WD PRO, Mini 4WD vehicles
○ Multi-wide rear stay: MA, MS, VZ, FM-A, AR, VS, Super II Available for Super X, Super XX, Super TZ-X chassis.
*Some chassis or body needs to be processed.
*Please note that the number is limited and will be sold out.
Tamiya 95593 Cabinet for Mini 4WD Basic Box (Navy)


Cabinet for Mini 4WD Basic Box (Navy)
Up to 3 Mini 4WD can be stored in a cardboard cabinet. In addition, it is also sized to store the optional Mini 4WD Basic Box.
This product does not include a basic box.
○ Cabinet is dark blue, Tamiya mark on the top of the cabinet, 4×4 logo is printed on the side in white.
○Assembled size: 188 x 192 x 117 mm
*Please note that the number is limited and sold out.