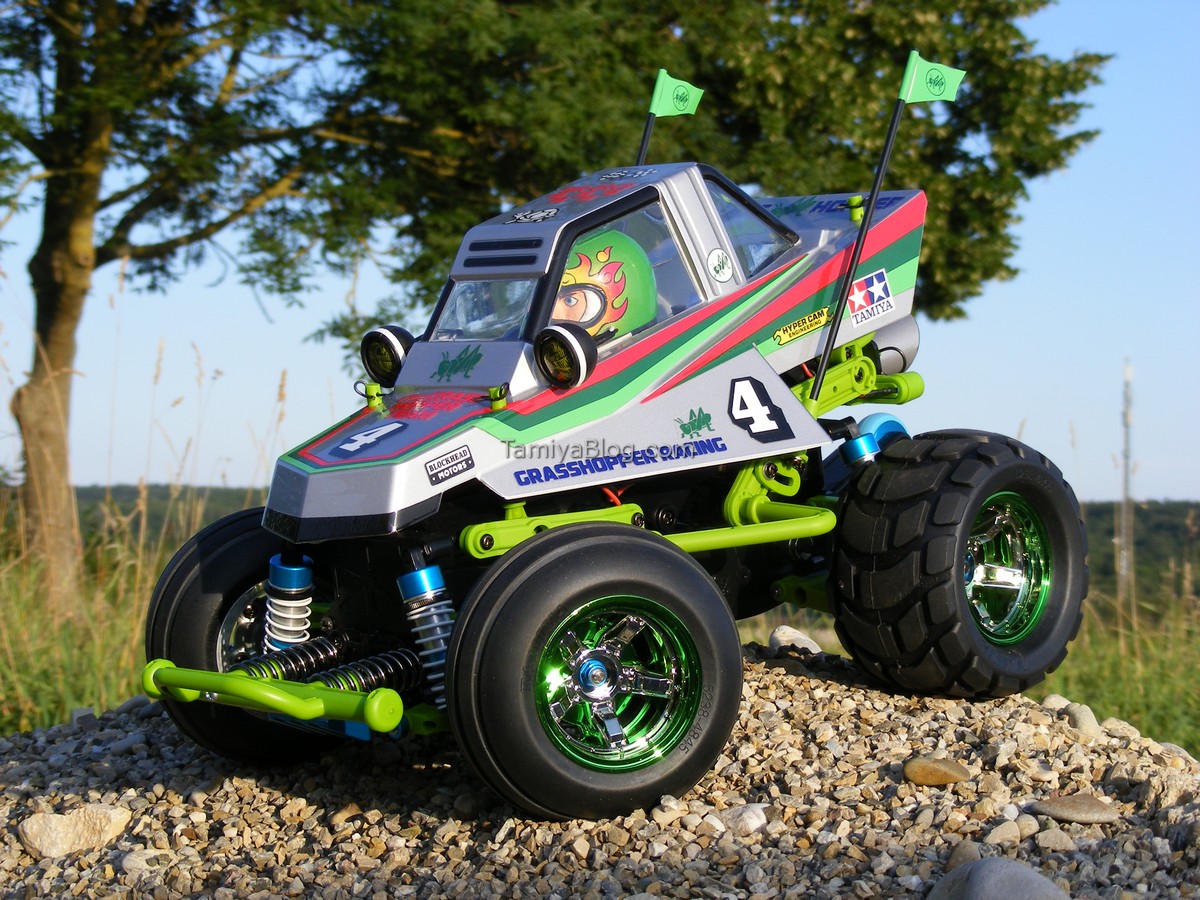 We, the TamiyaBlog Team, love the Tamiya Fun Cars. And so also the genius Comical models. What a wonderful idea to revive the famous RC classics of the 80s with the Comical models. This year, after the Grasshopper and Hornet, with the Tamiya Comical Frog already the third model from this series will appear. We all like them, but our favorite is clearly the Grasshopper. These models are great fun "out of the box", with nice oil filled CVA shocks as standard which we appreciate a lot, but are actually predestined for customizing. And Tamiya helps with a large number of optical as well as technical Hop Up Parts. When the yellow / green L / N and M parts were announced, we had the idea for our little silver / green comical rocket. The WR-02 chassis, further developed for the Comical models, is now called WR-02CB and is a real pleasure to build. We particularly liked the slightly wider wishbones, which give the chassis in connection with the great new wheels and tires a fantastic roadholding for this kind of models. But we pimped our little funny Grasshopper even further technically.
Here is a small list of the used genuine Tamiya parts:
47407 L/N Parts Yellow Parts
47408 M Parts Bumper Yellow Green
47416 WR02CB S-Parts  Spokes (Green Plated)
47411 WR02CB T-Parts Wheel Rims (Chrome Plated)
54867 One Piece Aluminium Skid Guard
54865 Ribbed Front Bubble Tires Soft
54866 Round Block RR Bubble Tires Soft
54587 Aluminium Servo Stay
54695 Stainless Steel Suspension Shaft Aluminium Support Bridge
53847 TA05 46mm Assembly Universal Shaft
54817 Aluminium Motor Guard for WR-02 and GF-01
54473 Aluminium Wheelie Roller Set for WR-02
54670 Aluminium Oil Damper
53974 TRF 501X Front Spring Set
51000 High Torque Servo Saver (Black)
54358 RS-540 Torque Tuned Motor
54579 1150 Bearing
As this car will probably participate in Fun Races, we´ve installed a Torque Tuned motor in combination with 20T pinion for this little bit of "extra power". We love this litte pocket racer. It turned out amazing. Using the wide range of Tamiya special coloured chassis parts and wheels, you can individualize your WR-02CB perfectly as you want. So colourful starting grids in fun races are guaranted.
Now we will wait for our next FUN project to arrive. The Tamiya SW-01 Mini Lunch Box.
Stay Tuned !!