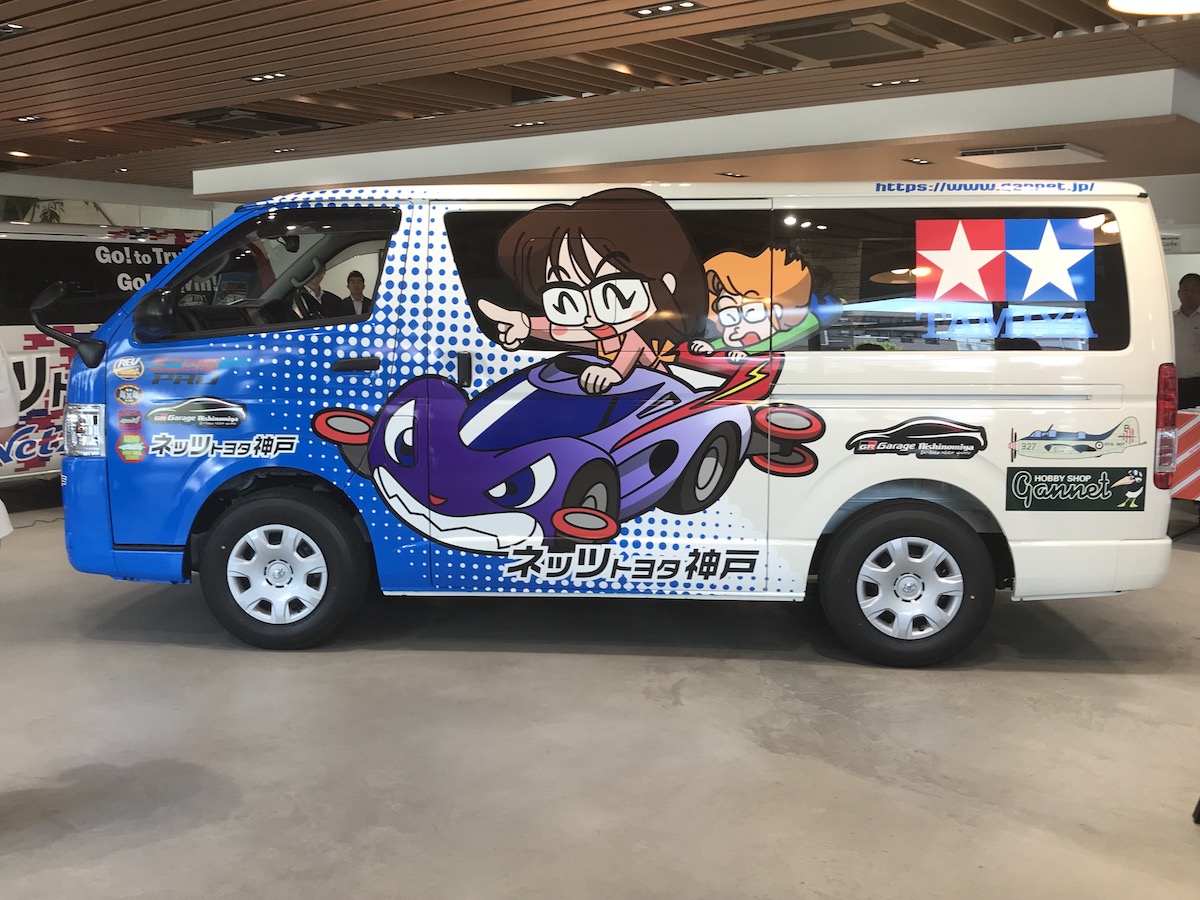 On the afternoon of June 1 (Saturday), the "Mini 4WD Dream Car" was unveiled at the Nets Terrace Akutagawa store. The license plate is 3249.
The activity of making a model and mini 4 wheel drive of the hobby shop ・ Gannet Oki store manager seems to be spreading more and more.
The plastic model shop which has completely decreased recently.
Under such circumstances, Mr. Oki, who has taken off a hobby shop and launched a Gannet and has been dealing with models, has a sense of crisis that the model generation is aging and the number of children who have never touched them has increased. , "One of the activities to expand the fun of the model" has developed a mini 4WD classroom.
The wheels of Tamiya and Toyota Nets Kobe have expanded to formally support such Oki-san's activities, and the "Mini 4WD Dream Car" was born as a collaborative project of the three companies.
The venue for the show was the Toyota Nets Terrace Akebono branch, which is a car dealer and is also actively engaged as a forum for people who are active in the area.
A lot of people such as the family coming to the Mini 4WD classroom, media people, etc. protected, and a wrapping car came in, and the inside of the hall peeped.
After that, a mini 4WD classroom was held on the second floor, but there was also a scene that the children who participated there would get in on the Mini 4WD Dream Car.
A lapping car raises tension just by looking at it.
Surely, the memories of this day will be treasures.
Among the guests who came to the venue on this day were mini 4WD fans (President Hokuto Electronics & President Nakano) who brought their own collection, and they were making models with the sales manager of Tamiya who had come to the venue. The flower also bloomed in the talk about the role that Mini 4WD plays in the growth of children.
Source in Japanese language: Nishinomiya Style