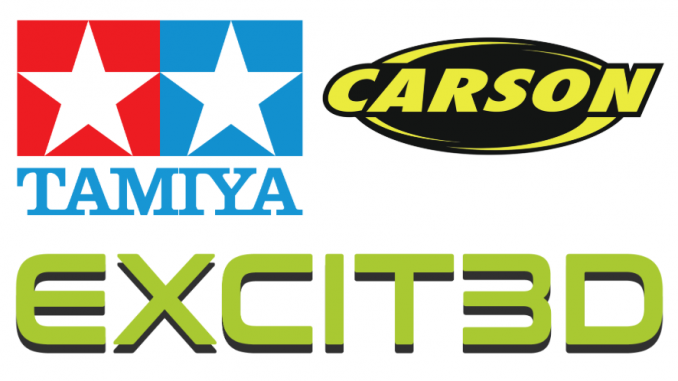 The German sales office of one of the world's leading manufacturers of model kits and remote-controlled vehicles and EXCIT3D GmbH have agreed on a partnership for RC vehicles controlled in real time via the Internet.
In a first step, TAMIYA-CARSON Modellbau GmbH & Co. KG will provide its own vehicles, which EXCIT3D will equip with its real-time remote module. In future, TAMIYA and CARSON vehicles can be controlled by drivers thousands of kilometers away via the Internet. EXCIT3D produces additional superstructures and body parts using the 3D printing process.
First video images of their test drives:
Purposes for these model vehicles are:
E-Sports: Remote Racing. Live races with RC vehicles controlled via the Internet as a world novelty.
Remote advertising and demo test drives for sponsors.
Online remote world record attempt with the Carson Crawlee Beetle XL (prototype).
To our world record attempt:
For the first time, a vehicle moving in a mobile radio network travels more than 20 kilometers through several radio cells and is controlled in real time alternately by drivers from three continents via the Internet.
Details:
The drivers control the vehicle from up to 15,000 kilometres away:
The drivers control the vehicle with their PC from a distance of up to 15,000 kilometres. (Threats, on the other hand, always remain within sight)
The drivers see the moving images of the vehicle's onboard camera on their monitor and control it via their keyboard.
In the record attempt, at least three drivers from three continents are used in flying alternation.
The transmission speed is 300 ms.
Data is transmitted to and from the vehicle via LTE.
(According to Vodafone, this is only possible with 5G).
The aim is an entry in the Guinness Book of Records.
A maximum of three sponsors will be admitted.
The RC manufacturer Tamiya has already been chosen as one of the sponsors.
The logos/claims of the sponsors will be placed on the vehicles.
The logos/claims of the sponsors appear in the transmitted videos.
The logos/claims of the sponsors will be published as far as possible via the offline material (videos) and in the press releases on the world record attempt.
The video images of the world record ride from the onboard camera and other cameras will be transmitted worldwide on the Internet.
In addition, classic TV providers are contacted.
Original source in German language: EXCIT3D