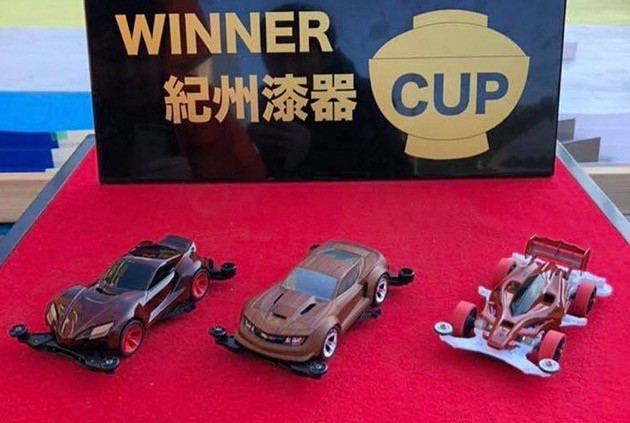 Recently, we often see circuit places of Tamiya Mini 4WD at a corner of suburban type mass merchandisers and hobby shops, but the adults are also showing excitement from the resurgence of the 2012 Japan official race "Japan Cup" Currently the "tertiary mini 4WD boom" is said to be out. A mini 4WD race tournament was held at the Hobby Festival "Tamiya Fair" held in Shizuoka Prefecture on 17th and 18th November, and Japanese and 10 national team players gathered in the big circuit with a big circuit. At the time of the first and second boom, I talked to the person in charge of Tamiya about the current boom involving adults who were children.
The cumulative sales volume for the second boom is 180 million units, adults also entered the race to the third boom
About 80 years, the popularity of the military model and the automobile's model, so-called radio control, has also been established in the Tamiya model (now Tamiya). Meanwhile, in 1982, the first Mini 4WD was released as "a motor model of the motor rise that can run anywhere with four wheel drive" (Tamiya staff), but it did not get much bigger than a big boom. After that, although the radio control buggy boom arrived, the price was about 20,000 yen at the time, and the children were not able to get out of hand easily. So, around the year 84, "It launched a mini 4WD with a popular model of radio control buggy as a motif at a price of 600 yen, as it can be played by children." This became popular, and in 1987 "Korokoro Comics "in" Dash! When Shikiro starts, popularity becomes the peak and the first boom comes.
After that, various official competitions were held, but the race competing for speed on the circuit is the most popular. Along with that, mini 4WD itself was also changed. "Initially it was made assuming to play outside, so the height of the car was high so that it would not hit a pebble and the tires were also off-road specifications, but because of the race popularity, to run faster The car height got lower, the tire also turned on the on-road specification and evolved into a car body like a roller and other upgrade parts "(ibid.).
Then, remodeling the mini 4WD to your liking or running faster is a great appeal for users, and the upgrade parts will also be enhanced. In 1994, the "Full Cowl Mini 4WD Series" in which the body covers the tire was released, and the manga "Brawler Brothers Let's & Go!" ! "Is posted in" Korokoro comic ", it will have a second boom. In fact, when asking about the cumulative sales volume up to the present, it says, "It exceeds 180 million cars, there are estimates that there are about 19 million people who touched the mini 4WD in the country "(Id.) So you can understand the widespreadness of the boom.
And now it is in the midst of the third boom, but the campaign was the "Japan Cup" which was revived for the first time in 13 years in 2012. "There were participation restrictions up to junior high school students before, but when I announced that adults can also participate, the adults who were playing at the time were diffusing at once in SNS" (ibid) and It seems that it is becoming a long run boom until now, though it is not an explosive boom in the past.
Mini 4WD as a "communication tool" to enjoy together with parents
In addition, SNS also influences this boom, the person in charge, "Competition Deregans" (Competition competing for the beauty of the machine) within "Japan Cup Fujitsu Battery Offered Japan Cup 2017 Kakegawa Tournament" is famous for Shizuoka There was an example that the mini 4WD that motivated the hamburger chain shop called "refreshing" was buzzed with SNS.These topics have triggered the "Japan Cup" on Twitter, knowing again on the mini There are also a few people who start four-wheel drive, so it's a feeling that the Mini 4WD boom is coming at the timing of intention. " It seems that there is a different form of boom coming from before.
In fact, when asked about the number of participants in the "Japan Cup 2018", "There are more adults at 7:3, and the number of contestants in 2018 has reached 22,000 people. The number of participants has increased more than at the time of the former boom "(Id.). In other words, this boom is being created by children in their 30s – 40s adults who experienced the former boom. Even if it is a father, if it is to enjoy with children, it can be a cause of a wife's cause, "When parents can play with parents, parents can teach only by their own experience and knowledge, There seems to be a lot of people who enjoy mini 4WD as one "(same as above), and there are aspects that Mini 4WD is becoming" lubricant "of family relations.
Will the tertiary boom continue to develop into "social phenomena" like the former primary and secondary boom in this way? "Although it is nice to have a boom at a stroke and increase the number of players, it is difficult to maintain customer satisfaction, such as securing the number of races and restricting physical venues" (ibid.), And the rapid boom has come There seems to be a situation of pain and itching. "In the sense of a sustainable boom, SNS etc. triggered the" My / Mini 4WD boom "at different timings to each person as an opportunity, so it is said that the current state is ideal, I enjoy it to those who like those beginners As measures to be taken at the official race, we are also working on making places where you can enjoy mini 4WDs easily, except for official races where a lot of participants gather, such as holding satellite races in neighboring shops in conjunction with the official race I'm talking to you "(Id.). It may be better to say that the mini 4WD has "settled" as a culture rather than a "tertiary boom".
A triangle called "fan × local community × Tamiya" formed
There also seems to be a Mini 4WD community by different industries. For example, "In Wakayama prefecture, the" Kishu lacquerware cup "where the" lacquer body "is presented to the winner is being held or in Iwate prefecture, the group of Sheet Metal Industry Association made a course of all metal, It seems that unique events combined with special products and industries are also being held in various places, such as being exhibited in festivals "(same as above). As a measure for such event planners, in Tamiya," fans When you want to plan something with Mini 4WD, you can provide a service that can post / announce event information, release Power Point data for free lending of the circuit, layout of the course on the official website We are working on improving our support system "(Ibiden), so now it's a triangle called" Fan x Community-based community x Tamiya " There is what is formed. 
Tamiya celebrating its 72nd year this year, the person in charge in the future development said, "Once mini 4WD juveniles became adults, they returned to the mini 4WD and are excited about shops and regional races There are also a lot of people working not only to enjoy but also to encourage children's experiences to enjoy their enjoyment.We will support this kind of movement in a sustainable manner, I think that it is a place to cherish right now "(same as above).
Tamiya's attitude that will accept the current trends flexibly while treating old technologies and booms is the driving force behind the current third mini 4WD boom.
Source in Japanese language:
Oricon News