Announcing a prize-winning work from the work received from Mini 4WD fan in Japan!
Mini 4WD Japan Cup held Mini 4WD design competition held for the first time in 11 years, 2018, which will become a commemorative year of 30 years. We introduce prizewinners that got high ratings from among 568 works from across the country, over 1,000 works. In this contest, we announced that we will commercialize the prize-winning work of the award as a mini 4WD, but many of the works with the completion degree exceeding the initial assumption were received, and for the selection, judges Everyone bothered me a lot. It is too regrettable to end this attractive work with awards … As a result of repeated consultations with the judges within the company, eventually, not only the works of the first prize of the award, but also the excellent prize We have decided to commercialize a total of five works, two works of Tamiya Prize and two pieces of Tamiya Prize! We are already preparing for 5 products to be commercialized. It is this winter schedule that five machines with plenty of mini 4WD fans' intention will arrive at everyone's hand. Please check your finish for your hands by all means!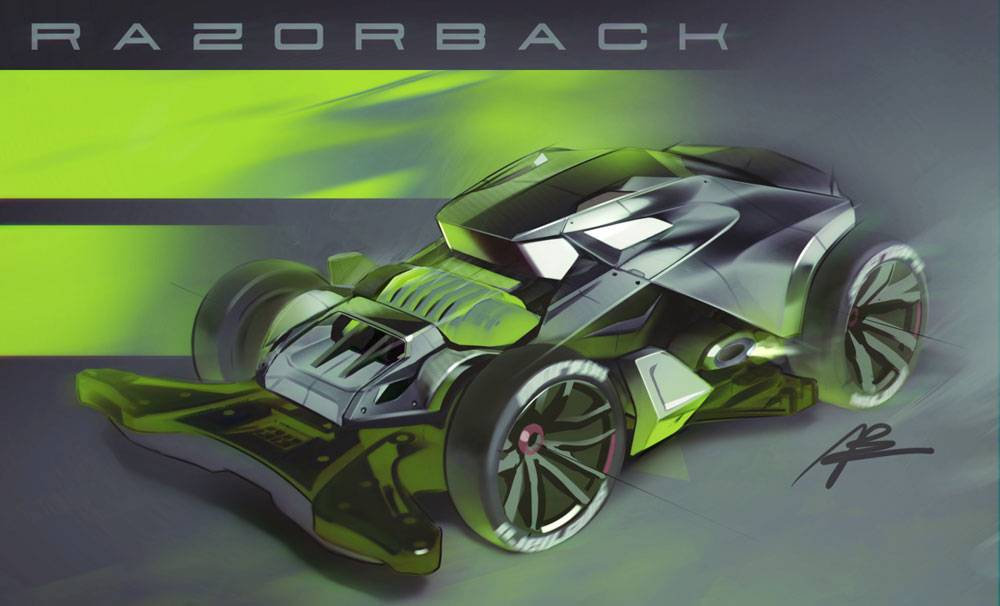 【Best Prize / Secondary Award 500,000 yen + commercialized as Mini 4WD】
Title of work: Razorback
AF-KURO (Shizuoka / 26 years old)
【Best award winning comment】
I am honored to have the Best Award! In this work, I also consciously become a thing that the view of the world is transmitted from the styling of the machine, in order to be reflected in the eyes of those who are familiar with the mini 4WD and also in the eyes of the unfamiliar persons. I hope this design will make the future Mini 4WD industry more interesting.
【Applicant Comment】
With a motif of hot rod and wild boar, we aimed at a monster machine that pushed through the course with the momentum of rushing. While exposing the front motor which is the taste of the FM – A chassis, we are directing an unprecedented atmosphere in a posture full of forward feeling and a standing edge.
[Jury's comment]
· Balance that was not likely to be so far. There is a feeling of running and racing which seems to push through with torque even though it has a heavy feeling design, but it seems to be able to shine even at the course. Also, the balance with the chassis is exquisite. I feel the appearance of the motor cover and the extent of the protrusion of the rim is also nice ★ I also felt the charm enough as a vehicle design. (Yamazaki) 
· A unique rushing feeling form with motif of wild boar and hot rod is irresistible. It is also a point that it is being updated not only to a classic hot rod but also properly contemporary modeling. It is good to incorporate the motor cover of FM-A as an engine and incorporate it as part of the design! (Nezu)
Excellence Award (2 works)
【Excellence Award / Secondary Award 200,000 yen + commercialized as Mini 4WD】

Title of work: Copperhead
Morio Oshijirou (Fukuoka prefecture · 46 years old)

【Applicant Comment】

I studied the most necessary type at the present time carefully and chose for FM-A which seems to have much room for contrivance. Due to the balance with the chassis, it is not always the case as the sketch, so we tried and designed the design using coal powder.

[Jury's comment]

· High degree of completion, it is a design that seems to be able to be commercialized as it is. Although it is an animal motif, I also feel the charm as a machine. The concept is also firm and it is transmitted without explanation. The side silhouette which made use of the feature of the FM – A chassis is also attractive. I will pretend a sharp run like crawling on the ground with low stability. I want to run on the course! ! It is one that I felt strongly. (Yamazaki) 

· The front part with the volume was successfully summarized as the design of the snake's head that gets snug. Fang lights, snake's tongue graphics etc, the theme is consistent, the perfection is high. It is also good to be a real warfare model that studied the mini 4WD properly, such as cooling of the motor and mounting of large diameter wheels! (Nezu)

/ Secondary Award 200,000 yen + commercialized as Mini 4WD】

Title of work: Mach frame
Hidenobu Tsuruta (Nara prefecture · 40 years old)

【Applicant Comment】

From the early childhood I continued mini 4WD and it was 33 years ago. Besides Mini 4WD, I designed some stuff like gimmicks I liked. I hope that my own designed machine will become a mini 4WD as a product.

[Jury's comment]

· The motorcycle idea of ​​attaching a cowling to the main frame is a key point. It is a feeling that you realized things that could not be done with cross system. Just a little Jealousy (lol) I felt that it was a machine that synchronized with the high level of attractiveness as industrial design (design), charm of styling, appeal of developmentality. It is a sympathy to the finish that tickles the desire to assemble. (Yamazaki) 

· The idea of ​​installing the backbone frame and installing exterior parts like a motorcycle cowl is interesting! It seems to be an evolved form of de-cross, I feel the possibility of new body customization. I think that the pleasure of recombining crackling and body is a concept that can be applied to applications other than FM – A chassis! (Nezu)
Tamiya Prize (2 works)
Although it was not selected from the first prize / excellent prize, a lot of works that are too regret were received only by recognition. 
Therefore, we added a new Tamiya prize in this design contest. In addition to 3 works of the Best Award and Excellence Award, we will also commercialize these two works!
【Tamiya Prize / Bottom Award 100,000 yen + commercialized as Mini 4WD】

Title of work: Hexagon – GTS
Itatsu Tatsunori (Hyogo Prefecture · 35 years old)

【Applicant Comment】

Using a hexagon as a motif, I designed a 4-wheel drive (SUV) that pushes powerfully on any road. Front grill, lamps, air intake, etc. Hexagonal motifs are applied to various parts, expressing the spiritual design with individuality. I aimed for a model with a presence even small. Through this machine, my dream is to be able to provide dreams and hopes to as many as Mini 4WD fans.

[Jury's comment]

· Various sizes of motifs Various hexagons are effectively placed on the entire body, there is a cohesiveness, angular form makes the feeling of the unique strength of off-loader feel. It seems that the body which seemed to be high rigidity seemed to be very rigid is shaped like a module part so it will fit also to chassis such as wild mini 4WD. (Tamiya)

【Tamiya Prize / Bottom Award 100,000 yen + commercialized as Mini 4WD】

Title of work:
Geoglider Mikio Yajima (Kanagawa Prefecture · 33 years old)

【Applicant Comment】

In terms of its structure, with the theme of FM chassis machines with a lot of powerful impression machines, we aimed for styling that makes the entire body sharp as aerodynamic parts, making it feel like "quickly!" The aerodynamic machine which further strengthens the stability feeling of the FM chassis and the characteristic that the posture is not disturbed even when jumping, named a geoglider. It is a racer that slides down the ground everywhere.

[Jury's comment]

I feel the desire to breakthrough the front heavy design peculiar to the FM machine. The idea of ​​fusing the part of the motor cover into X shape and fusing it to the body line is fresh. The rear of the body is a flowing design, but because the confluence of the top and side wings is hollow, it gives a stereoscopic and sharp impression. (Tamiya)
Three works selected by teachers of mini 4WD manga!
 

【"Hyper Dash! Shikamiro" Award】

4 mini 4WD appeared minor 4WD appeared as a supplementary prize " 




Professor Hyper Dash!

Title of work: Naked Arrow
U-TA (Kagawa prefecture, 33 years old)

【Applicant Comment】

I designed a "new Mini 4WD" that can easily experience the modern Mini 4WD's classic "Lantern Setting" in 2WAY body tailored to the Great Emperor, not the fresh design of the design but the step of remodeling can be experienced. 
Concept >>> Machine that aimed at shaping with sharp and speedy feeling with the motif of arrow silhouettes, bearing the name of ARROW. In order to focus on AR chassis products, we back-calculated the body design to fit the structure of the chassis. In [COWL MODE] you can arrange a screw hole that can mount a mass damper on the back of the front cowl, and you can enjoy race tunes easily. [NAKED MODE] is a minimum and lightweight specification, challenging the tide of the clear body of recent times.

【Special judge comment】

It is not born from "Hyper Dash! Shikaro," but it also suits the world of "Hyper Dash! Shikaro". And still cool! I chose it in that point. If you do not mind, I would like to make it appear at all, it is a machine I would like you to become three-dimensional. (Professor Hiroyuki Takei: author "Hyper Dash! Shiichiro" author)

【"Racism Brothers Let's & Go"! Return Racers !! "Award】 2 mini 4-wheel drive + 




2 




full cowl mini 4 wheel drive + + Koshida teacher sign card paper with a supplementary prize" Let's & Go !! Wing Next Racers Den "

Title of work: Fringe tail
HIROFUMIX (Tokyo, 35 years old)

【Applicant Comment】

Body designs that battle racers race together are used is limited, no matter what designs are included in the lineup. I want you to use it widely if new designs are awakened. From the idea of ​​aiming for a body design with high fighting power. Although the cooling effect of the motor etc is quite doubtful, I tried to insist there because there is a feeling that we remembered such reasons through mini 4WD. Because the entertainment of the mini 4WD was also such a place for me. Designed by Fusion 360 and 3D printer output, we made a design filled with airflow guiding fins on the back of the body. It was a challenge of design to put together in the last 4 images so I enjoyed it very much.

【Special judge comment】

Although it seemingly is a simple machine design, when you change the angle, machines of different shapes appear one after another and are cheating and funny! It is a wonderful snowflake machine that has various sceneries like a tea bowl and gets a little catchy. I thought that would be amazing if I had done this by calculation. (Professor Koshida Tsuhiro: "Brawl Brothers Let's & Go !! Return Racers !!" Author)
【"Let's & Go !! Wing Next Racers Den" Award】 2 mini 4-wheel drive + 




2 




full cowl mini 4-wheel drive + + Koshida teacher sign card paper with a supplementary prize "Let's & Go !! Wing Next Racers Den"

Name of work: Infinity
Aoki Kengo (Aichi prefecture · 15 years old)

【Applicant Comment】

It is an image that runs to Mugen as it looks like Mugen's mark when seen from the top. It is colorful!

【Special judge comment】

Inspiration gets much in the mark of "∞" leading from the front through the cockpit to the rear! The image of this work may be amazing! When I design it also, I will imagine various things but in my head Even though I think it is amazing, there are things I can not express in shape. This machine sympathized as I saw Aoki's machine in the head! (Professor Toshihide Koshida: "Let's & Go! Wing Next Racers Den" author)
Junior designer's lots of power! Junior Awards & Family Awards!
【Junior Award / 4 sub-mini 4WD kit set】

Title of work: Cherry Bom
Yuta Yamamura (Miyagi prefecture, 12 years old)

【Applicant Comment】

No.1 in explosive speed that cute cherry demonstrates! A

[Jury's comment]

Not only concept, body design, naming, catch phrase, even logo design! We have a solid chassis and wheel settings as well. I think that it is a total well thought-out work! I think that a bright red open body is fresh, seems to be fast and cool. I am looking forward to a junior mini 4WD designer. I can not lick it because it is so cute! (YAMAZAKI) 

Cherry marks are very impressive on the red body! Not only the machine but also the design of the logo and the box properly thinking, it seems to be able to commercialize immediately. I also designate the color firmly for the chassis and the wheel, so I feel awesome Kodawari on the color ring. It is amazing to draw properly from the angle from diagonally above! (Nezu)

【Junior Award / 4 sub-mini 4WD kit set】

Title of work: Historic Bird
Ohishi Kaito (Okayama prefecture, 11 years old)

【Applicant Comment】

I designed it with the image that the historic car is a motif and I fly freely like a bird.

[Jury's comment]

I was surprised at the perfection degree which can not be 11 years old! The design of the details is well thought out. I thought coloring and sticker design well, I thought it was very good. Although it is a historical car as a motif, I think that it is finished in a good design that seems to be a mini 4WD due to the sense of speed like modern coolness, sports car, race car! (YAMAZAKI) The 

slim body is very cool It's a mini 4WD! It seems to be getting great speed. I drew it from various angles, and I was surprised at the fact that the coherence is consistent regardless of where you look from. Even adults are difficult! It took me a lot of time to design it, I was thrilled to see it! (Nezu)
【Junior Award / 4 sub-mini 4WD kit set】

Name of work:
Shinichi Otsuka (Toyama prefecture, 6 years old)

【Applicant Comment】

Rainbow balls and rainbow colors came out after sucking up the rival's power at the black hole, and the other party who touched is blown off to the United States. Then the feathers will fly and the bomb will fly from the bottom of the mini 4WD!

[Jury's comment]

Thank you for designing it freely and freely! It has become a lot of fun to watch. Cute (?) I was surprised at various functions that can not be imagined from the appearance. It is a work that really has the power that seems to be ridiculed to America. Also, though I used many colors in colorfully, I thought that coloring was also gathered together with chitin 

! It was painfully depressed and fun as it jumped out of the paper! Because the color is very beautiful, you can get energetic just by looking at it. I properly thought about the story and there is meaning for every single part, so when I read it after reading it, Naruhodo! There are lots of surprises. I want to be killed by America! (Nezu)

【Family prize / set of 4 mini 4WD kit】

Title of work: Doremifa Racer
Yamaoka Miyu & Masahide (Aichi prefecture 9 years old & 42 years old)

【Applicant Comment】

My daughter (9 years old) also got an idea and made a machine with my favorite piano as a machine. At first I tried to let my daughter write one to ten, but because it became a bit difficult to convey, I drew only a draft based on the picture my daughter drew, the other drew my daughter. I thought that the piano made of glass of skeleton really looks like a real mini 4WD, but I abandoned it because there is no painting power.

[Jury's comment]

Anyway the impact was amazing. The naming and design and the touch of the illustration are very matched, the message of the design got through before I read the explanation! The feeling which I enjoyed designing with father is transmitted very much! The notes of the course can also be taken, The expression of a driver (?) Girl is also the best. Is the model of the driver Miyuchan? What? (Yamazaki) 

It is the strongest mini 4WD that runs just to make the surroundings Shiawase! I draw it very carefully to details. The black piano matches pastel tone chassis, tires, and the shape of the musical notes, and the sense of color is outstanding. I really want to make Mini 4WD which reads the notes of the course and plays the sound! (Nezu)
【Junior Award / 4 sub-mini 4WD kit set】

Lightning rod
Yoneyama Zaka (Kanagawa Prefecture 11 years old)

【Applicant Comment】

I designed it while imagining how my own designed machine actually ran the course. I liked the MA chassis so I designed to get on well with MA. The point is three mufflers. I designed the thunder design with an image that runs like a lightning bolt. The design of thunder is an image sticking a sticker. I put a lightning design also at the muffler. I think that I will put a sticker here as well. It is fun to paste a sticker when I make a machine so I think that it is okay to put it on my favorite place without sticking it on the muffler. I like color blue and blue, so I put it in blue series. I also love Mini 4WD, but I also love drawing pictures so I'm happy to be able to apply for the design contest this time! I am happy to win in the race, but I'd like to go to the tournament with a machine I designed. Although it was difficult to draw in three dimensions, I tried hard and designed it so I would like to have lots of people see it. Thank you!

[Jury's comment]

I thought it was a very complete work! Sketch is also very good !! I think the design itself is cool enough that it comes out in the mini 4WD cartoon, and the character character is very high. I'm starting to get interested in what kind of machine the character is using. Coloring, graphics also have a fine commitment, it is refined and very cool! (Yamazaki) 

You completed the beautiful form and color as well! The proper use of the color of the blue series is also very good at how well the contrast with the gray and black is effective, and it is collegantly coherent. The graphics of thunder are also cool, it is perfect for the image of the machine. The imagination will inflate, probably such a person will be on board! (Nezu)
Tamiyami 4/4 design contest review summary

Organizer

Tamiya Corporation

Application period

April 17, 2018 – July 31, 2018

judge

Nezu Kota | Kota Nezu 




znug design Representative Creative Communicator / Designer 




(1/32 Mini 4WD PRO Series Astral Star & Raikiri Designer) 




Born in Tokyo in 1969. Hiroyuki Hiroyuki "i-unit" Hiroyuki Hiroyuki served as Toyota Motor Corporation concept development leader and soon became independent, founded znug design in 2005. Toyota Motor Corporation concept car "Camatte" "Setsuna", Daihatsu "COPEN", etc., while promoting projects such as "motorcycle bike" zecOO "raising town factory to the world", soft cloth ultra small mobility "rimOnO" We also develop the development. Good Design Award, German iF Design Award, Japan Sensory Engineering Association Cute Sensibility Design Awards Best Award, others awarded. 2014 ~ 2016, 2018 Good Design Award Jury. 




znug design 

https://www.znug.com/

Yamazaki Takayuki | Takayuki Yamazaki 
pdc_designworks Representative Hyper Designer (1/10 RC Car Dual Ridge & Mini 4WD DCR-01 Designer)
Born in Nagano Prefecture in 1972. As a designer at Honda R & D Laboratories, he established independence, pdc_designworks in 2012, making full use of the experience of handling hits such as Ape, ZOOMER, GROM. Using a wide range of perspectives and diversified hobbies, we will work not only on industrial design centered on car design but also on "themes smiling" such as fashion, consultant, magazine serialization, educational activities. In recent years, we are further expanding the range of activities, including customized produce, ambassador activities and design education for companies. Lecturer at Tokyo Communication Art College, Japan Home Party Association Ambassador, Car Design Akademie instructor. 
pdc_designworks http://www.pdcdesignworks.com/

· In addition to the above two members, the staff of Tamiya Co., Ltd. has judged it. 

【Special Jury】
Professor Toshihiro Koshi who was in the mini 4WD manga series at "Korokoro Aniki" & "Korokoro Ichiban" (Shogakkan) and Hiroyuki Takei in the mini 4WD manga series at "Korokoro Aniki" Joined the examination as a special judge. We reviewed each special prize. 

· "Hyper Dash! Shikaro" Award Examiner Special Jury: Professor Hiroyuki Takei (Author of "Hyper Dash! Shiichiro") 
 Work information  https://www.shogakukan.co.jp/books/09142208
· "Brothers Broke Let's & Go! Return Racers !! "Award Examiner Special Jury: Kosida Tetsuhi (" Bakuso Brothers Let's & Go! "Author) 
 Work Information https://www.shogakukan.co.jp/books/09142144
· "Let's & Go !! Wing Next Racers Den" Award Examiner Special Jury: Kotetsu Tatsuhiro ("Let's & Go! Wing Next Racers Den "Author) 
 Work information  https://www.shogakukan.co.jp/books/09142672