Tamiya summer tour August 7th and 8th
Not to mention model fans, those who are planning to start modeling and RC from now on, those who care about Tamiya for a moment can not be missed. We will hold the "Tamiya Summer Tour" which we can join in the group as well this year. The schedule is two days of August 7th and 8th. We prepare 1 day course and afternoon course on both days. In addition, you can choose 3 menus in the morning and afternoon sections to suit your taste. Please come and visit the fun filled tour. (Advance submission is required.)
Holding period: Tuesday, August 7, Tuesday, Wednesday, August 2018 * End of the event 15:00
Venue: Tamiya Head Office Co., Ltd. (3-7, Injidahara, Suruga Ward, Shizuoka City)
Visiting fee: Free * Prices for teaching materials will be charged for the morning production experience.
Time schedule
course
One day course (morning and afternoon participation)
Afternoon course (participate only in the afternoon)
  9:00 ~ 9:40
Receptionist
–
9:40-10:00
Company information VTR screening
–
10 00 ~ 12:00
[select]
【Production Experience (charged)】
· Water Motorbike Working Set
· Plavan Accessory
· Mini 4WD High Speed ​​Machine
–
12:00 ~ 12:50
lunch
Company information VTR screening
※ Reception by 12: 30
13:00 ~ 15:00
[select]
· In-house tour / RC experience
· Tamiya fan meeting
· Mini 4WD race experience
· In-house tour / RC experience
· Tamiya fan meeting
· Mini 4WD race experience
※ The contents of the event etc may be changed.
※ Please accept the reception on the first day course until 9:40 and the afternoon course at 12:30.
Morning department 10:00 ~ 12:00 Choose from the following 3
* Attendants are not required to pay the fee for teaching materials etc.
◆ Water Motorbike Working Set Production Experience
Equipped with a centrifugal pump at the rear of the underwater motor, the figure going forward while blowing water is exactly like a real water bike. You can challenge the making of a fun work series "water bike working set" that is perfect for such summer . After purchasing the set, we make it, and after completion we will actually play on the water. Since the staff will support assembly, we are safe even for first time.
【Teaching materials cost + battery included 2,052 yen (tax included)】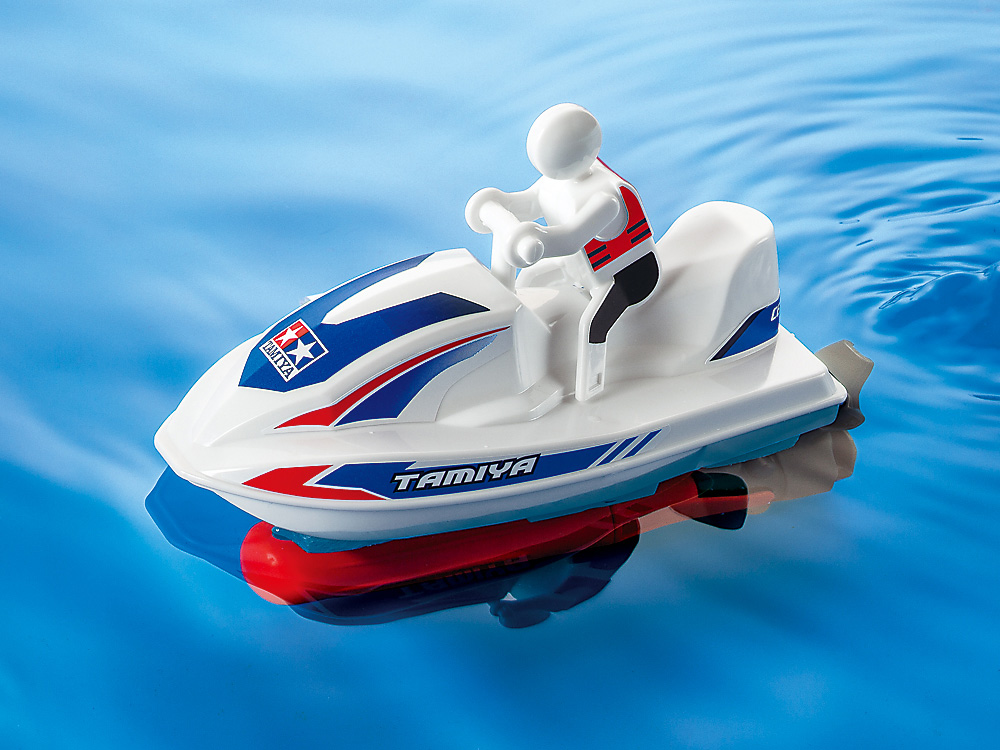 ◆ Pla-Plate Accessory Production Experience
We make accessories using "Chi-mu transparent platrab" which
transforms small when heated . Draw pictures and letters with oily magic and heat in electric oven toaster. If you attach a key ring or a string, you will have your own original accessories. We will also sell and produce paper boxes. 【Materials cost + 1 key holder with 216 yen (tax included)】 ※ The design (pattern) to be photographed in Plavan is prepared here, but if you have a favorite picture you want to access as writing on paper (size 10 cm × 10 cm) You may bring it.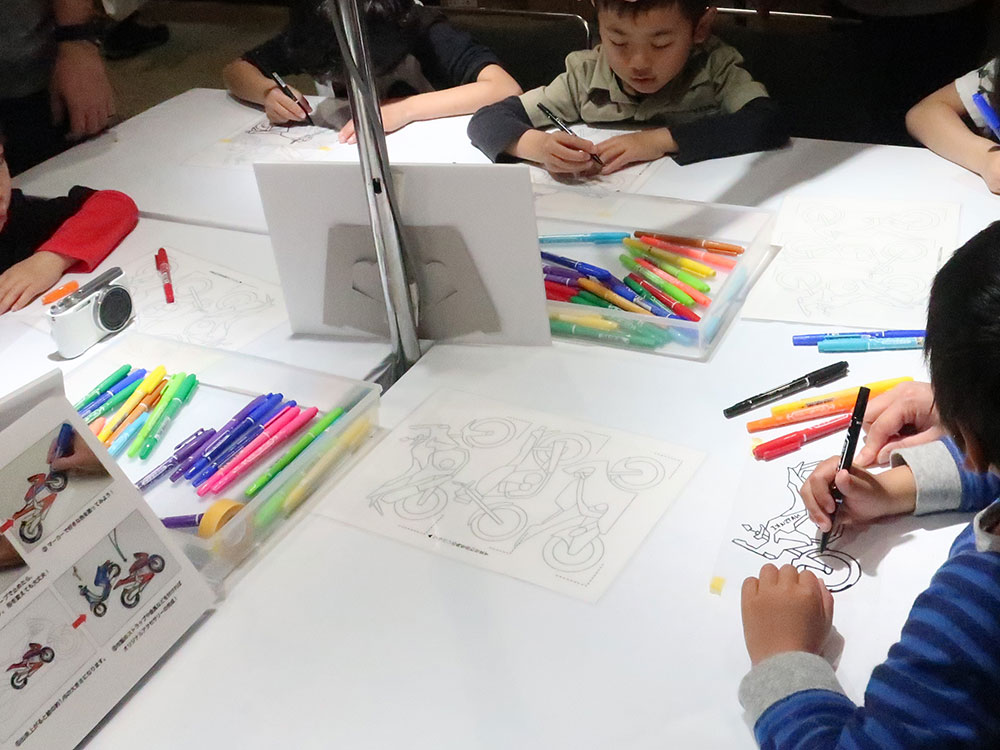 ◆ Mini 4WD High Speed ​​Machine Production Experience
We will manufacture the machine by incorporating the upgrade parts into the mini 4WD kit (MA chassis). We purchase the necessary set, and the assembly is supported by Tamiya staff. We also prepared sales corners for parts and kits. It is a menu not to be missed by fans who are considering participating in the Japan Cup.
【Materials cost + battery + plated body attachment 2,160 yen (tax included)】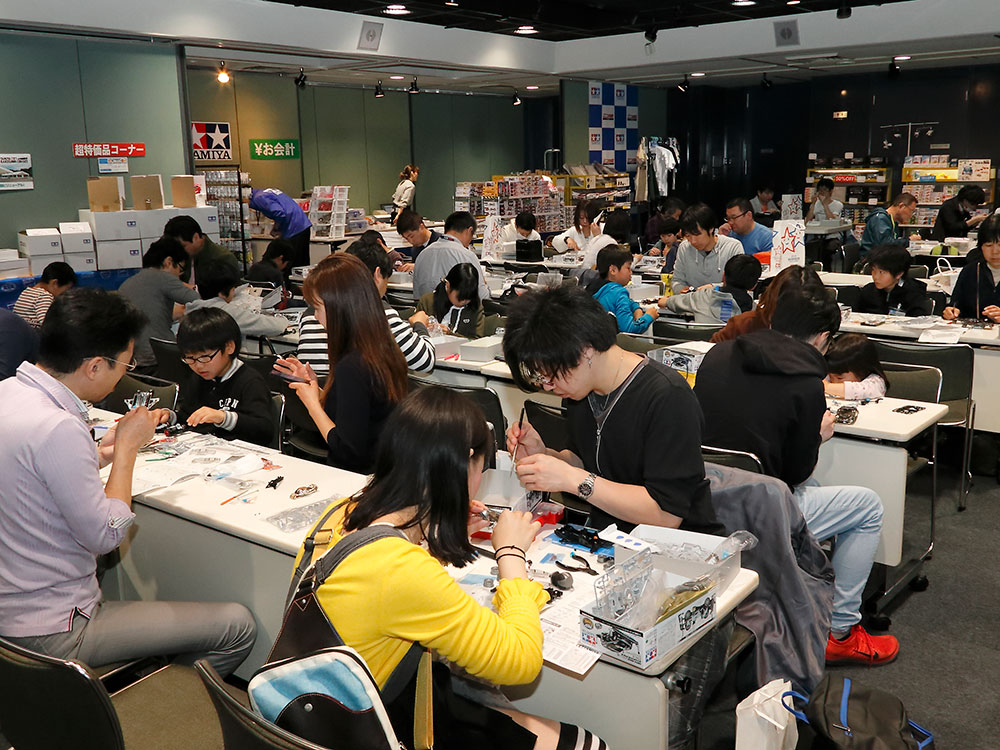 Afternoon Department 13:00 ~ 15:00 Select from the following 3
◆ In-house visits / radio control car maneuvering experience
Tamiya's in-house observation menu such as the mold section, the planning development section, the design section, etc. which can not be seen normally. Moreover, detailed explanation of the staff in charge, of course, the question is also OK. Also, in a radio control car maneuvering experience, you can enjoy traveling and playing games on special courses. * Radio Control Car Carrying experience is done indoors.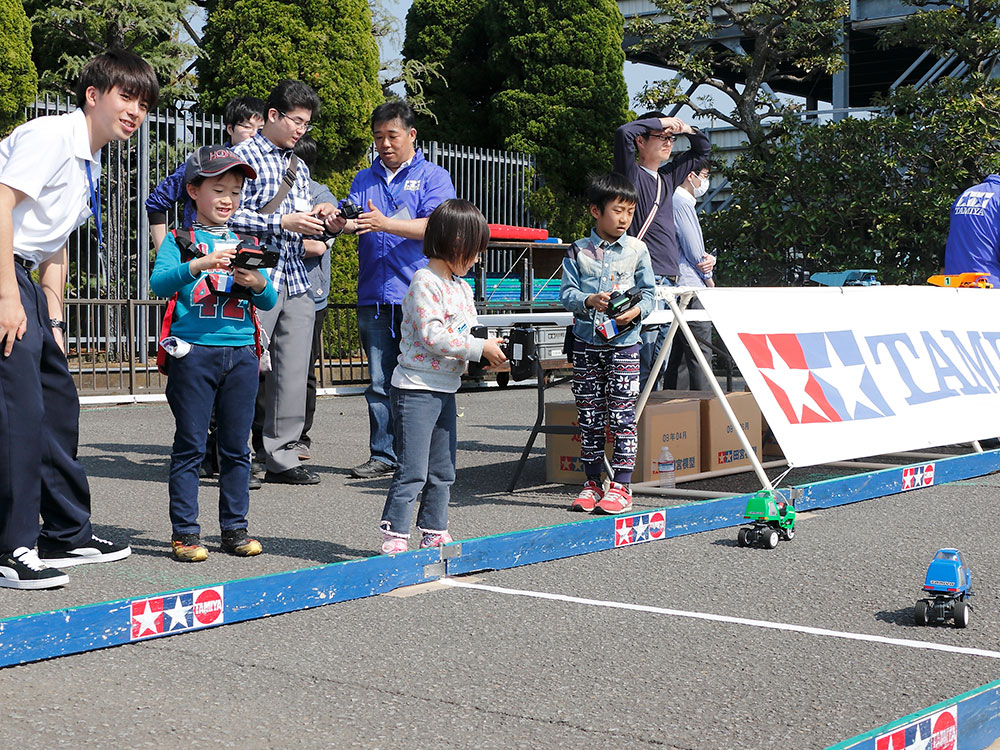 ◆ Tamiya fan meeting
full of talks that you can not miss if you are a model fan that spans a wide range of genres such as tanks, cars, airplanes, boats, etc. while talking about the experiences of President Tamiya. You can taste the deep world of Making Hobby. [Junior high school student and more limited]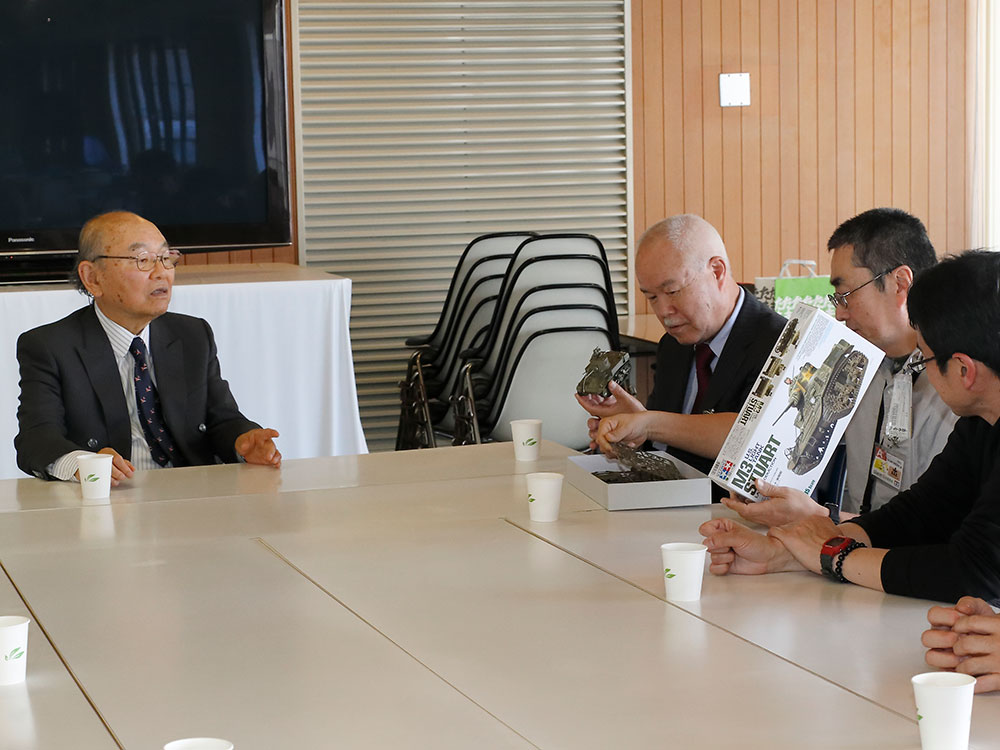 ◆ Mini 4WD race experience
You can experience the mini 4WD racing experience using the full-fledged 5 lane course used in Tamiya's official race. As well as the machine completed in "Mini 4WD Fastest Machine Production Experience", you can use your own machine OK. We also prepared a rental machine. Please enjoy the excitement of the Japan Cup.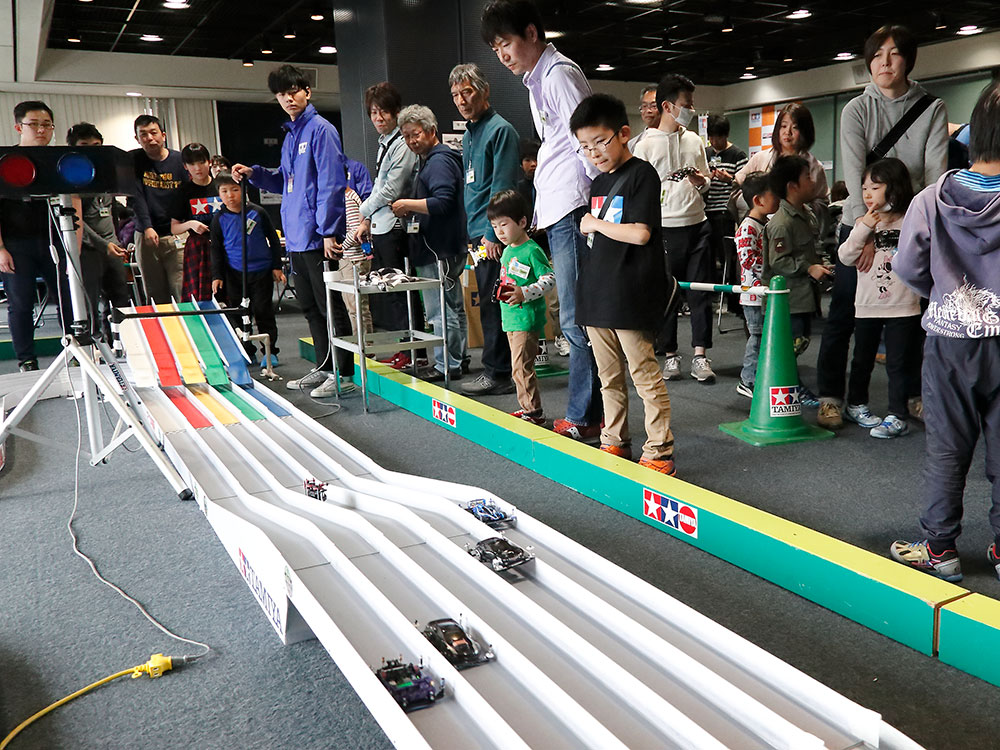 Please enjoy freely after the tour. 15:00 ~ 16: 00
◆ Visit showrooms, historic halls
You can see precious wooden models, historical plastic models and RC cars.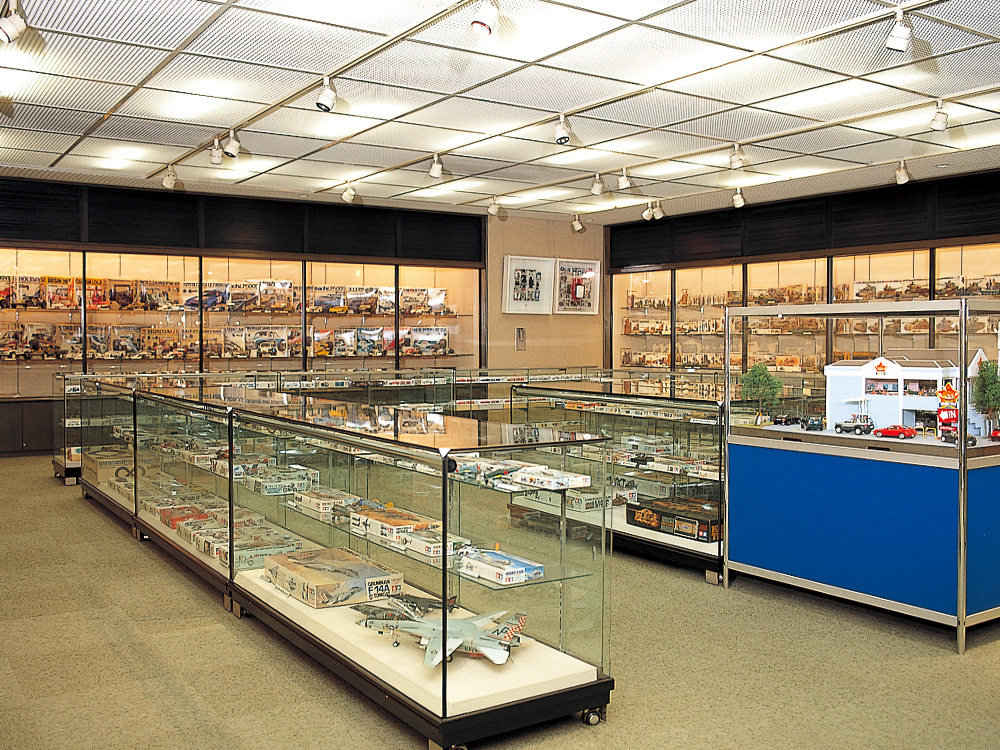 ◆ Shopping
Special prices items, shop limited original goods were also prepared. Please find a digging kit and use it for souvenirs.
【TAMIYA SHOP】 Business hours 9: 00 ~ 16: 30 (Saturday & Sunday and our company holidays are closed.) Plamodel, RC, Mini 4WD, Crafts, original goods, paint etc. were prepared in large numbers.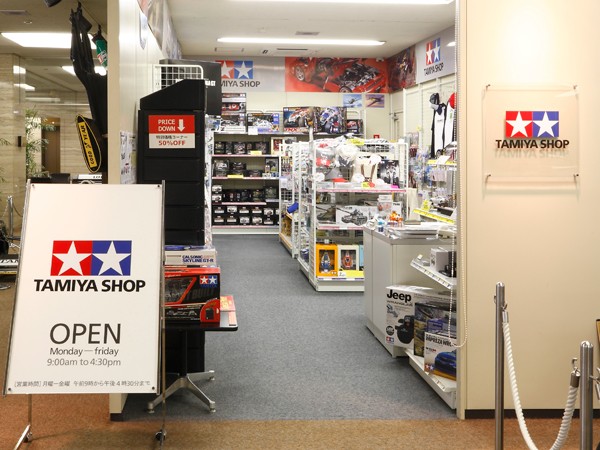 Application method · Inquiries etc.
· Small and junior high school students are accompanied by parents, but separate actions can be taken for participation programs . Parents should accompany the preschool children. You can apply for even more than high school students.
· For each application, please apply for 1 child and 3 children or less.
· We will group according to the family and group you applied.
· When applying from mobile, notifications and messages from Tamiya will be sent by domain mail of "tamiya-inc.co.jp", so please set so that you can receive mail from this domain.
· For those who apply for one-day course, please have lunch. (There are also sales of lunch on the day.)
· In case of schedule, course, participation program change, in case of cancellation please contact e-mail or "Tamiya Tour" meeting (TEL: 054-286-5105).
· In the case of a large number of applications, I will make a lottery.
【Application from website】 ⇒ Please fill out this application form.
Application deadline: Thursday, July 19th 【Application by mail (sealed letter)】 ⇒ · Requested date · Requested course · Applicant's name · Age · Postal code · Address · Telephone number · To the participation program Please include the number of participants (including attendants) etc, enclose the 92 yen stamp, and send it to the address below. Address: 〒 422-8610 Suruga Ward, Shizuoka City 3-7, Inamihara, Co., Ltd. Application deadline for Tamiya Tournament Corner Deadline: until July 19 th (Thu) arrival
* The final guide will be notified by mail or e-mail to all applicants in late July. Sorry to trouble you, but please contact the "Tamiya Tour Stage" staff (TEL: 054-286-5105) if there is no contact. Also, please contact us in case of schedule change or cancellation.
【Inquiries】 "Tamiya Tour" Participants TEL: 054-286-5105
■ The pattern of the event is taken with still images, movies, etc., and it may be published on each media related to Tamiya, such as printed matter and homepage. Please acknowledge your participation.
■ The organizer will pay attention to accident prevention, but we can not assume the responsibility in case of accident, theft, injury or other damage.
■ If you do not follow the instructions of the staff, you may be sent off. Please note.