Collaboration Planning 30th anniversary project start "Mini 4WD Phoenix 30th Anniversary Special" Limited 3000 units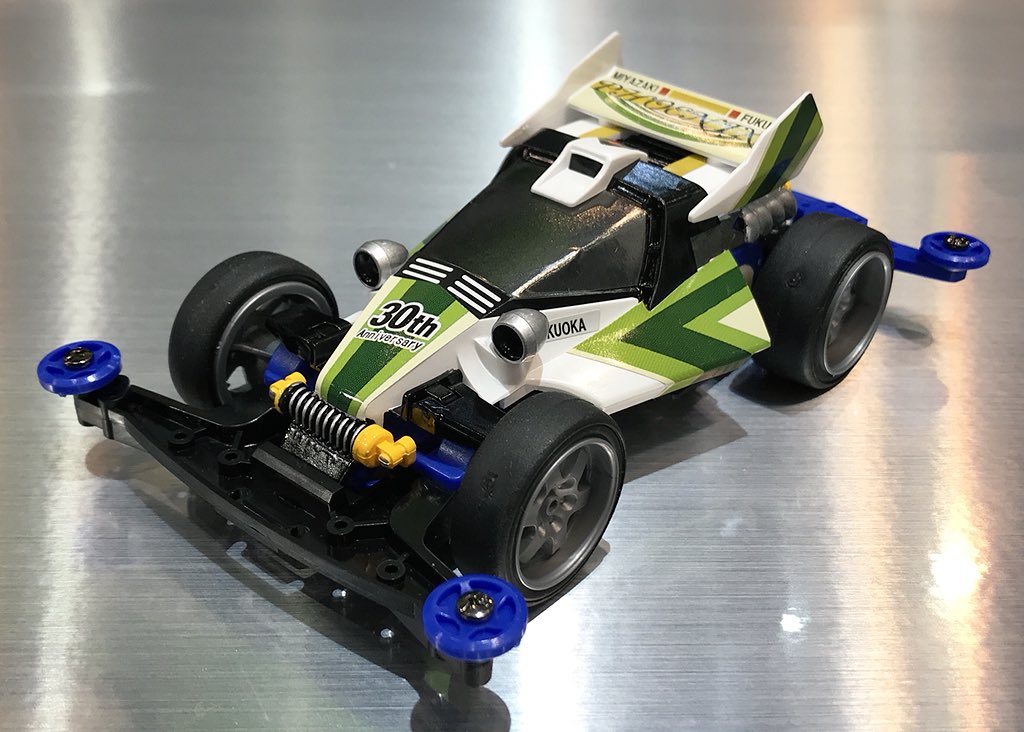 The 30th anniversary planning of the 2nd project "Mini 4WD Phoenix 30th Anniversary Special" Limited 3000 units
Miyazaki Kotsu Co., Ltd., Nishinihon Railway Co., Ltd., Nishitetsu Express Bus Co., Ltd., Kyushu Shiba Bus Co., Ltd., and JR Kyushu Bussing Co., Ltd., in the jointly operated Miyazaki – Fukuoka express bus "Phoenix" As the second project following the event "30th Anniversary Thanksgiving" held in Miyazaki City in April, the Mini 4WD Original Product "Mini" sold by a model maker Tamiya ("Tamiya") We will sell 4th Dash Dash No. 1 · Emperor (Emperor) Express Bus "Phoenix" 30th Anniversary Special "from May 27, 2018, Miyazaki, Kumamoto, Fukuoka three places. 
Mini 4WD is a motor-driven car model manufactured and sold by Tamiya, became a big boom mainly in elementary school students in the 1980s and 1990s, now 30-40s who became obsessed with mini 4WD in childhood Tamiya's official tournament "Japan Cup" will celebrate 30 years since the first tournament this year. 
Under such circumstances, the mini 4WD main user and its family who grew up to students and social workers together with the Phoenix, taking advantage of the common point between the Phoenix and the Mini 4WD, "Phoenix" We created original design mini 4WD from the thought that you would like to use from now on. 
In Miyazaki, we will hold a mini 4WD race competition in the course that imagined the route of travel at Miyazaki city's commercial facility "Miyako City" on Monday, on the day of sale start, so please enjoy it.
Mini 4WD Dash No. 1 · Emperor (Emperor) 




High Speed ​​Bus "Phoenix" 30th Anniversary Special

Release date May 27, 2018 (Sun)

Sales price 1,500 yen (tax included) 

※ Payment is only cash

3,000 units sold (each 1,000 units sold by Miyazaki, Kumamoto and Fukuoka) 

* Up to 2 units can be purchased

 individually

Product Description Add original sticker for machine attachment and original sleeve case for package to mini 4WD "Tini 4WD Dash No. 1 · Emperor (Emperor) Premium (Super 2 Chassis)"

Sales district / sales place / sales time




district

Sales location

Date and time of sale

Miyazaki

Miyazaki City 2nd floor Gulliver square

5/27 only sale

 10: 00 ~ 19: 00

Miyako City Bus Center

Sold from 5/28 7: 00 ~ 19: 30 




※ 5/27 Not sold when sold out at Gulliver square

Kumamoto

Kyushu Shiba Bus Corporation Kumamoto Sales Office (Western Garage)

From 5/27 on sale 9: 00 ~ 17: 00 




※ 5/27 is from 10: 00 ~ 19: 00

Fukuoka

Miscellaneous house In Cube Tenjin store 4 th floor 




Variety corner

10: 00 ~ 20: 30

Precautions – 




Please stop at the place of late night and early morning because it will cause inconvenience for neighboring people. 




· You can not receive reservations and handouts by mail, telephone, internet etc. 




· There is no mail order sales.

About Mini 4WD tournament at Miyazaki city's commercial facility "Miyako City"

Date and time May 27, 2018 (Sunday) 10: 00 ~ 16: 00

Place Miyako City 2nd floor Gulliver square

Participation fee Adult 500 yen, Child 300 yen 




※ Details of the event can be confirmed on the Internet "Mini 4WD Race Information in Miyazaki Prefecture". 




 【URL】

http://g-presents.sakura.ne.jp/mini4wd/
Source: Miyazaki Kotsu