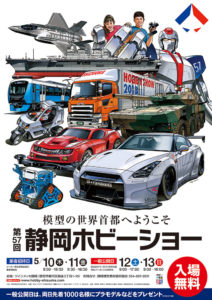 ■ Trade Days ※Not open to the public.
May 10th (Thu.) 9:30~16:30
May 11th (Fri.) 9:30~16:30
■ Consumer Days
May 12th (Sat.) 9:00~17:00
May 13th (Sun.) 9:00~16:00
※The first 1,000 visitors of Junior High School age (15) and below on each consumer day will be eligible for a gift!
■ Venue: Twin Messe Shizuoka
The 57th Shizuoka Hobby Show promises to be a massive festival of hobby-related fun, and Tamiya's booth will once again be the focus of attention with the display of new and recent releases in each genre. Get down to the Twin Messe venue and take a look at the new products, taking the chance to speak to Tamiya staff, as well as doing some shopping in the sales corner. The popular Tamiya Open House event will be held on the Saturday and Sunday at the Tamiya HQ, making it a packed 2 days of hobby-related fun!
Products to be displayed at the 2018 Shizuoka Hobby Show!
Scale Models
◇ 1/700 Aircraft Carrier DDV192 Ibuki
◇ 1/35 Japan Ground Self Defense Force MCV Type 16
◇ 1/35 U.S. Light Tank M3 Stuart Late Production
◇ 1/35 German Self-Propelled Howitzer Wespe "Italian Front"
◇ 1/48 British Tank Churchill Mk.VII Crocodile
◇ 1/48 U.S. Medium Tank M4A3E8 Sherman "Easy Eight"
◇ 1/48 Grumman F-14D Tomcat™
◇ 1/48 German Luftwaffe Crew (Winter) w/Kettenkraftrad
◇ 1/12 Yamaha YZF-R1M
◇ 1/12 Ducati 1199 Panigale S Tricolore (Finished Model)
◇ 1/24 LaFerrari Yellow Version
◇ 1/18 Honda N III 360
R/C Models
◇ 1/10 R/C Citroën 2CV Charleston (M-05)
◇ 1/10 R/C Subaru Impreza Mexico 2004 (TT-01 Type-E)
◇ 1/10 Isuzu mu Type X (CC-01)
◇ 1/10 R/C Manta Ray (2018)
◇ 1/10 R/C Mitsubishi Pajero Metaltop Wide Black Metallic
◇ 1/10 R/C TB-05 PRO Chassis Kit
◇ Various TB-05 options parts to be announced!
◇ 1/10 R/C TRF103 Chassis Kit
◇ 1/25 R/C German Tank Panther Ausf.A (w/Control Unit)
Mini 4WD & For Kids
◇ Abilista (MA Chassis) Japan Cup 2018
◇ Dash-1 Emperor Memorial (MS Chassis) 30 Years of The Japan Cup
◇ Mach-Bullet (VS Chassis)
◇ Trairong (FM-A Chassis)
◇ Mini 4WD Cat Racer
◇ Hyper-Dash 3 Motor J-Cup 2018
◇ Hyper-Dash Motor PRO J-Cup 2018
◇ HG Carbon Multi Roller Setting Stay (1.5mm) J-Cup 2018
◇ HG Carbon Rear Multi Roller Setting Stay (1.5mm) J-Cup 2018
◇ Rowdy Bull Clear Body Set
◇ HG Aluminum Deep Rim Wheels for Low-Profile Tires (Red/2pcs.)
◇ Lightweight Plastic Spacer Set (12/6.7/6/3/1.5) (Red)
◇ 19mm Aluminum Rollers (5 Spokes) w/Plastic Rings (Light Blue)
Tools & Paints
◇ Submarine Motor Mini (for R03/AAA/UM4 Batteries/Silver)
◇ Centipede Robot
◇ Cam-Program Robot (Gun Metal & Orange)
◇ Tamiya Color Lacquer Paints (LP-31 to LP-45)
◇ Tamiya Lacquer Thinner (Retarder Type) (250ml)
◇ Decal Adhesive (Softener Type)
◇ Polishing Compound Sponges
◇ Modeling Blade (Flat Chisel 2mm)
Some highlights of the new items presented

■ 25413 1/700 Aircraft Carrier DDV192 Ibuki
DDV192 Ibuki is a fictional aircraft carrier from the comic "Kubo Ibuki" (Aircraft Carrier Ibuki) penned by Kawaguchi Kaiji (with support from Eya Osamu), which was first serialized from the December 2014 issue of Shogakukan publication Big Comic. This model creates her in 1/700 scale, complete with ski-jump takeoff ramp, a range of deck-top vehicles and much more.
■ 14133 1/12 Yamaha YZF-R1M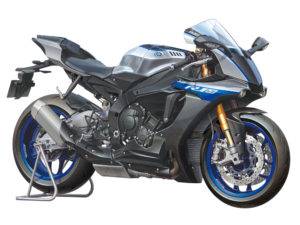 Yamaha's YZF-R1 has a rich history dating back to 1998; the 8th generation of the bike, released in 2015 marked a move to a new concept for the model: developed for the circuit. With feedback from the YZR-M1 MotoGP bike and cutting edge electronics galore, the YZF-R1M has graced such races as the Superbike World Championship and All Japan Road Race Championship, one of its highly notable achievements being an astounding three back-to-back wins of the Suzuka 8 Hours between 2015 and 2017.
In addition to the model, we are also planning to exhibit a full-scale bike at the Tamiya stand!
■ 35361 1/35 Japan Ground Self Defense Force MCV Type 16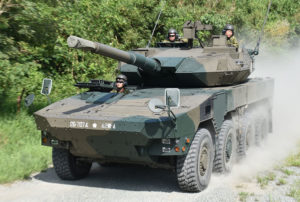 The Japan Ground Self Defense Force (JGSDF) Type 16 reached units beginning in 2017. An 8-wheel vehicle, the JGSDF classify it as a Maneuver Combat Vehicle (MCV), a highly mobile and well-armed vehicle intended to provide supporting fire and take on enemy armor as a part of rapid response units. Its domestically designed 105mm rifled gun provides accurate firing on the move. Tamiya designers had extensive access to the actual Type 16, and are delighted to bring you this highly accurate model in 1/35.
*Image used is from JGSDF homepage.
■ 56605 1/25 R/C German Tank Panther Ausf.A (w/Control Unit)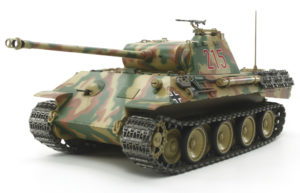 With the power of its L/70 75mm gun, and excellent survivability thanks to its sloped armor, the Panther is regarded by many as the finest German WWII tank. Now it appears as a 1/25 scale R/C model. Included 2.4GHz R/C unit utilizes a dedicated transmitter and MC-07 receiver/motor control unit. An assembly-type twin gearbox is installed in the hull front. Its dual Type 130 motors are controlled via the MC-07 control unit, allowing a range of speeds and turning circles, even pivots. Realistic motion is enhanced by suspension with integrated trailing arm/torsion bar components, while tracks come pre-assembled.
■ 58658 1/10 R/C TB-05 PRO Chassis Kit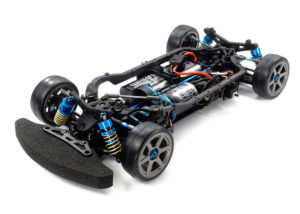 This assembly kit creates an efficient shaft-driven 4WD chassis. Its composite structure with integrated lower deck and side frame sections facilitates a largely symmetrical design for balanced steering. Choose between 2 layouts, with a front motor position for superb stability, or a rear motor for dynamic drive. Steering linkage components are bulkhead-mounted to eliminate effect upon chassis roll. With full ball bearings, universal shafts and gear differential units, the drivetrain is as smooth as silk.
■ 58655 1/10 R/C Citroën 2CV Charleston (M-05)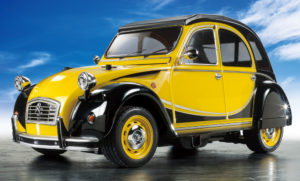 The Citroën 2CV is an all-time classic; first sold in 1948 and produced for more than 40 years. This R/C model assembly kit recreates the Charleston version manufactured in the 1980s. The instantly-recognizable 2CV body is accurately depicted in polycarbonate, with separately molded plated parts to depict side mirrors and headlights. The M-05 chassis provides a proven base for the model: gearbox, motor, battery pack, receiver, servo and ESC are positioned for optimum weight distribution and a low center of gravity.
■ 95109 Abilista (MA Chassis) Japan Cup 2018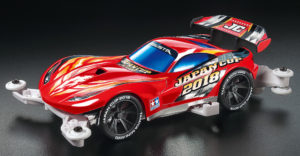 The Japan Cup is back again in 2018 for another season of white-hot racing across the Japanese archipelago! This special model of the Abilista is released to help commemorate the event, with the body molded in red ABS resin, a sturdy polycarbonate-ABS chassis in white, and dedicated metallic type stickers for decoration. The MA chassis is a midship unit with double shaft motor, and here is paired with gun metal color A-spoke wheels and super hard low-profile tires with sidewall lettering for a racy look.
■ 95110 Dash-1 Emperor Memorial (MS Chassis) 30 Years of The Japan Cup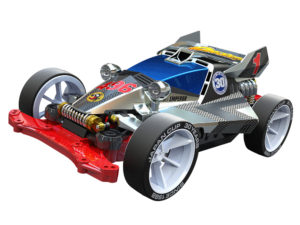 2018 marks 30 years since the first running of the Japan Cup back in 1988, and this model is on hand to make it an anniversary to remember! In fact, the Emperor was the car used to publicize both the 1st and 2nd Japan Cups, so it is an extremely fitting choice. Here, it appears as a special model with gorgeous silver color metal plated body and dedicated stickers. It is based upon the MS chassis, with red and black sections, 6-spoke wheels, and super hard low-profile tires with sidewall lettering.
■ 70230 Centipede Robot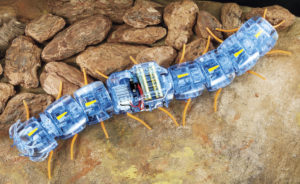 Here is a new Educational Construction series model with a bit of a twist (and a slither)! It creates a big centipede consisting of separate body sections and a central motor unit, with flexible leg parts helping propel the model as they rotate. Universal joints between the sections allow the model to negotiate obstacles and hug the terrain. Its motion can be altered by changing the number of body sections, or the leg direction.
■ Full-size vehicles on display!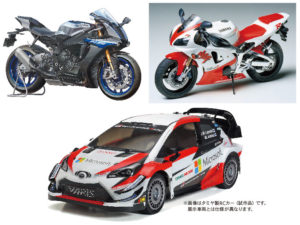 Tamiya plans to show full-size examples of the TOYOTA GAZOO Racing WRT/Yaris WRC, Yamaha YZF-R1 and YZF-R1M. Come along and check them out!
*image at left shows R/C model of the TOYOTA GAZOO Racing WRT/Yaris WRC, which may differ in spec to the car on show.
■ Tamiya Open House

■ May 12th (Sat.), 13th (Sun.) 9:00~16:30
■ Location:Tamiya Headquarters Office: 3-7 Ondawara, Suruga-Ku, Shizuoka
The Tamiya HQ will also be opened to the public, with members of staff from each department on hand to answer any question you might have. Add to that the informative Tamiya Archive Room, examples of real cars on display in the lobby, a model-making corner, Mini 4WD course and much more; a day at the Tamiya Open House promises fun for all!
■ Please note that photographs and videos of the above events may be used by Tamiya for publicity purposes.
■ Tamiya does not accept responsibility for accidents or injury which occur during such events. ■ Consumption of alcohol is expressly forbidden. Tamiya reserves the right to eject any customers who cause disruption or distress to other visitors.
The information on this page is current as of April 11, 2018.