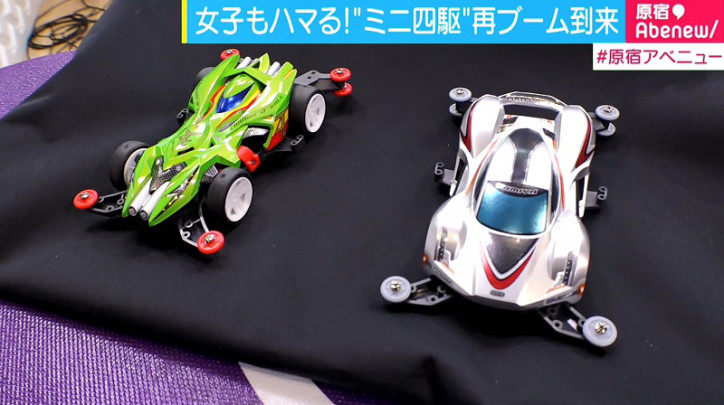 "Mini 4WD" which was once played by a boy has become a thing that can be enjoyed by youngsters and youngsters over time. In the "Mini 4WD Grand Prix 2018 New Year Tokyo Convention" which was held on Shinagawa on 28th last month, various people such as parents, parents and children and three generations gathered as well as men and women gathered and mobilized about 2,600 people.
Now the Mini 4WD has not only race but also "decorating" new way of enjoying freely. Regarding the charm of such a mini 4WD, "Harajuku Avenue" (AbemaTV) asked Mr. Akiko Seguchi of Tamiya public relations. According to Mr. Seguchi, Tamiya's total mini 4WD sales have reached 180 million units in total. It is said to be popular abroad, mainly in Asia, as the world's smallest motor sports.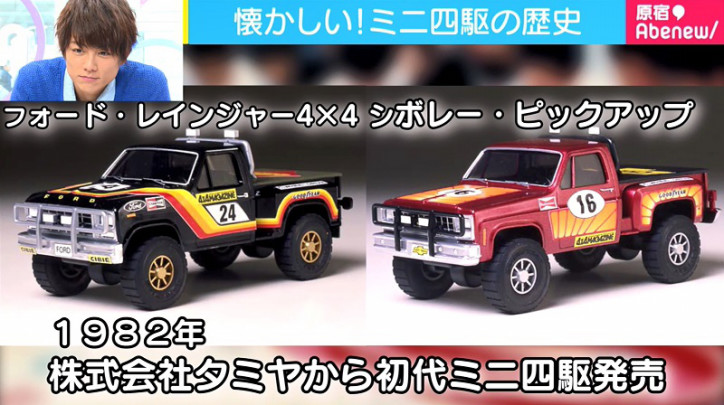 The birth of mini 4WD that runs with two AA batteries and a motor dates back 36 years ago. In 1982 Tamiya released the first Mini 4WD. After that, when the Racer Mini 4WD series was released around 600 yen, the boom gave a light because it can buy even pocket money for primary school students. In 1987, the cartoon "Monthly CoroColoric Comic" "Dash! "Shijimiro" (Tokuda Zaurus) started the series, "First Mini 4WD boom" occurs. Furthermore, in 1994, manga "Broke Brothers Let's & Go! ! "(Toshihi Koshita) started serializing" Second Mini 4WD Boom "arrived. In 1996, the "Japan Cup Tournament" was held at 14 venues nationwide, and it became a social phenomenon such as mobilizing a total of 344,000 people.
And now the "third mini 4WD boom" has arrived, adults and children are addicted to it. In 2017, a junior champion girl in elementary school fifth grader, the reason why he started mini 4WD is that he was invited by his father.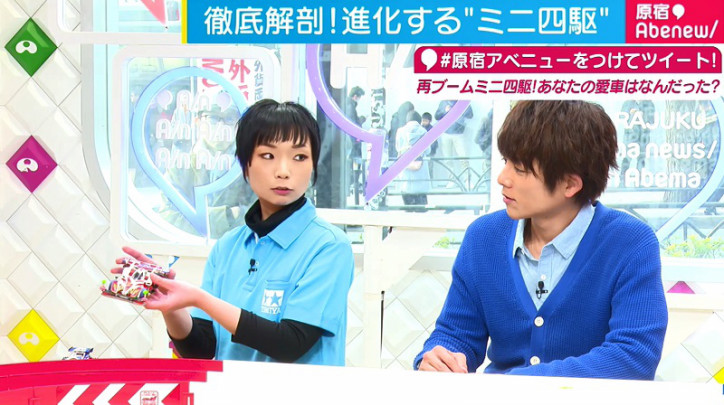 The current mini 4WD is easier to remodel and comes out more speed, and the remodeling parts have become five times more than the 1980s to be able to produce originality. "Compared with the past, the current mini 4WD is specification for racing.The car height is low, we arrange the heavy parts such as motor etc on the lower side so that the center of gravity goes down. By doing this, stability in the corner will be enhanced.In addition, there are so many places to install the parts compared with the past, "says Mr. Seguchi. It is said that there are more than 200 types of parts currently on sale and more than 100 million combinations are available, and the depth of setting is attractive.
■ "Women play active part in" Deco 4WD "
Besides racing, female popularity is "deco 4th generation". At the official tournament in Tamiya, there are departments that compete for appearance in addition to the section competing for speed.
Three years ago we launched a mini 4WD team, and we interviewed Mr. Junichi Saga, who is a leader there. At home there is a full-fledged mini 4WD course, "I'm too addicted to mini 4WD and I moved to where I can do this". Mr. Saga's team's deco four-wheel girls and Megu-chan and Mr. Ocha-chan say the deco 4th generation for the first time in 2 years, but the quality looks high. Megucho says, "I am making it using parts I no longer want to run, and I reuse what I do not use because I can do it freely." It seems that parts are mainly purchased at 100 yen shop.
So at "Harajuku Avenue", two people of Avenue JK reporter challenged the deco 4th generation. I entered "Competition Deregans" of "Mini 4WD Grand Prix 2018 New Year Tokyo Convention" which was held last month. Competition Deregans is an exquisite deco 4th contest contest. If you pass entry sheet and car, you can participate for free, and the entered deco 4th generation will be open to the public. There are 129 deco 4th generation entries in the competition Deregans at this competition.
I talked to the mini 4WD girls until the result announcement. A woman whose husband started being the trigger is "(women) is increasing recently (attractiveness) where you can compete regardless of gender.When men are strong with sports or others, mini 4WD does not matter. Women are also good at four-wheel drive. " Also, Hiromi Kaeri of the talent who was in the venue is a mini 4WD girl of the past 3 years. I entered the world of mini 4WD from car lover, and in competition Deregance I have won many prizes in the past. "It is fun to paint your favorite colors on the body or change the design, which is increasing for women every time they race."
The results are announced at last. Of the seven awards, they were two who were aiming for "Cute Award" and "Idea Prize", but the result was a losing battle. When I listen to a cute and award-winning woman, "I made it by anticipating the Valentine's Day, and when making it I make as much as possible using the original mini 4-wheel drive, making it cute and cool and stylish Because things can be made, it is fun to bring out "and taught me the attention and attention.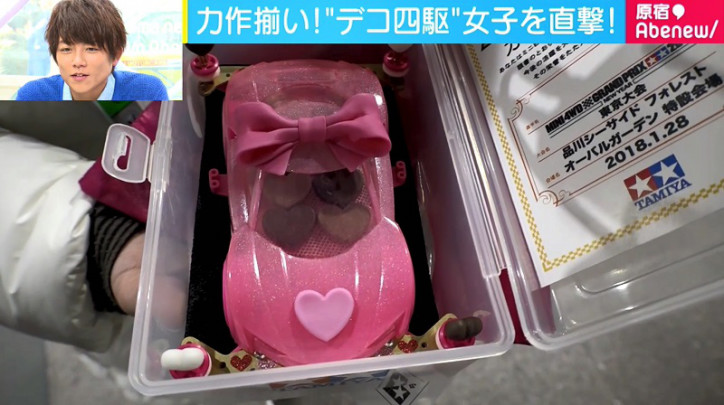 In addition to the deco 4th generation, there are also "neta 4th generation" etc. Mr. Seguchi says, "Now that Mini 4WD is becoming popular not only in Japan but also overseas through SNS, we will expand those connections further in the future so that people around the world can enjoy the fun of mini 4WD and MONOZUKURI I hope I can tell you that I'd like to tell you. "
(From AbemaTV / "Harajuku Avenue")
Source of original Japanese article: Abema TIMES