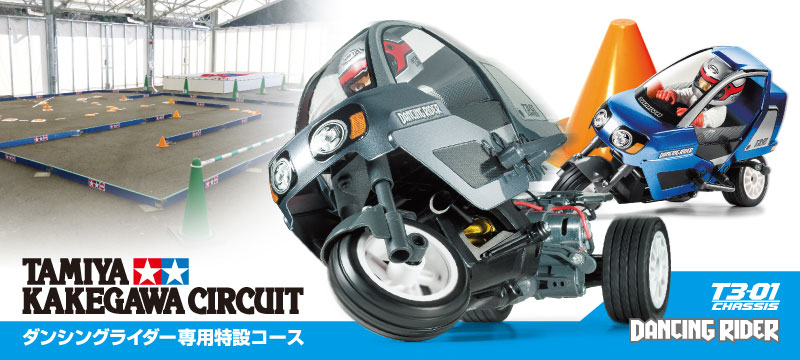 A dancing rider special course appears on the Kakegawa circuit!
A special circuit of a new sense 3-wheel RC "Dancing rider" turning by turning the body is installed in the Tamiya Kakegawa circuit pit area. As the name says, running like running through a corner is exactly the bike itself. I have plenty of fun to run. Please invite your friends, friends, family and visit Tamiya Kakegawa Circuit.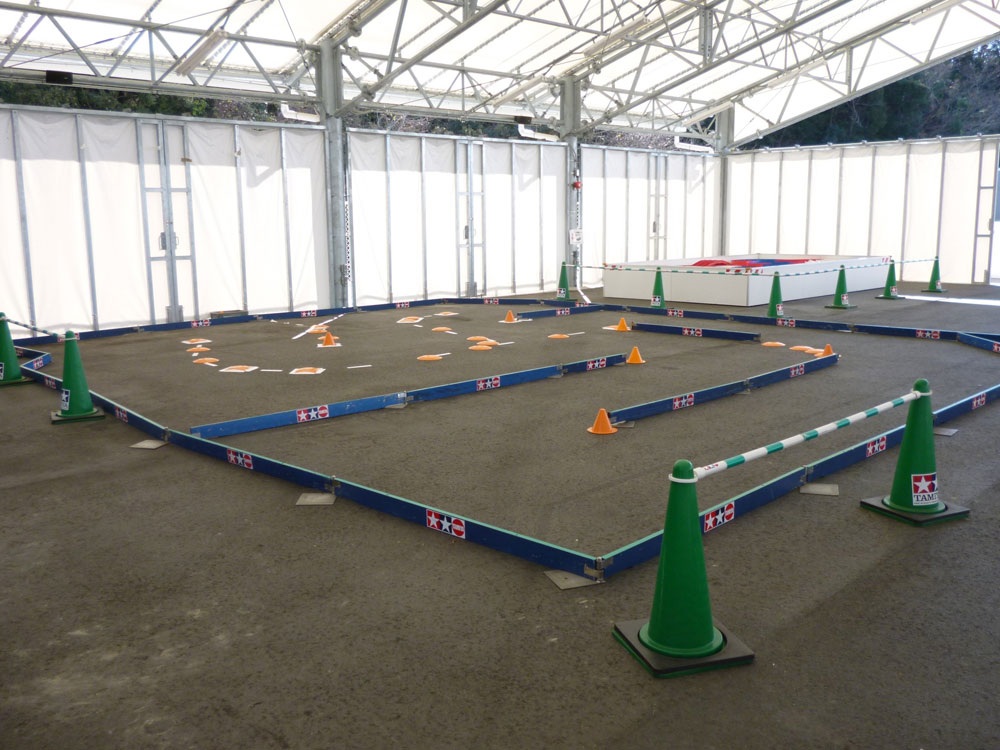 Location
Tamiya Kakegawa Circuit Shizuoka prefecture Kakegawa-shi, Sanyo 66-1 * Access map is here
Use
Weekdays, Saturdays, Sundays, and holidays from 9 am to 4 pm
Closed holiday / Every Thursday: It may be changed due to reasons such as coverage and testing. Please check with Tamiya Kakegawa Circuit Calendar.
Click here for Tamiya Kakegawa Circuit Calendar
Fee (1 day)
If you use only the dancing rider special course, you can run it for free.
If you use other circuits, the membership fee of the facility is 1,000 yen per day (people in Shizuoka prefecture) 600 yen per day (people outside the prefecture), when using non-members, 2,700 yen per day (People in Shizuoka prefecture) 1 day 1,700 yen (people outside the prefecture) will be. Please visit first if you come. Facilities can not be used without reception. However, excluding cases of visits only. * Tamiya Grand Prix and others Tamiya races can participate in non-members free of charge.
About running machines
○ Only the dancing rider made by Tamiya will be able to run on the special course.
○ Please use the motor made by Tamiya. Use of a third-party motor is prohibited.
○ When using brushless motor, please use TAMIYA made amplifier.
○ The chassis and body of the running machine are only made by Tamiya.
○ Machines that do not satisfy the above conditions, which our company licensed for research and development may run.
About running tires
○ Use of drift tires and drift driving are prohibited.
○ Prohibit the use of the grip agent etc. and the act of changing the property of the tire which was aimed at enhancing the grip power.
Precautions when using the circuit
○ Batteries with explosive cases are prohibited from being used or brought in. (If an explosion accident occurs, the battery owner assumes all responsibility and carries out personal guarantee and material repair)
○ Use and carry-in of all lithium ion polymer (LiPo: lipo) batteries, We will prohibit the use of LF batteries for running other than Tamiya.
○ Machines that do not meet the above conditions that our company licensed for research and development may run.
○ In order to confirm your name and address at the time of acceptance, you may be required to present identification cards.
Contact Us
Tamiya Grand Prix team: TEL 054-283-0002 (8 o'clock – 12 o'clock / 13 o'clock – 17 o'clock * excluding weekends and holidays)
Tamiya Kakegawa Circuit: Tel 0537-21-2266 (9 o'clock – 16 o'clock * excluding Thursday)