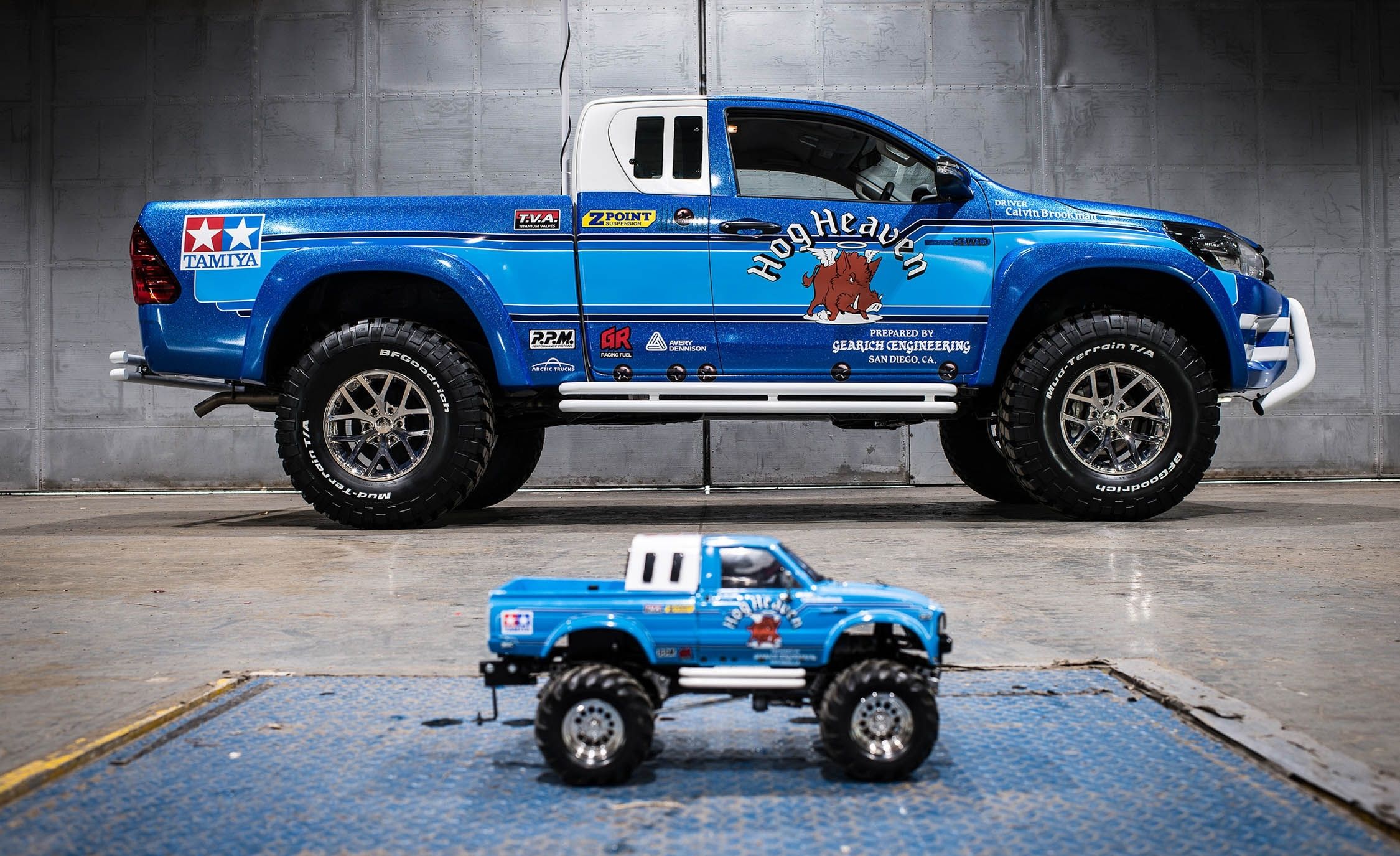 During the 1/10-scale, off-road RC boom of the 1980s, toymaker Tamiya's bread and butter came from the demand for such memorable machines as the Frog, Grasshopper, Fox, Hornet, and Blackfoot; but the company also sold more mechanically advanced radio-controlled cars, like its all-wheel-drive Porsche 959 replica and, of course, the Toyota Hilux–based Bruiser, a metal-framed beast with a leaf-spring suspension and a three-speed gearbox. In a fit of nostalgia, Toyota commissioned a full-size replica of the radio-controlled pickup based on its current Hilux offering.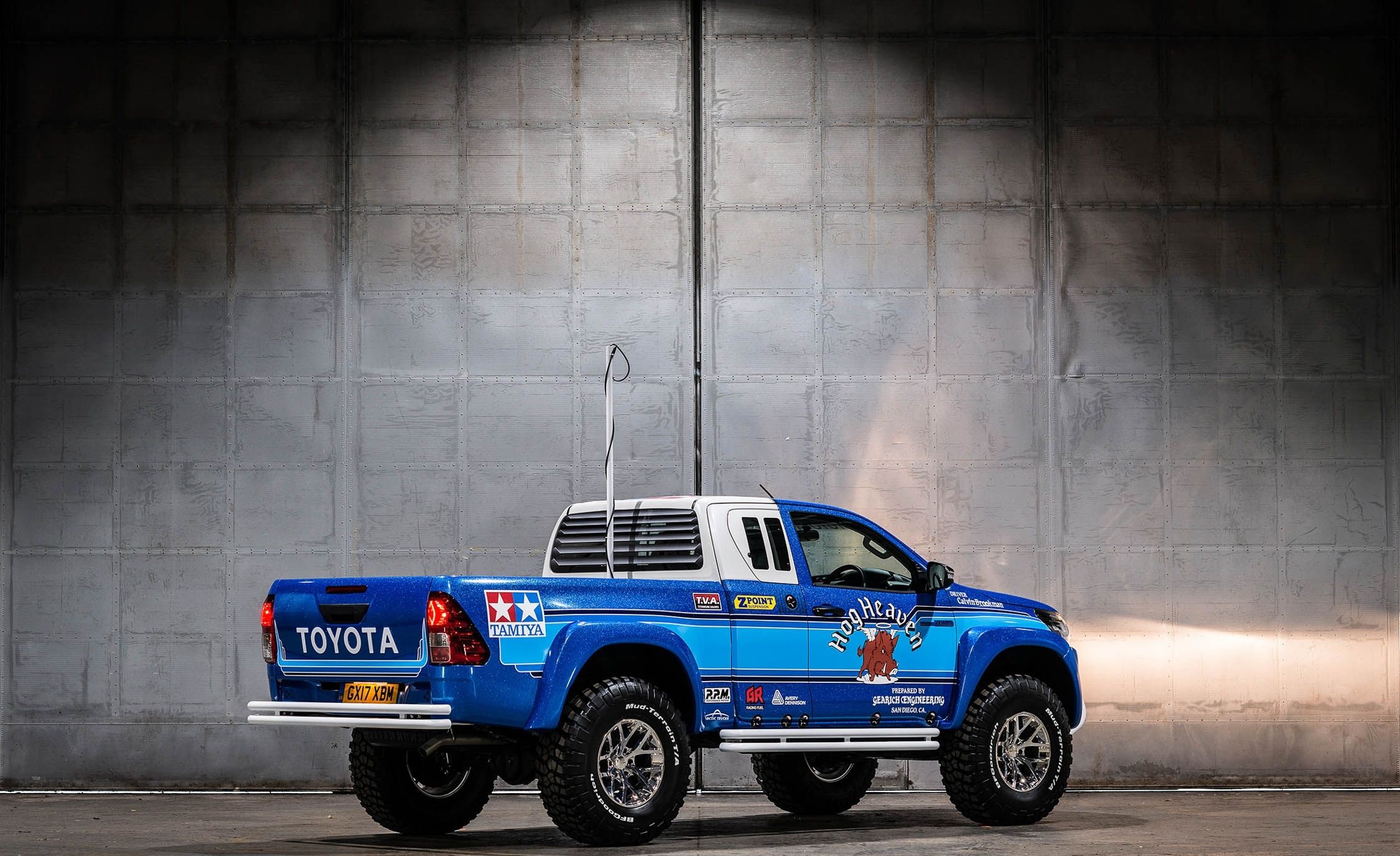 American kids weren't the only ones who went nuts for Tamiya's plastic models and radio-controlled cars, buggies, and trucks during the Reagan administration. The youth in Thatcherite Britain had quite a soft spot for the things, too. While the Hilux moniker has long ago fallen into disuse in the USA—its role now filled by the Tacoma—British 'Yota enthusiasts still do their four-wheeling Hilux style. And in a goofy genius move, Toyota cribbed cues from the Bruiser that was introduced in 1985, upsized them, and applied them to the modern truck. To wit, the thing features a to-scale antenna pole mounted in the bed, wound in a loose spiral with cable, just as an RC car's receiver wire would be wrapped around the little car's aerial rod.


Also mounted in the bed is a replica of the Bruiser's utilitarian on/off switch. Other, accents, however, are a bit more in the realm of smoke and mirrors. Unable to source and unwilling to fabricate rear-window louvers for the modern Hilux, the backlight makes do with a vinyl appliqué. And while the full-size Bruiser sports a correct double-tube rear bumper, the front wears only a tubular bull bar, while white stripes on the bumper evoke the rest of the toy truck's front-end treatment.

To pay lip service to the Tamiya truck's monstrous stance, Toyota went to Arctic Trucks for their AT35 conversion, which includes Fox shocks and a set of 17-inch wheels shod with 305/80 BFGoodrich Mud-Terrain T/As. Unlike the original, which the hapless builder had to prep and paint on the outside (unlike the less detailed paint-on-the-inside Lexan bodies so many RC cars wear), Toyota went with a Diamond Blue Metallic vinyl wrap wearing the Bruiser's livery. It did, however, make use of a domed gel to replicate an era-correct embossed Toyota tailgate. Rather than an electric motor, the full-size Bruiser carries a 2.4-liter diesel engine to do its saintly rock-clambering, forest-bashing duty. Is it nerdy? Absolutely. Is it fun? For certains. Does our demand for '80s-style Tamiyayota accuracy have us looking wistfully at the reissued Bruiser kit? You bet your charging boar it does.
Sources: Car and Driver and Toyota UK