Tamiya Fair 2017, November 18th (Saturday), 19th (Sunday)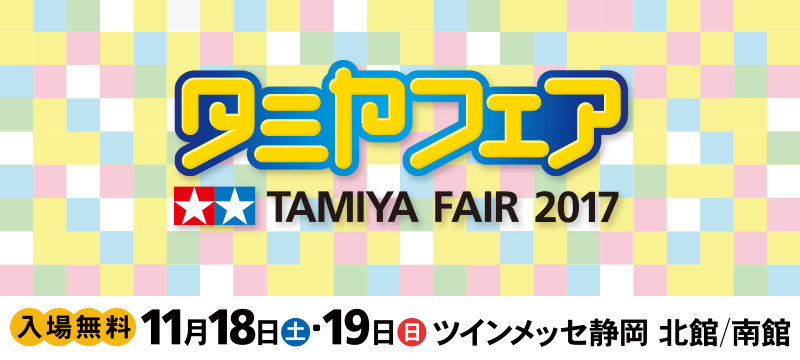 Hobby's festival, held this year too!
Tamiya fair was established as a hobby event in autumn of Shizuoka. Last year we had over 22,000 visitors. This year, which is the nineteenth time, we will also exhibit noteworthy new products, various events that you can participate in by participating in the customer, you can also sell limited items that can only be purchased at the venue and corners such as spot sale of bargains Expand. Tamiya's hobby festival is held again this year!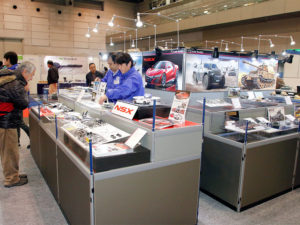 Presentation of new products of Tamiya, exhibition (North / South Building)
We will display Tamiya's new products such as scale model, RC model, mini 4WD and so on which will be released from this autumn to early next year at once. Please have a look and have a look.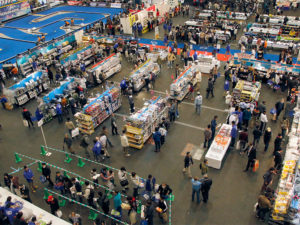 Tamiya product sales corner (North / South)
We have all Tamiya products and original goods on sale now! If you purchase more than 1,000 yen you get a discount voucher that you can use at the venue! (※ The discount ticket is effective only at the Tamiya Fair 2017 period venue, shopping with discount tickets alone is not possible.)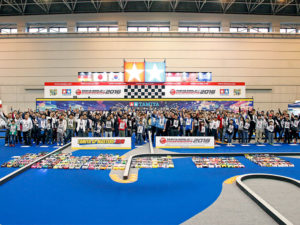 Electric RC car World champion decision game! (North Building)
In addition to the 14 domestic competitions in Japan, representatives who have won the preliminary contests in nine countries and regions in Asia, the United States, Canada, Europe, and each area gather together, and the world's best match of the Tamiya Electric RC car will be held. We develop a super close match that competes for 0.01 seconds. Even just watching the race development full of speed, it is powerful to hold sweat in hands. I can not stop sending cheers. A big race at a large special circuit is a must-see!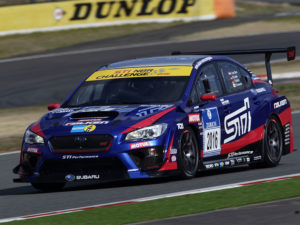 SUBARU WRX STI NBR Challenge exhibited (North Building)
German circuit known for harshness, Nürburgring. Since it is also used as a development course for sports cars, you will often hear names in Japan. SUBARU challenged from the year 2008 for the 24 hour endurance race to be held here and won 4 class wins. Based on SUBARU's high performance sports sedan WRX STI, the WRX STI NBR challenge was finished for this race. NBR represents the Nürburgring. (Cooperation: Subaru Technica International Co., Ltd. )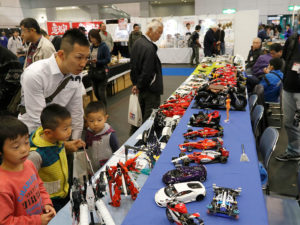 Shizuoka Joint Work Exhibition (North Building)
Plastic model production This year also held joint work exhibition centering on clubs active in Shizuoka prefecture, Japan. Hundreds or more works centered on scale models such as airplanes, tanks, and cars will be gathered.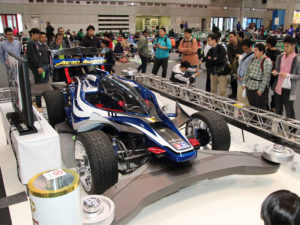 1/1 Mini 4WD actual vehicle project Aero Avante exhibition (South Building)
A dream big project to make Mini 4WD "Aero Avante" a real vehicle. Please see the powerful style at close range!
⇒ 1/1 Mini 4WD actual vehicle project (YouTube)
⇒ 1/1 Mini 4WD · actual car version Aero Avante & F1 TYRELL 019 Suzuka Circuit running image (YouTube )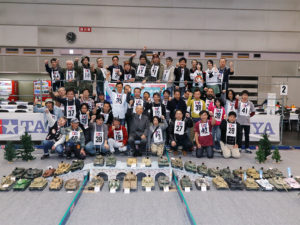 RC Tank Owners Meeting held! (18th · South Building)
Radio control tanks such as Tiger I, Sherman, KV – 1, etc, which attract the ultimate realism that reproduces sound and light, as well as actions unique to tanks, are active. Match battle of tension done in one to one, competition against the team where combination is key of victory is done. All the tank fans, please come.
⇒ The details of the event are here!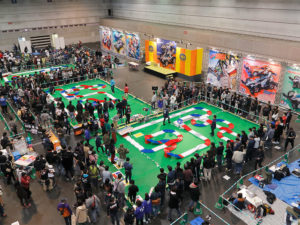 Mini 4WD event (South Building)
"Mini 4WD Station Champion Decision Battle 2017" "Mini 4WD World Challenge 2017" held!
On Saturday 18th (Saturday) more than 400 shops nationwide, held the "Japan Mini 4WD Champion Decision Battle 2017" by a racer elected by "Mini 4WD Station Challenge" held over 900 meetings (3 lanes Use type). On the 19th (Sunday), "Mini 4WD World Challenge 2017" held by overseas representative racers gathered from all over the world and about 100 top racers in the country held! Do not miss it! * Participation in the race will be only for players who have won participation rights.
Contest Deregans Excellent Work Modification of exhibition
machine, painting contest "Competition Deregans". At the Tamiya Fair venue, we will exhibit excellent works of each Japan Cup 2017 Tournament.
Free Participation Event (Saturdays and Sundays)
As a "Minna 4WD Plaza", we will accept exhibits of everyone on Saturdays, Sundays
Free participation event (Sunday)
19th (Sunday) Japan Cup 2017 Official course "GREAT CROSS CIRCUIT 2017" can be opened as a free practice course and anyone can run on your own machine.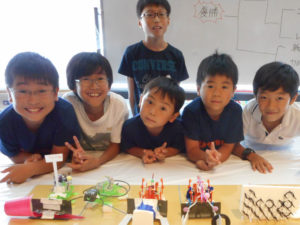 Hebokon Craft Workshop (charged) (South Building)
Let's challenge the topic "Hebokon" on the street! It is a robot competition that you can participate even if you do not have experience of work. This time we will use Tamiya's RoboCraft series. As Tamiya staff will support the production, it is okay. Produce an original machine by freely decorating the machine with abundant materials. After completing, we will do a tournament style robot sumo competition. Children who are not good at work are OK. Please join us.
⇒ What is henbokon? (Hebokon Official Website)
⇒ Hebokon Official Rule (Hebokon Official Website)
Schedule November 18 (Sat), 19 (Sun)
Three times a day (Production required time 2 hours)
● 9: 30 ~ 12: 00 ~ ● 14: 30 ~
* Because there is a closing at 16:00 on the last day 19 (Sunday), there is no time of 14: 30.
◎ participation fee 1,382 yen (decorative material, with battery) ※ ornaments bring Allowed
◎ use kit mechanical Giraffe (71105) , mechanical pig (71111) , mechanical Racehorse (71112) one of the selection.
◎ Recommended Elementary 3rd grade or higher recommended.
* If parents can help you to complete by co-production, you can join even if they are under 2 years old.
◎ Capacity Eight first arrivals each time
⇒ Advance reservation required. Please click here to apply. (Currently under preparation) "Hebokon" is a project born from the popular site "Daily Portal Z".
※ This event is not hosted by Daily Portal Z.
⇒ Daily Portal Z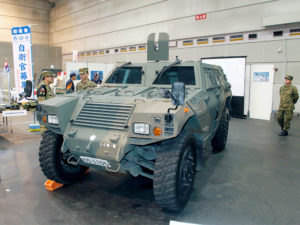 SDF Shizuoka District Cooperation Headquarters Corner (South Building)
The Shizuoka District Cooperation Headquarters familiar with the Shizuoka Hobby Show will also participate this year. On that day, a chance to see the real SDF vehicle closer! And please take this opportunity to talk with the SDF person. It also answers simple questions carefully and gently.
※ Scheduled exhibited vehicles: 96 type armored cars, light armored mobile vehicles, motorcycle for reconnaissance
Tamiya's latest RC car "triple wheel series Dancing rider" experiencing running meeting held (free) (South Building)
Tamiya's latest RC car experiencing running meeting will be held. It features an affordable speed and a cute body. It is a new sense of three wheel RC car that cornering by tilting the car body. Since operation is easy, women and children are also welcome. Please experience it.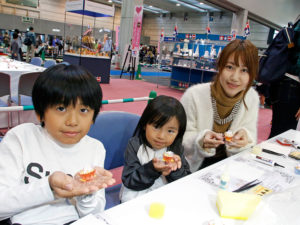 Sweet Decoration Production Experience Corner (charged) (South Building)
"Sweets decoration" which is becoming popular among women now. Why not challenge the hobby to make real sweets like clay and other ingredients? Both girls and mothers' participation are welcome as well. You can take home the completed work. ※ Works can not be eaten.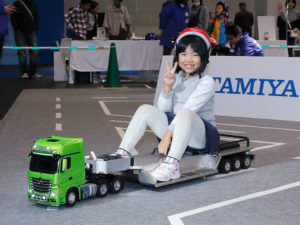 In addition to this, a lot of experience corners are prepared at the venue !!
RC trailer passenger experience corner (South Building) (free)
Let's take a 1/14 size RC trailer. We will conduct trailer riding experience for primary schoolchildren and below.
Mini 4WD Workshop (South Building) (charged)
Make it on the spot and let's play! ! Receiving at any time! We also have a circuit to run the finished machine. For assembly, the staff gently talks about lectures.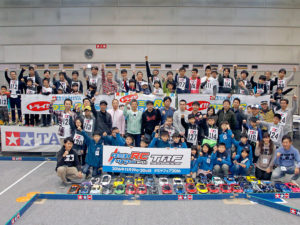 Separate event – Let's enjoy with parents and children. Assembly class for the latest RC Touring Car !!
Visit Tamiya Fair 2017 and run at Tamiya Circuit, Hobby Zankei's weekend! "Tamiya RC Tour with TRF" held
We planned "Tamiya RC Tour with TRF" of Hobby Zamani with TRF (Tamiya Racing Factory) staff. You can enjoy RC car assembly class, RC run at Tamiya circuit, Tamiya fair venue and Tamiya head office visit. Please join us with parents and children.
⇒ detailed content, please click here. 
List of exhibitors / cooperating organizations (unordered)
Tamiya fair has been exhibited by many manufacturers and cooperating organizations. Manufacturers of scales models and RC relationships, as well as many unique manufacturers are exhibiting, so please check each booth.
Mazda Co., Ltd. / UMA (moving model lover association) / Kyoto Machine Tool Co., Ltd. / Kondo Science Co., Ltd. / Sanwa Electronic Equipment Co., Ltd. / Futaba Electronics Industry Co., Ltd. / Mizuho limited company / Marto Hasegawa Works Corporation / / Tamiya Plastic Model Factory Shimbashi Store / Tamiya Plastic Model Factory Torresa Yokohama Store / Fine Mold Co., Ltd. / SWEET (Suite) / Limited Company Emmp / Shimomura Alec / Co., Ltd. Shiokawa Kodeno / Central Packaging / Shizuoka Joint Work Exhibition / Shizuoka Joint Work Exhibition / SDF Shizuoka District Cooperation Headquarters / Public Interest Foundation Corporate Planning and Tourism Bureau / Showa Print Processing Co., Ltd. Limited company / Rau pen model / ( ) Modeling Village / Co., Ltd. Ito-Yokado / pilot ink Co., Ltd. / match mower racing Corporation / Twilight Model / Subaru Tecnica International Co., Ltd.
■ The pattern of the event is taken with still images, movies, etc., and it may be published on each media related to Tamiya, such as printed matter and homepage. Please acknowledge your participation. ■ The organizer will pay attention to accident prevention, but we can not assume the responsibility in case of accident, theft, injury or other damage. ■ Please refrain from drinking in the hall. Moreover, those who did the troublesome acts of other customers and those who do not follow instructions of the staff may be sent out. Please note.