47355 Dual Ridge Black Metallic TT-02B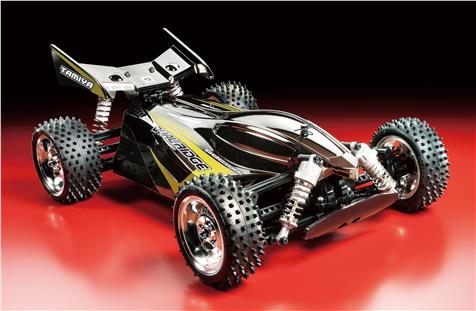 Limited hardware kit of the Dual Ridge 58596 in a Black Metallic version.
The differences to the 58596:
Body & tail wing already cut out and Black Metallic coated. Only the stickers have to be attached.
Wheels included in stylish chrome-finish
Stickersheet color revised
Kit in scale 1:10
Chassis TT-02B
Motor Torque Tunded & Cruise Control TBLE02S included
Compatible with all TT-02B tuning parts
Note: Use only receiver with external antenna. Due to the metallic coating of the car body, interference can occur with "antennaless receivers".
Tamiya presents the cool Mazda RX-7 (FD3S) on the proven TT-02 drift chassis.
The drift version is already standard equipped with CVA oil pressure shock absorbers, cardan drive, 24mm drift-spec tires, ball bearings, sports tuned engine and aluminum heat sink. The body is original from the kit 58388 and is equipped with side mirrors etc. The highlight of the 58648 Mazda RX-7 is the enclosed LED lighting set, which is only included in the export versions!
Kit in scale 1:10
Car body made of Lexan for self-design, with separate attachments made of ABS plastic
Masking film and sticker sheet
The TT-02D cars are compatible with most TT-02 tuning parts and can be upgraded as desired