Contract invitation date * General people can not enter
May 11, Thursday, May 11, 2017 9: 30 ~ 16: 30
Friday, May 12, 2017 9: 30 ~ 16: 30
Public release date
May 13, 2017 Sunday (Sat) 9: 00 ~ 17: 00 May 14, 2010 (Sun) 9: 00 ~ 16: 00
※ Both gifts arrive 1,000 as present Plastic model gifts etc. (subject for junior high school students) Venue Twin Messe Shizuoka sponsored Shizuoka model Teaching Materials Cooperative
⇒ 56th Shizuoka Hobby Show Official Website
Plenty of topics, domestic largest model hobby event "The 56th Shizuoka Hobby Show". At the Tamiya booth, we will exhibit new products that will be released by summer at once. This time, attention new products are pounding in each genre! . You can take a closer look at the new product before the launch at the venue. Of course, questions and requests to explanation staff are greatly appreciated! In addition, I am looking forward to shopping at "Sales Corner" where various products and goods are available. Every year the popular " Tamiya Open House " is held at the same time. Please come along with your family for 2 days in Hobby at Shizuoka in fresh green!
Tamiya booth · Noteworthy new product! ⇒ Shizuoka Hobby Show New product list to be announced at Tamiya booth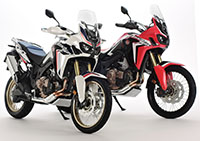 ■ 1/6 Honda CRF1000L Africa Twin A
new-generation adventure tourer, popular all over the world, Honda CRF 1000L appears on 1/6 scale. Reproduce the volume full of style as it is, model the water-cooled four-stroke in-line two-cylinder engine with displacement 998 cc precisely. Complex spoke wheels are constructed by dividing spokes and rims in both front and rear. It is easy to paint differently, realizing expression of spokes with high sense of scale. ★ Length 390 mm. ★ Make heavy use of metal shafts and screws to ensure reliable assembly and strength. ★ The front and rear suspension is movable. ★ Includes two types of marking slide marks and a mask separately for painting.
In addition, the actual car exhibition at the hobby show venue Tamiya booth is decided! . Please compare actual models and models!

■ 1/700 Japan Navy Destroyer The island wind
completed in 1943 as a new destroyer shoving the nextgeneration of the island-likeJapanese Navy is fully renovated. I modeled the figure at the final time (around November 1944). Slim hulls pursuing high speed are split left and right, upper deck also reproduces richly as separate parts. The outboard circuit on the side of the hull and the mold on the top of the deck on which the anti-skid is applied will increase the sense of density of the finish. It is an offshore model that cuts down the hull from the waterline. ★ Length 185 mm. ★ It is possible to turn with a poly cap to use the five consecutive torpedo launch tube dedicated for the island style and the 12.7 cm consecutive gun. ★ Precise finish around the bridge equipped with a wind fence. ★ Masts are also delicately reproduced.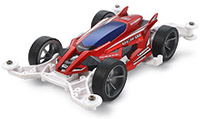 ■ DCR-01 (MAX Chassis)
DCR-01, a new concept machine, appears in Mini 4WD PRO. Takayuki Takayuki who handled RC buggy "Dual Ridge" is in charge of the body. Futuristic mood A full body is divided into three parts and you can enjoy the open and closed body shape. In addition MA chassis is white color. I attached a large diameter low height tire to a newly designed 6 spoke wheel which finished the spoke to the limit to the limit. ★ Body color is deep pearl red. ★ Color combination can be easily done by combining optional body sets. ★ The sticker is a metal type exclusive type. ★ The gear ratio is 4: 1.
■ TRIGATE Japan Cup 2017 (MA chassis)
This is a special limited edition of TRIGEILE with a charming full-car style. Body is made of orange color ABS resin. Metal tone dedicated sticker which arranged JAPAN CUP 2017 logo is also noteworthy. The MA chassis with double shaft motor mounted in the center of the car is black color. The white tire to be attached to Silver color A spoke wheel is hard low height type with red print. ★ A parts such as rollers, rear skid bars and gear covers are made of white colored low friction resin. ★ Rear skid bar and side stay are also standard equipment. ★ 3.5: 1 with super fast gear.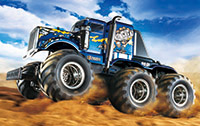 ■ 1/18 RC Konghead 6X6 (G6-01 chassis)
This is a model that extends the pleasures of running the high bad road performance and comical finish unique to 6-wheel drive. Adopting a monocoque frame with a slim shape but high strength, use gear for power transmission. The motor is mounted behind the front axle, and the gear transmits the power to the front shaft and the second shaft. Furthermore, the gear train 6WD system which transmits power from the 2nd axis to the 3rd axis also with gears. You do not choose a place to demonstrate outstanding driving power and run. ★ Length 453 mm. ★ The body which imaged the American trailer head is made of polycarbonate. ★ It is a finish with a high sense of scale that made an air cleaner and a muffler as separate parts of the plating parts.
■ 1 / 14RC Mercedes · Benz Ax 3363 6X4 Classic Space Full Operation Set
Mercedes · Benz's next generation heavy duty truck "Arox" appears in RC. Starting with the front grill of a unique design called "bucket teeth", it reproduces plenty of the body full of power. The car body which heavily used the metal parts is high in strength and made and satisfied enough. With the MFC – 03 unit, various sounds such as engine sound, lighting lights, and body vibration are reproduced. ★ Length 529 mm. ★ You can enjoy gear change while driving with 3 speed transmission. ★ Stick type 4 channel transmitter, running battery and charger set as well. ★ Trailer (sold separately) can be connected.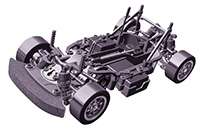 ■ M-07 CONCEPT chassis kit
High performance new design M chassis pursuing light traveling performance unique to front wheel drive and also pursuing maintenance. Adopt upper and lower split monocoque frames to ensure high rigidity. Replacement of the differential gear reduces disassembly around the foot as much as possible, accessible from the bottom. The circumference is independent of the double wishbone equipped with CVA damper. It is a special item which made long arm and linkage, and it is also characterized by wide setting width. ★ Drive system is full bearing specification. Oil-filled type gear differential, universal shaft, high torque servo saver etc. are standard equipment. ★ 225 mm, 239 mm, two types of wheel base can be selected. ※ The picture is an image under development. It is different from product specification.
"Spielwaren Messe" 50th Anniversary Exhibition at Tamiya Exhibition
Every year in the southern city of Germany, the world's largest toy fair "Spielwalen Messe" held every year in Nuremberg. Tamiya celebrated its 50th anniversary in February this year at this fair. With the long history of Spielewalen Messe, 50 years of continuous exhibit manufacturers were able to achieve the achievement of being the first company in Japan and less than 10 companies worldwide. In commemoration of this, we will perform various special exhibitions at the Tamiya booth. Please expect it.
image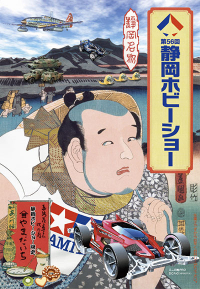 Hobby show limited edition items
At the hobby show venue, Tamiya sales corner, we offer a variety of attractive products. Please stop by. We also sell it in the Tamiya Open House venue.
※ The image is "Abe Nagumokachi Tamiya package (2017 Shizuoka Hobby Show)"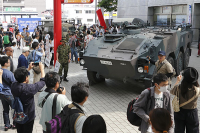 The SDF vehicles will come !
Powerful Self Defense Force vehicles are coming to Twin Messe Shizuoka! As opportunities to see usually are few, this opportunity can not be overlooked.
■ Date and time: May 13 (Saturday), 14 days (day)
■ Location: Twin Messe Shizuoka first small exhibition hall before
cooperation: the Self-Defense Forces Shizuoka local cooperation headquarters
because there are times when you want to change or withdraw the exhibition by ※ convenience, in advance Please note.
※ The image is of 2016 year.
Tamiya Open House concurrently held
■ Saturday, May 13th and Sunday, 14th, Sunday, 9: 00-16: 30
Venue: 3-7 Ingawa-hara, Suruga Ward, Shizuoka City Building
Hobby Show Open Tamiya Headquarters on the public release day. Professional staff at each department will answer your questions. In addition to the historic center exhibiting products from the era of wooden models and the lobby where real car racing machines are displayed, in the halls, attraction corners such as artificial plazas and mini 4WD courses and "50th anniversary of Spielewalen Messe Tamiya exhibition · Special thanks sale "also held. Please come and enjoy your family.
※ The image is of 2016 year.
■ The pattern of the event is taken with still images, movies, etc. It may be published on each media related to Tamiya, such as printed matter and website. Please acknowledge your participation. ■ The organizer will get the best attention to preventing accidents, but we can not assume the responsibility in case of accident, theft, injury or other damage. ■ Please refrain from drinking in the hall. Also, those who did the troublesome acts of other customers or those who do not follow instructions of the staff may be sent out. Please note.