R/C Models
56039 1/16 R/C German Tank Destroyer Jagdpanzer IV /70(V) Lang Full-Option Kit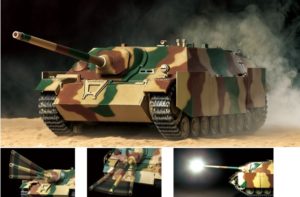 Length: 532mm. Image shows assembled and painted kit.
★The latest addition to the exciting Tamiya range of 1/16 scale R/C tanks is the Jagdpanzer IV /70(V) Lang, the powerful German tank destroyer that fought in the closing stages of WWII. ★From the sloped armor of the hull to the L/70 7.5cm gun, the lowdown form of the tank destroyer is captured with unerring accuracy. ★A superbly realistic experience is enhanced even further with realistic engine and firing noises synchronized with model actions. Flashes accompany firing of the main gun and machine gun. ★Stickers are included in the kit to recreate the Zimmerit anti-magnetic mine coating used on German WWII vehicles. ★Export version requires separately-sold 4ch R/C transmitter and receiver, battery pack and compatible charger, plus transmitter batteries.
58633 1/10 R/C Blackfoot (2016)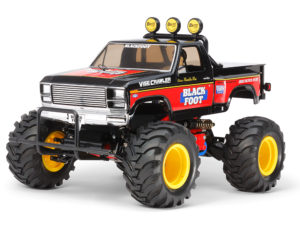 Length: 440mm. Image shows assembled and painted kit.
★This re-release version of the Blackfoot assembly kit features a chassis with a number of updates while keeping largely to that used on the original off-road car released in 1986. ★4-wheel independent suspension employs front double wishbone and rear trailing arm setups, both fitted with high-performance CVA oil dampers. ★Assembly-type universal drive shafts make sure power is transferred efficiently to the rear wheels.
57986 Semi-Assembled Series First Try RC kit (on road car type TT-02 chassis)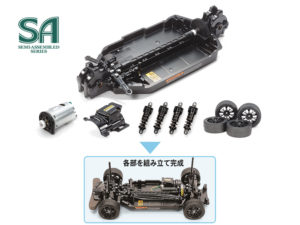 Set in some of the finished state of the parts, assembly work will proceed smoothly.
◯ before and after Diff ◯ steering wiper ◯ spa Giya & propeller shaft ◯ before and after damper ◯ wheel adhesion tires ◯ motor mount & Pini Ongiya such as pre-assembly.
Total length = 376mm
★ perfect chassis kit as a first step of prefabricated RC car. ★ based on the TT-02 of the shaft drive 4WD, will be assembled well, such as gear case and damper take a little of the time and effort to set in the finished state, also pre-adhesion tire to the wheel tempo. ★ package is convenient carrying case types can be used as a storage box. ※ use propoxycarbonyl: Fine spec 2.4G electric RC drive set
54719 MF-01X Motor Mount Cap Screw Set
54720 TA07 Carbon Damper Stay (Front)
54721 TA07 Carbon Damper Stay (Rear)
54722 TA07 Aluminum Center Pulley (18T)
47319 1/10 Scale R/C Motul Autech GT-R Lightweight Body Parts Set
Scale Models
21155 1/12 Repsol Honda RC213V '14 No.93 (Finished Model)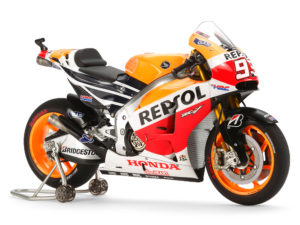 ★From the highly aerodynamic cowls to details on the engine, this artfully finished model provides a highly realistic recreation of the champion Repsol Honda Rc213V '14. ★Green cord is used to depict the brake lines. ★Metallic stickers add a further layer of realism to the front fork.
38524 Italeri 1/35 landing craft LCVP (28 with body figure)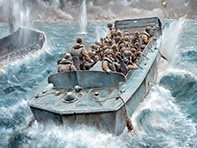 39423 Italeri 1/35 working combat equipment set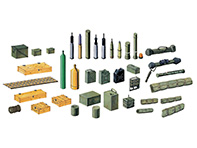 38737 Italeri 1/48 RF-4 E Phantom II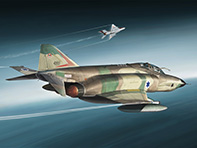 63627 Italeri Catalogue 2016 edition