July 21, 2016 (Thursday) to July 26 (Tuesday)  Tobu Ikebukuro 8F exhibition space (1 to 3 addresses)
10:00 am to 8:00 pm the last day until 5 pm Free admission
Want their mono one of the definitive of the model of charm and longing familiar place. Size also is small, you do not change as when the impression is that in the eyes of the real thing, is especially if those elaborated with their own hands. Exhibition crammed chock the charm of such a model, it is Tamiya Modeler's gallery is held. Mini four-wheel drive from the scale model, of course, to display to bring together the Tamiya model to RC is also 1/1 Aero Avante the dream of four wheel drive mini fan was realized this year exhibition. In addition, also held events that you can experience the fun of the model, such as handicraft classrooms and Suites decoration production. Look, playing, shopping can also enjoy, excitement is full of exhibition.
Guidance of Tamiya Modeler's gallery event content
"Tobu Tamiya Modeler contest" exhibitions
model fan "of the hottest Tobu Tamiya Modeler's contest ." Scene, single item works, Suites decoration and so on, jammed piece of thought will gather under one roof. See carefully the world of model where there is only fun the number of work. In addition, on July 23 (Saturday) will do the contest winners of the awards ceremony at the venue.
★ Tobu Tamiya Modeler's contest awards ceremony: July 23 (Saturday) at 1:00 pm than ⇒ 2016 years Tobu Tamiya Modelers Contest How to apply (deadline 7/10)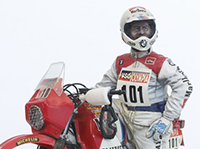 The last of "Tobu Modeler Contest" winners
1/1 Aero Avante vehicle exhibition
will showcase the 1/1 Aero Avante was born from a dream of the project to the drivable vehicle a mini four-wheel drive. This machine, which was completed in the same manufacturing process as the vehicle of the racing car has a raw form mini four-wheel drive and attention to the front and rear bumper equipped with a roller, equipped with a horizontally opposed four-cylinder engine in the rear. You can see the international racing course, a machine that was Bakusou the Suzuka Circuit up close. ⇒ 1/32 mini four-wheel drive REV series No.1 Aero Avante (AR Chassis) ⇒ Aero Avante vehicle details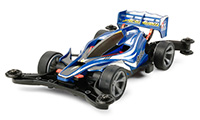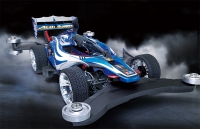 Koji Ishizaka and his friends presbyopia Zu mini gallery
Koji Ishizaka actor will exhibit the work of your model club "presbyopia Zu" to serve as chairman. The only meeting of the name is taken from the street you know, "presbyopia", everyone is just senior modeler of members. That said, just a masterpiece that comes through is how it has been produced a model while enjoying us.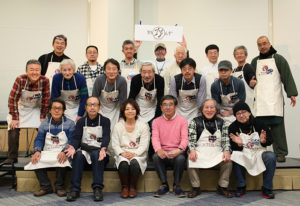 Tamiya 70th anniversary sticker gift
during the period, one will receive a 3,240 yen (including tax / receipt summed Allowed) or more purchases of sticker arrival to commemorate the Tamiya 70th anniversary to 3,000 people at Tamiya Modeler's gallery in the venue.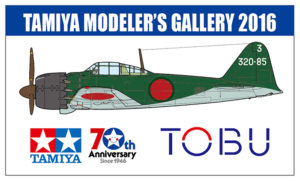 Held every day! Four wheel drive mini competition
will be held every day the popularity of mini four-wheel drive competition in the special circuit of the venue. Anyone addition to the three times of the competition one day can participate, we also race the name of the bear machine limitation of the "Avante". In addition, the kit, sale of parts, of course, was also available a convenient pit space to the assembly and setting. ★ four wheel drive mini competition (except for the 7 / 23,7 / 26) four times a day held the start of the race time ★ 11: 00 ~ ★ 13: 30 ~ ★ Avante limited race 16: 00 ~ ★ 18: 30 ~※ each time first arrival 90 people (participation is free of charge) ※ will start accepting each time the race 30 minutes before the start. Avante limited race ※ is, you can participate only vehicles equipped with the body stick the "Avante" in the product name. ※ 7/23 (Sat) does not have a 13:30 time for the awards ceremony. ※ last day of 7/26 (Tuesday) There is no 16:00 and 18:30 of the times for the 17 pm closing time.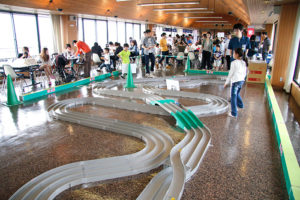 Mini 4WD Workshop
Four wheel drive mini Workshop (surcharge) every day (except Saturday) will be held. Such as that do not know about the assembly, staff will teach with care.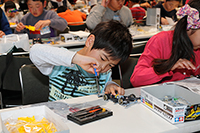 Beginners welcome! RC Car experience corner
in the RC experience corner, held, including the demonstration of RC trailers and RC tank of the great power, the hands-on events that you can feel the fun to steer every day. Of course, it is beginners welcome. RC, please join us also your first time of children and women.
Suites decoration production experience <7/24 held>
make sweets miniature that is popular around the woman "Suites decoration". On July 24 (Sunday) will be held on the production experience corner (surcharge). Please to challenge in the fabrication of cute candy. ※ reservation is ★ 7/24 (day) "cupcake of macaroons" all nine meetings held (production time required 30 minutes) ★ 10: 30 ~ ★ 11: 10 ~ ★ 12: 50 ~ ★ 13: 30 ~ ★ 14 : 10 ~ ★ 14: 50 ~ ★ 15: 30 ~ ★ 16: 10 ~ ★ 16: 50 ~※ each time first arrival 10 people [participation fee] 700 yen (including tax / material cost included) cooperation: pastel Suites Suites decoration experience course Join how to apply will participate accepted by ★ 7 May 12 (Tuesday) from your phone. As soon as it becomes capacity participation, please understand that I will terminate the reception. ※ participation Application / Contact Us TEL 03-5951-8664 (10:00 to 18:30) Tamiya Modeler's gallery Contact: Takeuma (Buma) Sato
Exhibition corner
beautifully finished scale model, will show you the wonders of the model from the new products, such as this summer mechanical amazing RC model to the topic of the model. In addition, model fans across the country, such as exhibition of dolls remodeling contest Selected Works is also available masterpiece that drew out the arm.
RC model magazine published works exhibition
RC magazine "RC magazine" and RC machine that has been introduced in the paper of "RC WORLD", model magazine "armor modeling," "Model Art," "Model Cars" and "Hobby Japan" exhibited at each publisher booth a model that graced the paper surface of the finished product. Course-related book sales corner is also substantial.
Sales Corner event products
look, after enjoying, of course shopping. Including plastic model and RC, original goods, and further enhancement from the latest issue of Tamiya news to the back number. Event products were also available, such as.
Please wait for the follow-up for more information!