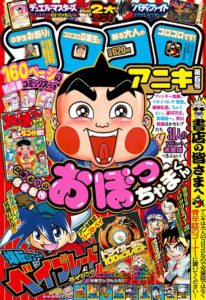 Item No: 63637 7 May 15, 2016 (gold) Release 620 yen (base price of 574 yen)
A5 size  issue: Shogakukan [large adult Colo comic! Colo Aniki No. 6] In addition to the comic newly written by the waist Tetsuhiro teacher "Bakuso Brothers Let's & Go !! return Racers", the latest work drawn by the cartoonist Hiroyuki Takei teacher of up-and-coming "Hyper Dash! Yonkuro" Ask me. In addition, four wheel drive mini team "TMFL Nitsu star driving dynamics laboratory" is also included. From the series end of 1994 to the beginning of a book, that popular manga to be a whopping revival of 22 years "Obotchamakun" (Yoshinori Kobayashi) has appeared in full New! ! Completely new work also posted further Beyblade ". ⇒ "Colo Aniki" official site is here.
Cartoon published title
★ "Hyper Dash! Yonkuro" (Hiroyuki Takei original / Tokuda Zaurus)
★ "Bakuso Brothers Let's & Go !! return Racers" (palanquin was Tetsuhiro)
★ "TMFL / Nitsu star driving dynamics Institute "(Kentaro Hayashi)
★" Obotchamakun "(Yoshinori Kobayashi)
★" Beyblade Rising "(Takao Aoki)
★ new series" Go Go Godzilla Tsu !! Matsui kun "(Junji Kawai)
★ Colo launched legend (Nomura Jimbo )
★ Kazuo 198X Memories (Inoue)
★ black Knight story (Motofumi Kobayashi of rabbit)
★ Colo era (Shibuya right angle)
★ death .tv (Kanedakazuya)
★ Tranquilo! Naito-kun (Oda door)
★'ll sweet! man Shingo (Moo . Nentaira)
★ Y of the ark (original / Tenju Seimaru animation / crested leopard HS)
★ Duel Masters Overlord Den Gachi !! (Seijin Fujisaki)
★ Future card Buddyfight dark game Iden (Masaki Yoshida)
★ Den Jiyara to Lehman wicked (Kazutoshi Soyama)
other, four wheel drive mini & Takahashi Meijin & Bikkuriman & Zoids color article on page 67! in addition to fulfilling
Aniki Special Appendix
★ Obotchamakun 160 page Supplement
super masterpiece 5 episodes + both the A-side specifications! Of large tea magic word dictionary
is to tea magic word dictionary also recorded celebrities 31 people tribute tea magic words!
★ Aniki limited burst Bay Doraiga S Gold Ver.
100 people present silver peel
★ Puzzle & Dragons serial code "high pre-Dora"
and "high pre-Dora" is to sell, will be 10,000 monster point.
(※ Android is a user-friendly benefits)
★ specter watch Punipuni Aniki limited "Robo G"
★ Duel Masters limited card "Heaven's gate"
Obotchamakun Ver.
★ buddy Fight limited card "Daredevil" return ""
※ expiration date of the serial code of the appendix at 2016 December 14 23 59 to the minute
Previous Colo Aniki parts 1-5 here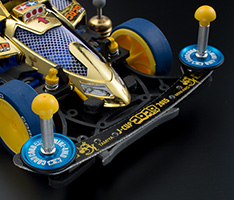 19mm aluminum bearing rollers (Colo Special)
Colo logo and limited of blue anodized aluminum roller that Tamiya mark has entered the Bishitsu!? !! Absolute that tried to run while noticeable wearing a mini four-wheel drive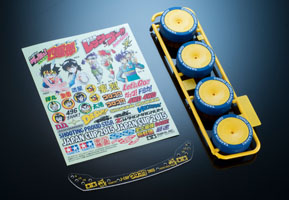 Colo Aniki Special Parts Set J-CUP2015
fully qualified special collaboration items set with three of four wheel drive mini grade up parts of Colo Aniki bespoke!
Mail order handling at shop.corocoro.tv