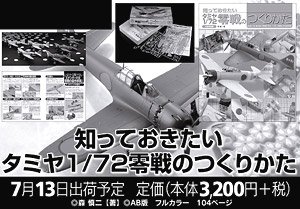 Publisher: Dai Nihon Kaiga
Author: Shinji Mori
Language: Japanese
ISBN code: 9784499231886
– I've been made in own way so far, very much Naa not Dekiagara to good] […… there is no well can make self-confidence I want to try to make the Zero Fighter plastic model] this book is to eliminate all such your doubts and worries It is the purpose.
– Affordable size 1/72 zero expression of Tamiya collection also easy to easy to make in of carrier-based fighter twenty-one type, a three-dimorphism, the two dimorphism, the theme of the plastic model of the 4 types of fifty-two type, tools required for the manufacture and production procedure, from how to paint, Behind the publication production is summarized to actual description of the more interesting becomes zero Fighter.
– Once you have capture the Zero Fighter is often a window frame of the windshield, also to manufacture the other any reciprocating machine forte.
– A reference book to enjoy even in beginner and intermediate modeler from those who start the reciprocating airplane plastic model now.
– Full-color, 104 pages