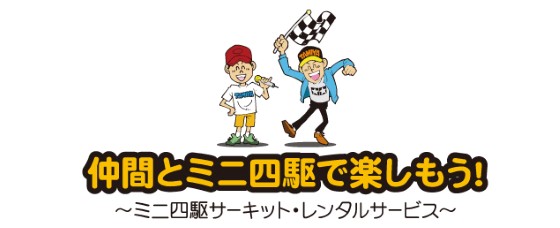 3 lane circuit in only postage charge will Moriageyo rental! Events in a four wheel drive mini!
Popular four wheel drive mini circuit rental service is powered up! Rental free of charge, but will remain, "bank approach" and "slope section" has been added as a possible simultaneous rental options. Since the race of operations manuals and is the venue rental banners such as ornamental also possible, from the running board of fellow each other congenial to various events such as companies, schools and organizations, to the realization of your four wheel drive mini planning, by all means rent Please help us to service.
Overview of the four wheel drive mini circuit rental services
[Service Basics]
Rental period up to a maximum 14 days
rental free of charge, to bear if the round-trip shipping fee only
Circuit rental can be up to three sets of
up-and-down section (bank where you can enjoy, three-dimensional circuit layout Approach Slope section) rental possible (each one set each)
and uplink and banners such as decorative items are also available for rental
are also available if you do not meet your request by ※ lending situation. Please note. [Contact lending to product information of the circuit] , " Japan Cup Junior Circuit (Tricolor) " – " Junior Circuit slope section " – " Junior Circuit bank approach 20 section " [lending other ornaments Contact] banner to be used for the venue decoration, climbing (Please note that there is a limited number of loans. In addition, since the climbing will be lending you only flag part, weight-flagpole, please be prepared separately). [Basic information of the circuit] , "Japan Cup Junior Circuit" a set of package size about 920㎜ × 660㎜ × 320㎜, 15kg of – "Japan Cup Junior Circuit" one set of size, 3060mm × when it is assembled as oval course 1440 mm -circuit one set of straight and curved like, is composed of 16 sections, enables enlargement of the layout changes and courses by combining multiple sets. [Four wheel drive mini circuit past lending example of] school festival, in-house events, car dealer shop events, shopping center events, neighborhood association events, such as We have been used in a wide range of events. ★ even in private race between fellow rental OK! mini four wheel drive circuit by utilizing the rental service NEZU.log's experience report that held a private race "nostalgia-packed! Adult becomes this way and play a mini four wheel drive with full force " http://blog.nzakr.com/mini4formen/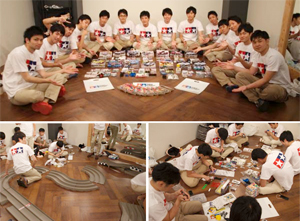 For freight
Upon use of rental service, rental fees will be free, you pay only the round trip of the freight and (shipping time: cash on delivery / return time: prepayment).
Dispatch and return is done by using the Yamato Transport service. Scheduled to arrive the driver collection of transport company at the time of the return (it is also possible to bring in your own return goods Yamato Transport to the office). Transportation fee varies depending on the destination, the number. Transportation fee when accepting the rental application, we will inform you by e-mail or telephone. Prior confirmation of the transportation fee, "Example of a weight method of conversion and freight" and below, please also refer to the "Yamato service charge table." Yamato mail charge table http://www.Kuronekoyamato.Co.Jp/yamatobin/yamatobin_ryokin/shizuoka.html#igai ※ rental goods will be shipped from Shizuoka City, Shizuoka Prefecture. Please refer to the price list of your column of "other than Hamamatsu City" of the above-mentioned link [example of the weight of the conversion method and Freight charges application of (1) "Japan Cup Junior Circuit" is "60kg to" per set are you Example: Tokyo 23 Circuit 1 set the rental … one way Freight 1,944 yen district, (round trip fee 11,664 yen in the case of three sets) round trip 3,888 yen (2) to the Junior Circuit 1 set as "slope section" " Freight will be the application of "up to 100kg" by the combined three If you want to make a bank approach 20 " Example: freight … one way of if you want to rent a "circuit 1 set + slope + bank" in Tokyo's 23 wards 2,592 circle, round trip 5,184 yen. ※ "Circuit + slope only", also in the case of "Circuit + bank only", will apply fee of "up to 100kg". (3) In the case of "circuit 3 set + slope + bank", and along the above (1) (2), it will be the sum of "fee of up to 100kg" + "fee of up to 60kg," + "fee of up to 60kg." Example: Tokyo's 23 wards if you want to rent a "circuit 3 set + slope + bank" transportation fee … round trip 12,960 yen

The relevant information about the circuit layout event management
[Four wheel drive mini event management manual]
This is the first operation manual for people to be operating a four wheel drive mini competitions. Download the manual here (PDF file, all page 2) [circuit layout guide] is the layout plan collection in Japan Cup Junior Circuit two sets and three sets. ※ because it also contains the required layout is four or more sets as reference information, please pay attention to the necessary number of courses that have been described. Download layout plan collection here (PDF file) [circuit layout data] available in Adobe Illustrator, it is of circuit material data. Download of circuit material data here (PDF format)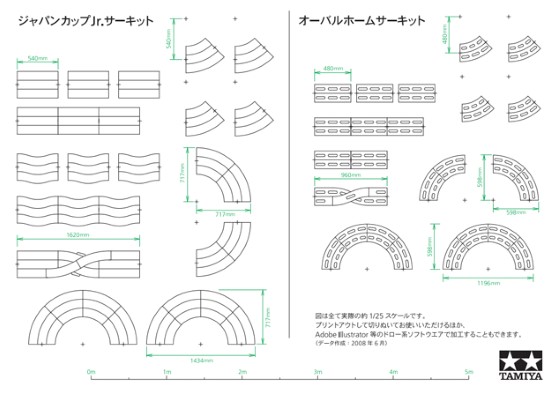 Notes on the event held
When the event held Please be careful in safety management of participants and spectators. By any chance, even if the accident has occurred, such as during the event preparation and production, withdrawal, I can not assume that all the responsibilities in the Tamiya.
Events that use the Service is not an official event of Tamiya. Such as "Tamiyamini four wheel drive certified competition" in the tournament name, please refrain from it is recommend that you use a name that might be confused with our sponsored events.
Note at the time of signing up rental service
And loan period is up to 14 days.
· Please apply to up to one week before the circuit desired arrival date.
– Then for the appropriate rental your application might be refused.
(1) Application from a person who has been declared false information at the time of application
(2) Azukasuru to anti-social forces, or your application from a person who antisocial forces belongs to a corporation that is involved in management
(3) Others, apply for rental for the purpose of use in the event that the Company deems inappropriate
How to apply the circuit rental
The following application form can you'll sign up, there is a way to have you sign up by downloading the application form mail, in FAX. For availability of rental, after confirming the content of the event, three from Tamiya we will reply within business day.
Application of the form
application form of four wheel drive mini circuit rental services in, fill out the necessary information, please apply.
Open the application form of rental services
Mail, and your application by FAX
to download the application form, please use it to print. → " four wheel drive mini circuit rental service application form "(PDF)
Application Form Download for FAX · mailing
Mailing when the destination: Yubinbango422-8610 Shizuoka City, Shizuoka Prefecture Suruga-ku Ondabara 3-7 Corporation Tamiya special events Division mini four wheel drive circuit rental clerk
FAX of destination: FAX number 054-281-8479, Inc. Tamiya special events Division mini four wheel drive circuit rental clerk
Contact: Please tell Tamiya special events Division mini four wheel drive circuit rental clerk as "matter of circuit rental service" Contact
TEL: 054-283-0002 (excluding weekends and holidays, 8:00 to 12:00, 13:00 to 5 p.m.)