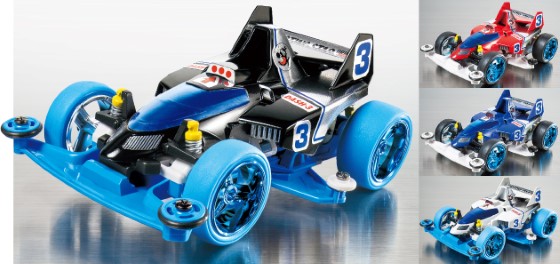 As a sequel of the popular sparked a four wheel drive mini boom cartoon "Dash! Yonkuro", it has been serialized in Shogakukan issue Colo Aniki magazine from March 2015 "Hyper Dash! Yonkuro". Hiroyuki Takei teacher is the author, it had been submitted to winning – adopted in four wheel drive mini design contest when I was a junior high school student was a "Dash No. 3 Shooting Star". The machine boasts its streamlined form is still popular, as the current "Shooting Star Dragon tail", will deliver enterprise-only mini four wheel drive and (Planning: Corporation SK Japan).
Body color four colors of red, blue, white, black. Common wheel has adopted a large-diameter blue-plated wheel of prize first appearance. Tires were prepared two colors respectively, to expand four types in combination with the chassis. New canopy part is also available in the sticker.
From late December, it appeared as a crane game prize in amusement arcades nationwide. Handling store, etc., refer to the more details SK Japan of prize information site "take character". Co., Ltd. SK Japan Prize information site "take Chara" http://charatoru.skj.jp/
Inquiries regarding this matter, Ltd. SK Japan TEL 03-5806-2122 AM Division Product Planning Division, addressed to
SK Japan website http://www.sk-japan.co.jp/
ITEM 63628 / B5 size December 19, 2015 (Saturday) around sale
2,160 yen (base price of 2,000 yen)
F1 car, racing buggy from touring car, big tire models, such as the force of the trailer and tanks, is issued by the 2016 version of the introduction was Tamiya RC Perfect Guide with Tamiya RC model all products rich color photograph of. Beginning a hobby shows and Tamiya Fair Star unit series New Developments Aero Avante of which has been published in the (assembly kit), Raikiri GT, Mazda Roadster, MOTUL AUTECH GT-R, Monster Beetle (2015), TG10-Mk.2 FZ racing chassis also posted early New models such as the kit. In addition, the popular touring car Street model, super GT model, are classified for each vehicle category, such as Larry & dirt, easy to find your favorite machine configuration. There is also the guide of the main chassis is also useful to choose from the chassis. In addition, start guide and that pat can master the basics of electric RC car to participate in the event from the assembly, maintenance and cleaning procedure, do not miss the tuning guide of popular chassis. Of course, rich in uniform option parts exhaustive mixes color photos and product description. It is an indispensable guide book to Tamiya RC fan.
[Contents] ★ New model ★ Tamiya RC Car Start Guide ★ Tamiya RC model full lineup ★ electric RC car maintenance surgery! ★ tune with options attached! ★ main RC model chassis guide ★ option parts catalog ★ spare parts list