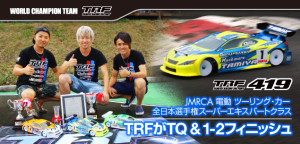 Another great weekend for the TRF team!
Fantastic news from the Tamiya Racing Factory (TRF) team, with Akio Sobue and Naoto Matsukura and their TRF419s scoring a superb 1-2 finish in the JMRCA All Japan Championship race for electric touring cars Super Expert Class from August 28-30 – congratulations to the team!
About the JMRCA All Japan Championship
The best of the best drivers in Japan gather for this once-a-year even held to crown the champion. The Super Expert Class is an exclusive field only open to the cream of the crop; its title is regarded as the pinnacle of Japanese electric touring car races.
Race Report
The Bee tops circuit in Hyogo Prefecture, Japan, was the venue for this year's event, which was attended by TRF drivers Naoto Matsukura, Akio Sobue and Yuya Nakamura. Sobue wasted no time in setting the tone for the weekend, with some excellent practice times, which he would go on to translate into becoming the Top Qualifier for the finals, followed by Matsukura in a creditable 4th. Come the final, Sobue was imperious in a magnificent pole-to-finish victory in round 1, with Matsukura also highly impressive as he recovered from an early collision that dropped him down to 10th, eventually clawing his way to a 4th-place finish. Round 2 would see the tables turned as Matsukura took advantage of an unfortunate coming-together for Sobue, putting the rest of the field to the sword for a brilliant win. It would all come down to Round 3, then, with the two TRF drivers level pegging and with every chance of a glorious win. No sooner had Round 3 started than Matsukura showed his desire for the championship, passing 2 opponents from 4th on the grid and bearing down on Sobue at the head of the field. The two then proceeded to exhibit flawless driving for the entire round, pulling away from the rest of the field as Sobue kept his cool to take both the round and what is his maiden Championship. Matsukura's reward for his thrilling drive was the runner-up spot.
It's always fantastic to receive so much support, and this time I'm glad to repay it with the Championship! Thank you to everyone who supported us, and I hope you'll continue to follow my progress as I get ready for the next World Championships.
Check out Sobue's TRF419 setup
The TRF419 chassis goes from strength to strength, and this event gave the team another chance to fine-tune the setup. Take a look here at the settings which Sobue used to propel him to victory (some notations are in Japanese).
2015 JMRCA 1/10 Electric Powered Touring Car All Japan Championships
Super Expert Class Results
Place Driver
1 Akio Sobue
2 Naoto Matsukura
3 Hayato Ishioka
4 Hayato Matsuzaki
5 Yugo Nagashima
6 Ryosuke Yamamoto
7 Naoki Akiyama
8 Yusuke Gotoh
9 Tenra Sano
10 Hitoshi Sawada
14 Yuya Nakamura