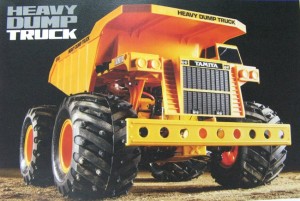 Reproduce the "heavy dump" active in large-scale construction site realistic!
Big tire fitted, off-road appeal of 4 × 4 unique. Anywhere you run around in comical cheerfully. An ultra-large vehicles working in large-scale construction sites such as mines and dam construction was modeled "heavy dump". A distinctive style in the dynamic that apart from a dump truck traveling on the general road, high strength sense of scale were also reproduced in sufficient ABS resin body. Cab (cab) and the vessel (the bed) is that it is also possible to display in the state as separate parts, which raised the vessel is also a feature of the dump. The chassis gather a high popularity in the comical and wild ride is adopted "GF-01 chassis." Molding color of the chassis not only the body was also a yellow image of a heavy machinery, it will be fun to look finish. The tire equipped with a large-diameter monster spike tires, style also ran also wild, it is attractive is jammed model of hobby RC unique.
★ Length: about 350 mm ★ overall width: about 270 mm ★ Height: about 210mm four-wheel drive GF-01 chassis, equipped with a big tire in
★ Square configuration equipped with a motor in the middle of the lightly strength sufficient monocoque frame, front and rear in gear GF-01 chassis that adopted the gear drive 4WD for transmitting power to the wheels. Nearly equal to "square" configuration is the ratio of the wheel base and tread also features. The gear case of the frame one-piece, closed to shut out the sand and pebbles. You create a smooth cornering and a built-in differential gear. Suspension double wishbone 4-wheel independent equipped with friction damper. Sets the steering servo to the chassis left side, it demonstrates the handling characteristics without the habit by isometric 2-piece tie rod. ※ The image is a prototype.