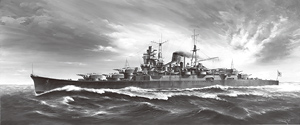 Full length: approx 286.5mm.
– The light cruiser, heavy cruiser, was transition to the aviation cruiser the origin `light cruiser` specification [top] 1/700 WL series first model!
– From light cruiser heavy cruiser, and top with a ship calendar that eventful that change the appearance to the aviation cruiser.
– Initial light and cruiser specification adds to finally WL series.
– Such as the smooth lines and induction chimney from the bow toward the stern, modeled without leaving the smart appearance.
– Massive full hull in the left and right split type, broadside part also three-dimensional feeling enough.
– Distinctive rear mast and cranes, high-angle guns of the rear deck next departure bullets loaded exercise machine is also a realistic finish.
– Main turret of 15.5cm3 twin assembled after pivotable.
– HeiSo-rui and main mast, even such as bridge sharp finish.
– 94 Equation No. 1 Water reconnaissance aircraft 1 aircraft and 95 Formula Water reconnaissance aircraft 2 aircraft is set.