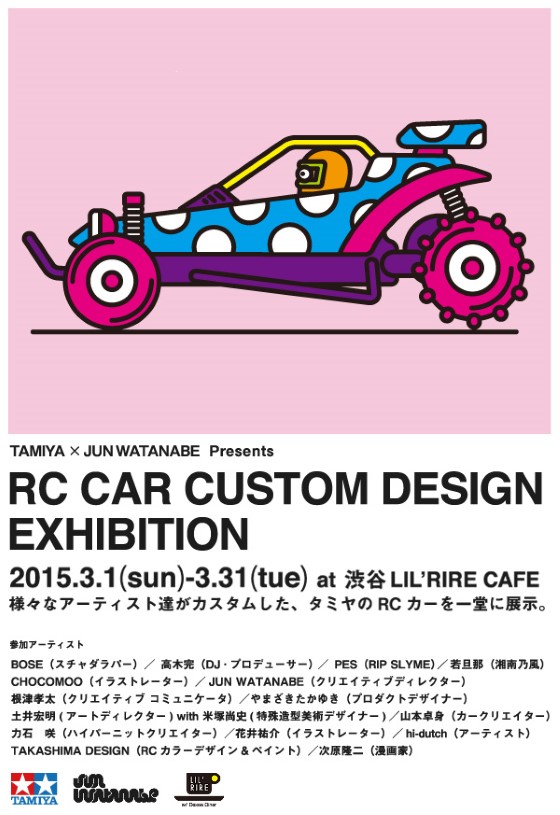 JUN WATANABE.
Original Tamiya's cooperation, what in Shibuya Riruriru, I'll do the RC of the exhibition.
Anyway luxurious lineup much impossible is participating artists.
People who do not know some people who know the Tamiya also, people with and without interest in radio control, please come ages anyone to come play and invite your friends have you so turned on what can enjoy!
TAMIYA × JUN WATANABE Presents "RC Car Custom Design Exhibition" Dates: March 1, 2015 (Sun) March Tuesday, the 31st Venue: Shibuya Riruriru cafe Participating Artists: BOSE (SCHADARAPARR) / Kan Takagi (DJ · producer) / PES (RIP SLYME) / Wakadanna (Shonan no Kaze) / CHOCOMOO (illustrator) / JUN WATANABE (Creative Director) / Nezu Kota (creative communicator) / YamazakiTaka Snow (product designer) / Doi Hiroaki (Art Director) with Komezuka Hisashi (special molding art designer) / Chikaraishi Saki (hyper knit Creator) / Yamamoto Shokumi (Car Creator) / Hanai Yusuke (illustrator) / hi-dutch (Artist) / TAKASHIMA DESIGN (RC color design & paint) / Ryūji Tsugihara (cartoonist) musicians, product designer, graphic designer, illustrator, by 15 pairs of artists at the forefront such as cartoonist of Tamiya that has been custom radio control car The exhibition brings together a. RC car to be used for exhibition, Hornet, Grasshopper, Mighty Frog, including the finest cars of our nostalgia has made ​​a big boom in the hot shot, such as the 1980s, and the latest model who has undergone further evolution lineup. "Unique, creative, fun." By Hachamecha luxury artists to to such a feeling, please see the full of personality radio-controlled car us. In addition, 3/8 (day) than 16:00, designer JUN WATANABE of RC car "Hornet by JUN WATANABE", four wheel drive mini "Astral Star" designer Nezu Kota of "Raikiri", of the RC car "Dual Ridge" designer Yamazaki by Takayuki, I will hold a special talk session. Tamiya by three designers led by "Tamiya" lecture, secret story and initial sketches to market the birth of RC cars and four wheel drive mini, if you are even now thinking what it, or are you trying to cause anything from now, etc. . Here aligned three people talking you do not hear only it will talk Wai Wai. Furthermore with original tote bag & souvenir of venue limited to all participants. 1 is at home events with drinks & snacks. For those participants who wish here talk session, please apply in advance to Riruriru. Fee: ¥ 2,000 ※ limited number of people to reach as soon as the deadline applicants: [email protected] written to "RC Car Custom Design Exhibition Talk event" participation hope and title, your name, (I do a final confirmation of acceptance) telephone number, e-mail Please send it wrote the address (which receive a PC-mail). ※ participation in multiple OK, representatives enter your name everyone worth more applicants by telephone, reception: 15:00 to 22:00 03-5790-2944 "RC Car Custom Design Exhibition Talk Events" to staff Please tell with the application.