Earliest logo (1953-1960)
With the shape of the earth at an era of Tamiya was making only wooden models only. TMK are the Japanese initials of Tamiya Models Material.
Two types have been identified, one that had been simplified.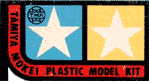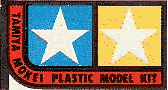 Old logo (1960-1966)
The brother of Shunsaku Tamiya, being supervisor of the design office, created a new design for the launch of Battleship Yamato, Tamiya's first plastic model.
Twin stars, the left one in blue, the right in bright yellow. The early ones have on the left a globe mark towards the blue star. Overall shape of the curve is drawn with a red band on the black vertical bar on the left to shape a "P" as acronym for plastic model. It was written "TAMIYA MOKEI" in English, which was effective at the time of overseas export, although the meaning of "MOKEI" was unknown to most there.

Midterm logo (1965-1968)
Mainly printed on Tamiya slot cars and embodied the three letters of Tamiya in katakana, being rather cryptic it was only used for few kits and years.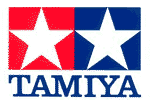 New logo (1966 to present)
A popular symbol of the model world (star), this red and blue star twin star illustration is simple and precise with white background.
Red is for creativity and passion, blue for youth and sincerity.
Great design that does not feel at all almost 50 years old!