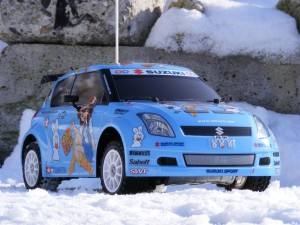 Rally Up a M-chassis car. This was only a dream many years before.  But sometimes dreams come true, and now you can build your own Mini Rally Car from a kit. Two types, the Suzuki Swift Super 1600 and Alpine A110 are available at the moment. The Alpine also as an XB-Version.
To give the chassis more ride height, Tamiya uses new designed F-Parts for the M-05Ra.  It´s a big advantage that you can build the chassis also with the standard M-05 ride height.  So it´s no problem to use your M-05Ra machine also for normal M-Chassis  street racing without using extra parts. Different attaching points on the C-Hubs are making this possible. Our car is equipped with some of the most popular Hop-Ups used in the M-Chassis scene, like full ball bearings, universal shafts, oil filled shocks and a ball diff. I used the new M-05 Ball Diff in combination with the new M-05Ra reinforced Differential joint set. Although i´ve heard about some durability problems with the new M-05 ball diff.  But, time will tell. Another tip, if you want to use oil filled shocks on your M-05Ra,  the 54000 M-Chassis damper set isn´t recommended here. These are fantastic dampers, but they are too short for the M-05 Ra Rally Setup. They are only useable with the normal M-05 ride height. Standard sized touring car shocks are ideal  for this car, like the  Tamiya black Super Mini C.V.A. shocks or the classic Tamiya 53155 Aluminum damper set. If you use the super Mini C.V.A. Shocks you have to take note that the shock pistons are long enough, because on some cars, Tamiya uses shorter pistons for the Super Mini C.V.A. Shocks. Furthermore we used a Tamiya High Tourque servo saver + a strong metal geared digital servo in combination with the good and well priced 3Racing carbon steering set.  Gives a much more precicse steering mechanism.
Ok, that was on the technical side.  Now some words about the body.  As seen on the Tamiya M-05 Abarth 500 body before, Tamiya made some small but nice changes to the Suzuki Swift body parts.  You can now use LED´s on the front and back of the car. This adds a much more realistic look. As a regular reader you may know, we always like to use alternate paintschemes on our bodies. A normal and understated "Skyblue" was used for the little Suzuki. But looks great, using the Tamiya mascot sticker set.
Thank you very much for reading.
Enjoy M-05Ra !