Some people believe that below is the comeback of the RC Guide Book, which is unfortunately wrong, this is just a catalogue made and sold by the German Tamiya importer (Dickie):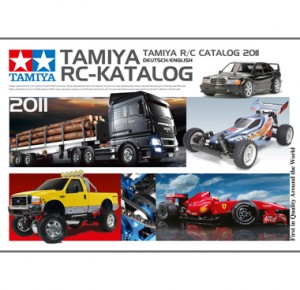 https://www.dickietamiya.de/de/eshop/kataloge/produktdetails.htm?sArtNr=500992010
.
This is the original/official Tamiya RC Guide Book, including also the Avante 2011, unfortunately only in Japanese:
1,700 yen (excl. tax 1,619 yen) ITEM 63408/A4 size 162 pages
Place of Issuance: Ken Satoru Publishing Inc. / Publisher: Ken Satoru Marketing, Inc.
Including the popular touring car, F1 racing machine and powerful tanks and trailers, along with the introduction of Tamiya RC rich color photos all models. The new model also has published and presented at the Hobby Show Tamiya Fair. In particular, the Super GT Touring model, street, rally & dirt, a special production, classified by category of vehicle. Making it easier to find and configure your favorite machine. Of course, convenient to the chassis to choose from there is also the main guides in the chassis. In addition, a great car back, "Avante" presented by Dr. untold story waterfall development. Chunnappugaido and parts lists to be posted is also essential guidebook for performance improvement.
[Contents] model ★ NEW INFO. Moderufururainnappu Tamiya TRF ★ RC ★ ★ Avante back line all series! ★ Tamiya RC Waterfall writers go a long interview to the store Chunnappugaido ★ ★ Shimbashi Tamiyapuramoderufakutori primary model car chassis guides! ★ ★ Optional parts spare parts catalog
Also a Tamiya Color Guide Book is released: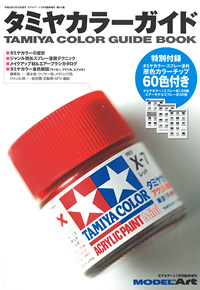 3,800 yen (excl. tax 3,619 yen) ITEM 63409
Issue: Model Art Co. Ltd. / B5 size 96 pages
Paint model with a history of more than 40 years, "Tamiya Color" is a summary of the first guide. Chapter 1 is a color tank, the Beteranmodera Pakutoratamiya is the history of color and Tamiya paints to have existed since the early miss. Chapter 2, Section 3, planes, tanks, cars, spray cans of paint techniques described ship models, and modeling brushes airbrush make-up and materials, has published a must paint job. Chapter 4, Section 5, lacquer-based spray paint, acrylic paint water-soluble, others described the characteristics of each color of enamel paint on sale, the actual color of paint you use 60 as a special supplement (TS (Tamiyakarasupure) Color 28, AS (Eamoderusupure) 32 colors) comes with a primary color chips. The metallic print do not know, I have chosen to focus on military colors and subtle tones pearl type color. When making reference to any genre kit is a book on hand if you want to modelers.
[Table of Contents ★ Chapter 3 – Material makeup techniques can spray paint ★ Chapter 2 Chapter 1 History of Tamiya color primary color paint chips ★ ★ & Preface Chapter Tamiyakarasupure supplement standard colors color guide Eaburashikatarogu ★ Chapter 4 (metallic color Clear system basic colors) Color Guide Chapter 5 Chapter Genre ★ (U.S. Army and Navy planes color color United States Navy / Royal Air Force aircraft color color color German Air Force Air Force) (car color) (color color tank tanks the German NATO Allied Forces camouflage / desert color paint color GSDF) (color ship) article Puromodera special contribution ★ "Memories of Tamiya Color"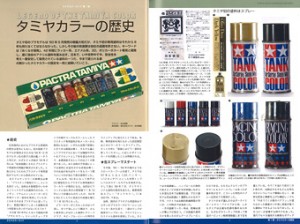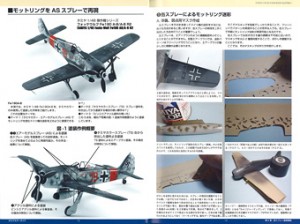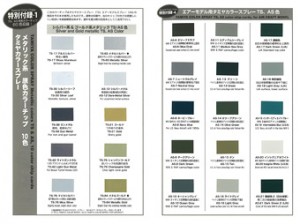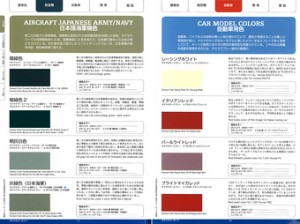 Source: Tamiya, INC.