HAL schools in Osaka and Osaka, Japan MODO school graduation exhibition produced "HAL-MODE FESTIVAL2008" events of 2008 On September 23, was held in Osaka-jo Hall. This year's theme is "to the world! Made in Japan". Japan's flagship products and technology, students with innovative and unique ideas to the world of diplomacy, about 9,000 people a day with visitors, from children to adults who have a lot of events SHIMIMASHI Or.
Among of HAL Osaka, the Department of Music student chosen as the theme of the "four-wheel drive mini-Scale Models." Using surround sound effects blaring music and a powerful finish the work, visitors stand in the spotlight.
The Osaka MODO designer fashion design department at the Department of miscellaneous group of "Scale Models" taken up the theme of the works Nagi said. Wonder of the elements "to create fun, fun to use" the word [bag] produce assemble and expression. Tamiya logo and better utilize the characteristics of plastic models, beautiful, two students were awarded prizes!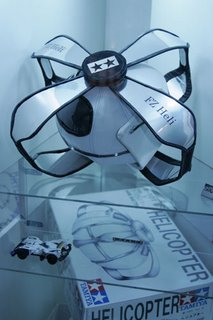 Source:
Tamiya, INC.