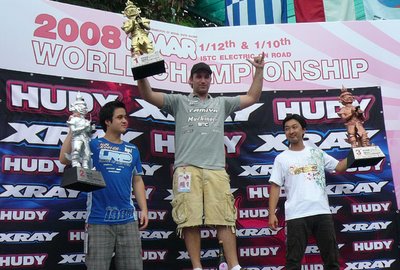 Championship Round 1.
A crash immediately followed after the start which gave fifth placed driver Hirosaka the chance to go on and claim first position with Hara also claiming 4th. TRF drivers Marc Rheinard, Viktor Wilck, and Jilles Groskamp finished 5th, 6th, and 8th respectively.
Championship Round 2.
From start to finish Hara and Marc both kept their cool with both going on to finish the race as they started with Hara claiming 4th. Jilles finished 9th and Victor 10th.
Championship Round 3.
After the previous exciting rounds, it made for an edge of your set exciting final round leaving Marc only one more win away to claim the World Championships! During the race Hara was leading the race with Marc snapping at his tail. Soon after with some very slick driving by Marc, he passed Hara and set up for an intense finish. Soon after the unthinkable happened, CRASH! Hara crashed, which in turn gave Marc the World Championship. Victor finished 3rd, Jilles 8th, Hara 5th, and Hirosaka 10th.
Congratulations to the TRF team for winning the World Championship Title!
Furthermore current World Champion Marc Rheinard along with TRF team mates Viktor Wilck, and Jilles Groskamp will be at Tamiya Fair on November 22 and 23 at the Twin Messe in Shizuoka City and will compete in the GP World Champion division. Come on down and check out the techniques used by world champions.
Final Overall results
1. Marc Rheinard (Tamiya/SpeedPassion) – 19pts
2. Ronald Volker (HB/LRP) – 18pts
3. Masami Hirosaka (Yokomo/Nosram) – 17pts
4. Atsushi Hara (HB/Team Orion) – 17pts
5. Elliot Harper (Xray/Nosram) – 15pts
6. Viktor Wilck (Tamiya/SpeedPassion) – 13pts
7. Andy Moore (HB/Team Orion) – 10pts
8. Hayato Matsuzaki (HB/LRP) – 9pts
9. Meen Vejrak (Xray/LRP) – 7pts
10. Jilles Groskamp (Tamiya/SpeedPassion) – 6pts