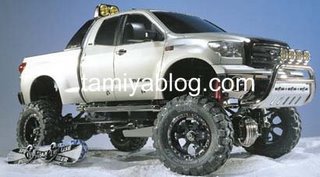 In February 2007, after a full model change, Toyota released a full-sized American pick-up truck. It was the first time in Toyota's history that an "All American Made" pick-up truck was sold. With the rising crude oil prices and the increasing demand for economical Japanese cars, the sales of the Tundra in the Pick-Up truck market was quite strong. This model precisely shows off the Tundra's modern looks and its great ability to take on any terrain with its excellent drive system. Tamiya's truck model of the Tundra comes as an accurately reproduced Double Cab version. Furthermore, this model Tundra comes with option parts allowing the user to raise the body in the same manner as the actual pick-up truck.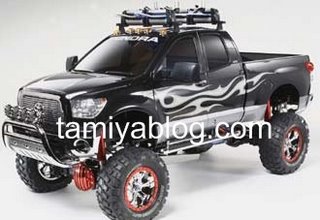 About the Model
– The durable ladder frame chassis features steel channels and resin cross members for high strength.
– Accurately replicating the Tundra's suspension system are metal leaf springs, and coil springs with metal friction dampers.
– Equipped amidships for a lower center of gravity is a 3-speed transmission allowing gear changing and realistic low speed driving.
– Propeller shafts and slipper clutch efficiently transfer power to all wheels on any type of terrain.
– Powered by a type 540 motor. (included)
– The full-time 4WD guarantees road hugging performance.
– The differential can be locked in place to enable improved performancing on any surface it may face.
– The newly designed chrome plated wheels with bead lock rings precisely catch the essence of the Pick-up truck. Because the Tundra is fitted with similar side-block tires like the F-350 (58397), it is possible to change them with any other cross country tires.
– 4-Channel transmitter, ESC, and running battery & charger are separately available.
– Loading the separately available Pick-Up Truck Multi-Function Unit (Item 53957) MFC-02 will further enhance the truck and put a wide range of realistic light, sound, and vibration effects at your fingertips.
– For dressing-up the model, snow boards (2) and roof racks are included.