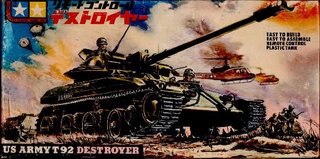 Tamiya's first plastic model tank to be released at the end of'61 is 1/35 Panther tanks, but the price of 400 yen is not the time for children is not a cheap price. So grab Tamiya is a text box. '62, – Only 100 yen motorized War Tank – to start in the Series.
The series is only one year out of six different kits (No.5 and 6 accompanying article is coming and going. Crusader is not the No.5), and complete. In addition type remote control will also be released as a deluxe edition. Series remote control baby named series shine kit No. This is a Destroyer.
Originally a small TKK13 motor vehicle in two pilot a remote control that is currently also look at impressive. Tamiya is at least for the next 35 years old today, this small remote control from the tank were released. Register metal gear one by one like we are just the current mini-founder of four-wheel drive. Cypress, Morimoto studio model to HP's place in it.
Initially it was released at 300 yen, but immediately the price was reduced to 250 yen. Remote control box was also the first lever is the middle of a push-button type change for the two exists. And the old logo still quietly stopped production this year.
World Series of the former tank is on the way, the new logo is changing all the new package. Price of 100 yen over the contents of the kit is almost unchanged, but the expression on one side of the gearbox, the motor bilateral system has been improved.
By the way, this World Tank Series was quietly stopped manufactured at December of '67, a whole new 1/50 began a series of pocket museum with kit No. 1, Destroyer of the T92.
The series is also unique for Tamiya. Japan is a plastic model tank motorized prevailed at that time was overseas, the display is precisely that of the mainstream, are designed for overseas markets, American companies throughout the world Hawk sale. Fans found out that domestic demand in Japan was also released. Kon Shin-kit full display, quite honestly military miniatures of the original series.
White is a novel package, and now I look at well worthy of admiration, but the whole kit, kit No. Release 2 crusader is not only the'70 edition of the catalog has already stopped production.
Similar size of the same name from the tanks, tank series and the World Series to be confused with the Museum of pocket than I think is a completely different thing in common parts is one. Caterpillar of a new mold.
Series pocket museum is 1/50, but had been released at the World Series is non-scale tank. But the scale of things. The T92 1/55 that, there is a pocket museum this series 1/50 from Takashi Megumi is one of the largest around.